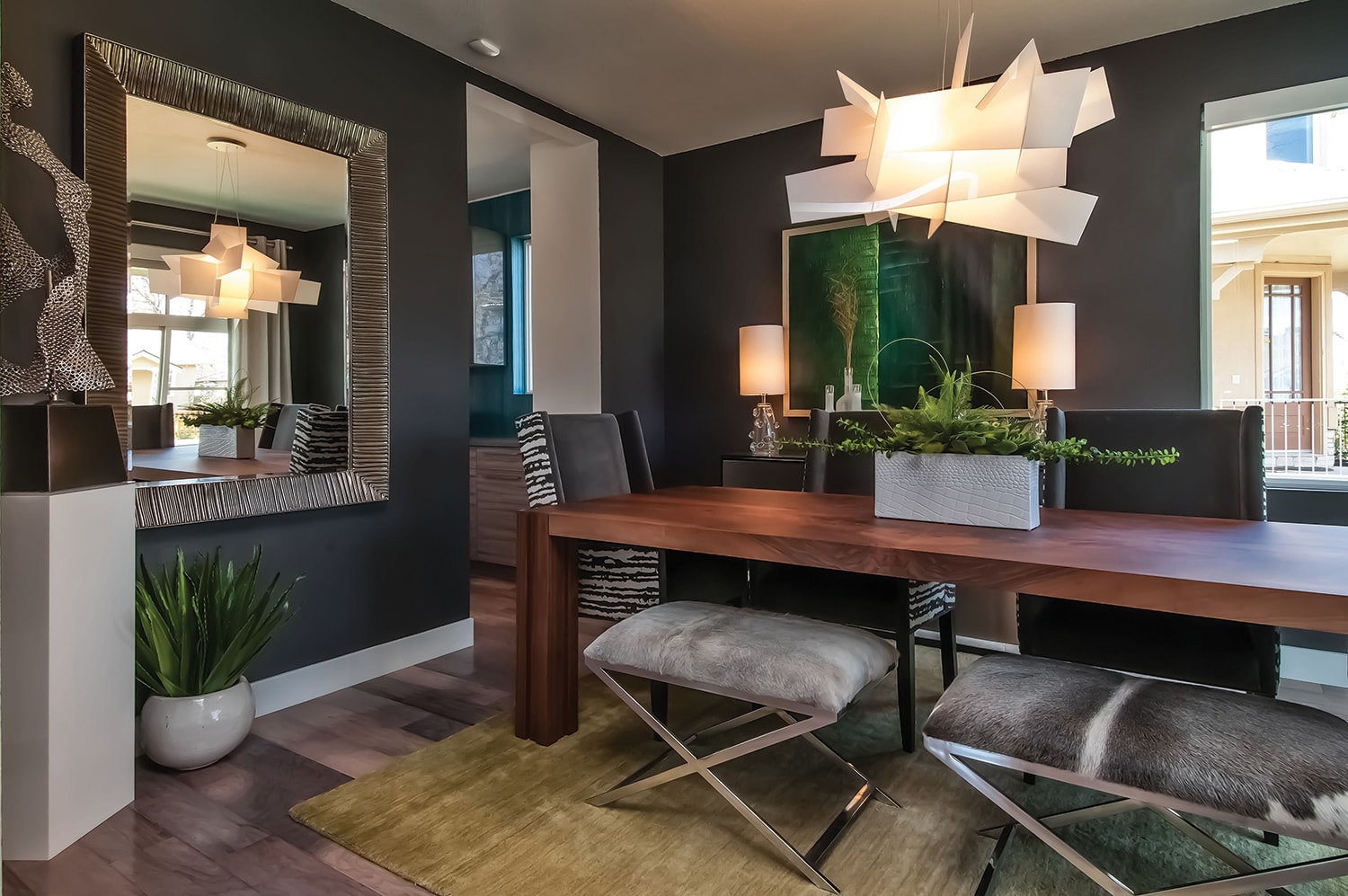 Bauerle describes her own home's design as "organic contemporary." The edgy Big Bang light fixture from Foscarini illuminates a Spanish walnut table with a butterfly cut top. Polished steel benches from Light & Living are covered in cowhide. Photo: Marc Englert
09 May

Designing the West: Deep–Rooted Design

After designing spaces for nearly two decades, it's a safe bet that Gina D'Amore Bauerle never steered her clients toward country duck wallpaper borders, sponge-painted walls or Tuscan-themed powder rooms. "I tend to avoid trends, because I don't think they're relevant to good design," says Bauerle, who co-owns the Denver, Colorado, design firm D'Amore Interiors. "I prefer to work with timeless, quality furnishings and materials. A well-designed space should look fresh and appealing for decades. When you want a new look, you can always move things around and change the colors and accessories."

Bauerle has a long tenure in the design world to back up her convictions. Her parents, Marilyn and Frank D'Amore, started their own business in 1980, selling painted pillows and bedspreads at a flea market in south Florida. They later branched out to offer reupholstery services and home accessories, followed by a stint selling Southwest furniture in Santa Fe, New Mexico.

After falling in love with Colorado during a vacation, the family moved to Denver in 1997 and relaunched the company, offering furnishings, lighting, accessories and design services. "When I was 12 years old, my parents let me greet customers," Bauerle says. "Then they gave me purchasing power to buy small accessory lines for the store. I started selling furniture when I was 16."

She studied marketing and interior design in college, and says her parents never gave her preferential treatment. "They made me work for everything," Bauerle says. "Mom and Dad wanted me to understand the value of a dollar, and they encouraged me to learn about people and figure out what they needed."
For a Colorado ranch house, Bauerle created a comfortable home office with a reclaimed ghostwood desk and Massoud armchairs covered in fabric inspired by horse blankets. The equine print is from Leftbank Art.
Today, the business is owned by Bauerle, her husband, Eric, and her parents. Her father, Frank, is in charge of logistics and showroom sales, and Eric handles marketing and advertising. Her mother, Marilyn, tackles the store merchandising, and Bauerle manages the bulk of the retail purchasing. Mother and daughter both provide interior design services. "My mom and I love brainstorming together and bouncing ideas off each other," Bauerle says.
Four years ago, the four partners purchased a 19,000-square-foot showroom and retail space in the Denver Design District. "That was a big milestone for our company," says Bauerle. "Since we have our own showroom and resources, we can furnish an entire account in-house with vendors we've known for 30 years."
Bauerle says it's not always easy for people to ask for help. "We'll start walking around the store, and I ask them to show me things that appeal to them," she says. "One of the things I'm best at is pinpointing what people are thinking. I look for their reaction and pick up on their body language and excitement levels."
Although she's proficient in AutoCAD, Bauerle still prefers to render drawings and floor plans by hand. "I'm memorizing dimensions and spaces, and I get a more hands-on feel for the design," she explains.
If a client wants to furnish an entire room, Bauerle might begin by choosing a rug. "The floor covering is usually the starting point that unifies the space," she says. "A beautiful rug is like a piece of art in the room. From there, you can layer textures, colors and patterns. I might add one big, bold print and a complementary print with a repeat or a stripe that pulls from the rug but doesn't compete with it. I also love to add a little sparkle and glam."
The firm's work is 90 percent residential, and the company handles everything from new construction to remodels to refinishing existing spaces. "We do a lot of repeat business," Bauerle says. "For instance, I helped my clients with their home in Golden and then their Grand Lake getaway, and then her law office. And now we're designing their new restaurant."
Bauerle recently furnished Lynn Rodriguez's new home in Scottsdale, Arizona. "We had always done everything ourselves, but when we stopped in the D'Amore showroom we just clicked with Gina," Rodriguez says. "We loved her ideas, and after she helped us with our primary residence, my husband and I asked her to come see our new Arizona retreat."
The kitchen features an oversized island with red accents and stools for casual seating; the marble top has a matte, leathered finish. Overhead, the black light fixture has a modern industrial aesthetic with pipe and factory gear accents. Photo: Mark Englert
After walking through the home, Bauerle asked the couple how they envisioned living in the space. When they described their love of entertaining, she transformed the formal living room into a home cocktail lounge with four comfortable chairs surrounding a leather ottoman and custom cabinetry holding barware and wine. "It's cozy and comfortable, and it perfectly fits the way we wanted to live," says Rodriguez.
Bauerle and her husband have a 3-year-old son, and she posts ideas and articles about having a nice house with kids on her Facebook page, Design Boss Gina. "I truly love what I do, and what I do for fun is what I do for a living," Bauerle says. "No two projects are alike, and there are so many right answers. I love helping my clients design beautiful, livable spaces they will enjoy for decades to come."
---
WA&A wants to know:
Denver-based interior designer Gina Bauerle shares some of her favorite inspirations, spaces and sources.
Q: Tell us about a designer whose work you admire.
A: I'm a fan of Angela Harris, the principal of Trio Environments right here in Denver. She has a young child like I do, and we have a similar design aesthetic. She's edgy and does things you've never seen before.
Q: Describe your own home.
A: Our home is in Denver's historic University Park neighborhood, and the design is both contemporary and organic. I like modern lines, but I don't want the space to have a cold feeling. The hardwood floors are walnut finished with a gray wash, and one of the walls is covered in reclaimed barn wood. The main furnishings are neutral, with the walls, rugs, pillows and accessories providing accents of color.
Q: Tell us about a favorite interior wall color.
A: I am a Benjamin Moore fanatic, and Midnight Oil is a deep black with a hint of blue that I love to use in interiors.
To set the design palette for a modern townhome great room, Bauerle chose a transitional Chandra rug. "It looks like an old Persian rug underneath, but the abstract pattern woven on top gives it a more contemporary feel," she says. Stacked rock walls add textural interest, and the Champagne leather sofa and "cuddle wedge" is by American Leather. Photo: Nita Torrey
Q: What's one of your favorite possessions?
A: The fuchsia snakeskin Jimmy Choo pumps that I wore on my wedding day. They're on display in our closet, which has fuchsia walls illuminated by a crystal chandelier.
Q: When you want to unwind, where do you like to travel?
A: Anywhere with a beach. My husband and I are both adventurous and we love to play volleyball, but we also love to relax and be lazy. Costa Rica and Jamaica are two favorite spots, and we enjoyed going to the Cayman Islands with my parents.
Q: Describe your entertaining style.
A: We like to have fun and laugh, so we often have friends over to play games. The board game, Quelf, is one of our favorites; it's funny and makes people do things they wouldn't normally do. We also love Cards Against Humanity and good old charades.