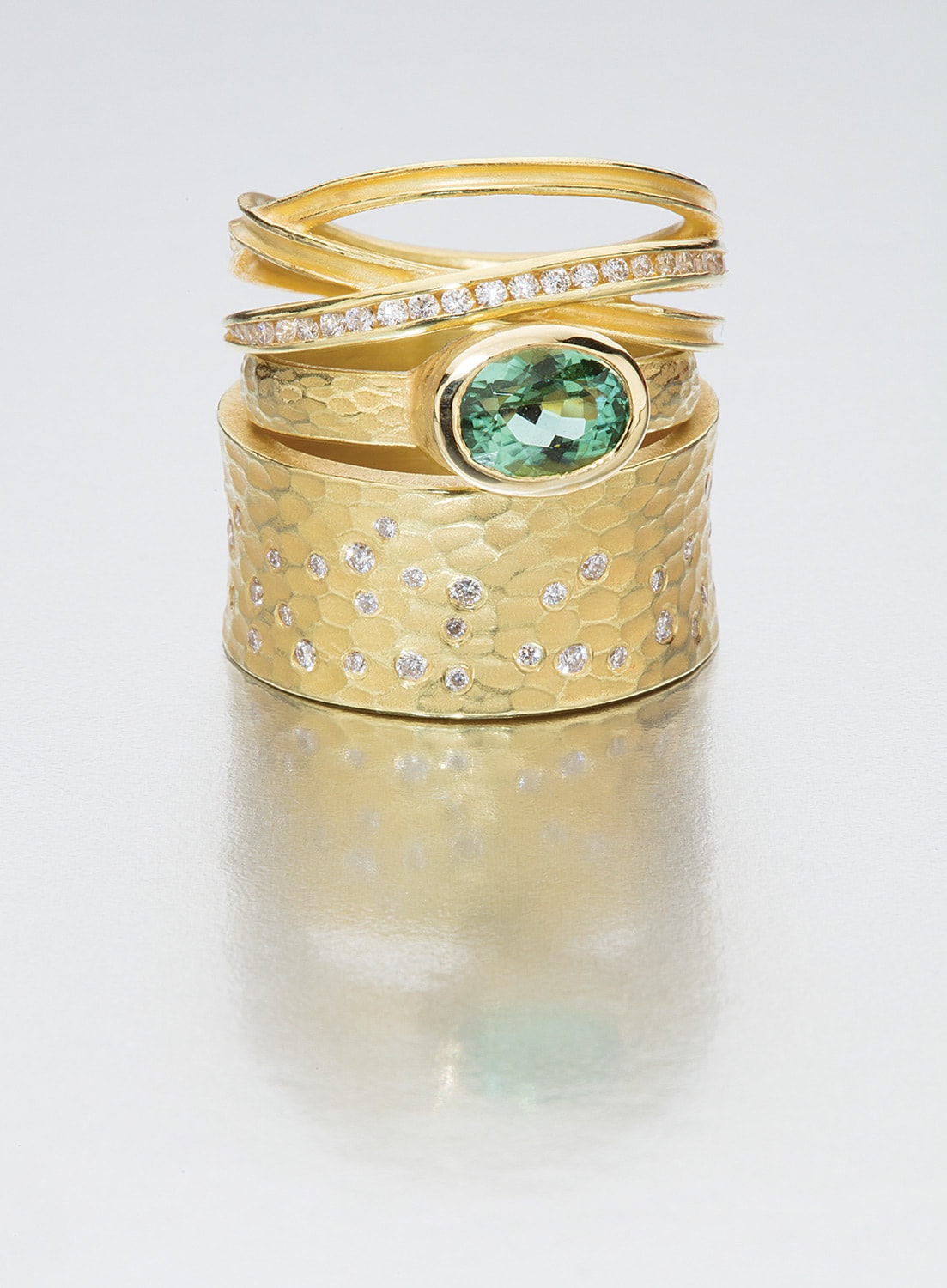 09 May

Details: Things We Love
Stacked Gold Rings by Barbara Heinrich Studio
June is a wonderful month for brides, brides-to-be and for those who are remembering their wedding day. Might we suggest a celebration for all? One or all three of these 18-karat yellow gold rings from Barbara Heinrich Studio could begin the perfect jubilation. Heinrich loves working in silence, which, she says, allows the pieces to speak to her — a method she learned from the noted Rudolph Steiner, her early teacher. We love this Wrapped Ribbon Ring with channel set diamonds and the Carved Glacier Ring with green tourmaline. The wide, carved Glacier Band with scattered diamonds is a perfect complement to either.
Wrapped Ring: $3,130 | Carved Glacier Ring: $1,880 | Glacier Band: $4,120 | 480.994.4717 | frenchonmain.com
Kailash Bronze Table by Chista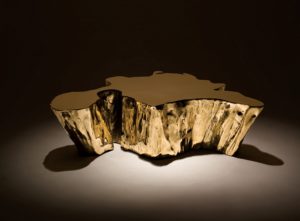 When artist Alon Langotsky needed to register his business 28 years ago and didn't yet have a name, he quickly thought to name it "Chista." That was the name of his beloved black Belgian sheepdog. Today, clients of Chista love to share photos of their dogs, usually in front of a custom piece Langotsky created for them. We, too, love dogs, but we also love this cast-bronze table, used as a coffee table in football star Colin Kaepernick's home in California. It's not just a coffee table, it's actually a work of art that took months to develop. The table is cast in a foundry using the lost-wax process, thus one should treat it as sculpture while enjoying its practical use. The mission statement of Chista, founded in 1990, states that it "explores the roots of primitivism and modernism, the found and the sculptural in the everyday, and the monumental." Chista hit the mark with this one.
Prices available upon request | 52 x 33 x 14.75 inches | 212.924.0394 | chista.net
Pink Cadillac Handbag by Mary Frances
One not need to spend all their money on a Saturday night, as Bruce Springsteen sings in his beloved song "Pink Cadillac." But, one could adhere to the song's other principles with Mary Frances' Pink Cadillac handbag. What fun to combine usability with frill to create the perfect accessory for a fun-filled night. Created by Frances, an award-winning designer renowned for her diverse and playful selection of beaded handbags, you'll love not only the front of the bag featuring the Cadillac, palm tree and parrot, but the back of the purse also features the back of the car, tail lights included. Made with a variety of beads and sequins, the crossbody handbag provides a hands-free experience, for "cruising down the street, waving to the girls, feeling out of sight."
$295 | 8 x 2 x 6.5 inches | 800.616.7776 | maryfrances.com
Hudson Bay Swivel Chair by The Eleanor Rigby Leather Company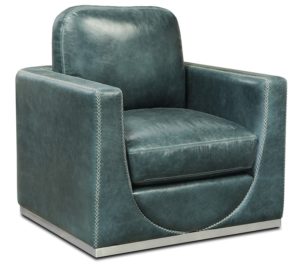 Luxurious, full-grained leather, made cuddly soft with embedded oils and waxes, grace this swivel chair by The Eleanor Rigby Leather Company in a color creatively called Amazon. The leather presents a beautifully distressed and natural patina and shows off the meticulously hand-stitched arms. In particular, we love that the circular design on the chair's front softens its angular features, changing it from ordinary to extraordinary and calling one to sit, relax, enjoy — breathe. Built to last, the Hudson Bay Swivel Chair is braced with tempered-steel and 8-gauge zigzag springs. Another great feature is its feather-soft filling, designed to prevent bunching. Eleanor Rigby has thought of everything.
$3,999 | 36 x 36 x 35 inches | 619.356.5590 | eleanorrigbyleather.com
Outdoor Dining Set by Sifas
We've never seen basket weaving so beautifully melded with furniture as with this Sifas dining set. French designer Éric Carrère, known for his cutting-edge modern designs, has taken weaving to new heights. These chairs are crafted with a frame of solid lacquered aluminum in a matte-gray color, then clad in a refined, woven and braided polyester for style and comfort. Sunbrella cushions finish the chairs, making them ready for fog, rain, snow or sleet. Combine them with Sifas' Koro dining table — round, subdued and elegant — for an inviting outdoor setting. It, too, is made of lacquered cast aluminum in white, mocha or gray with a mock marble tabletop. One might be tempted to match the dining set with Sifas' lounge chairs and two-seater sofa, creating the ultimate outdoor entertainment space for family and friends.
Table: $2,930; 55-inch top | Dining Chair: $1,265; 22 x 24 inches | 786.554.9924 | sifas.com
The Fantastic Seashell of the Mind: The Architecture of Mark Mills by Janey Bennett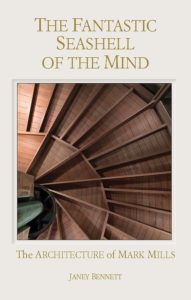 Frank Lloyd Wright once said that seashells are nature's perfect architecture, and Mark Mills, one of Wright's apprentices, took it to heart. His life's work is captured in this book by architectural historian Janey Bennett. Considered a visionary architect, Mills adapted roof systems to uniquely blend structural principles and the organic forms of seashells. He considered the ceilings shells for humans. The structural elegance of his ceilings reveal the skeletons of the buildings, exposed and visible from every part of the interior. Award-winning photographer, Bill Sosin contributed to the book, which is an excellent and entertaining source on unique structural forms.
$44.95 | 208 pages; 11 x 7 inches | 415.883.3300 | oroeditions.com
Lewis & Clark Console Table by Ghost River Furniture
Ghost River Furniture invites you to find inspiration in your home with this table depicting the famed 1804 to 1806 journey of Meriwether Lewis and William Clark that started on the Missouri River and ended up at the Pacific Ocean. Their assignment was to map the territory they traveled through, collect animal and plant specimens, and develop relationships with the diverse tribes of American Indians along the way. While one table can't relay the whole story, with its hand-welded steel base and top (available in beetle-kill pine or emerald ash), it can spark the beginning of the tale. Each piece is one of a kind with unique color variations in the wood, but the laser-cut stringer, displaying Lewis and Clark's precise route in intricate detail, is the same every time.
$1,099 | 73 x 16 x 34.5 inches | 937.581.0422 | ghostriverfurniture.com
Bamboo King Bed by Kravet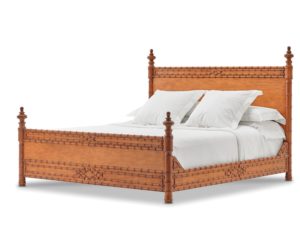 If you have been searching for a bed that has character, but avoids the traditional, Kravet's Bamboo bed might fit your desires. With all the earmarks of great design that founder Larry Kravet [1925 – 2018] built his company on, this inimitable bed is constructed of poplar and bird's-eye maple, is hand-carved and complete with hand-applied bamboo finish. With its walnut color, the bed presents itself as casual, yet refined. Dress it with white linens for a modern look or pair it with floral linens for a more decorative take.
King or Queen | 800.645.9068 | kravet.com
Barn Door Wall Cabinet by Ballard Designs
If you're an art lover, chances are you are unimpressed with the blank stare of a giant television screen in a room filled with your collection. Somehow, it just doesn't work with the rest of the home. We suggest you consider hiding your television in a decorative way, perhaps with this wall-hung cabinet by Ballard Designs, which says this cabinet is "a fun way to corral your big flat screen." Made with hardwood doors, it will easily contain up to a 55-inch screen. Just like a pair of vintage barn doors, its cross-planked sides slide easily on black, wrought-iron rails. Designed to go in any room, its rubbed white finish agrees with most color schemes.
$729 | 32 x 99.25 x 7.25 inches | 800.536.7551 | ballarddesigns.com
Hand-Painted Tumblers by The Granite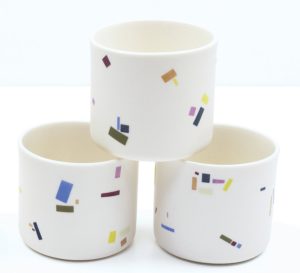 What happens when a ceramicist/metalsmith and an interior designer work together? One answer is these colorful, hand-painted tumblers. Megan Perry and Meg Drinkwater have been celebrated for their wares, most recently at the highly regarded San Francisco Renegade Craft Fair. "A shared interest in visual and material culture and complementary aesthetic sensibilities made us natural collaborators," says Drinkwater. Based in Portland, Oregon, they founded their studio and workshop, The Granite, in 2014 and now create a spectrum of functional objects, including home goods, lighting and wearables. We love these 8-ounce tumblers painted in a sophisticated yet simple pattern and finished with a high-gloss glaze. The resulting form is fresh and festive. Why, we might even choose to pour some bubbly in these babies and offer up a cheery tchin tchin!
$42 and up | 3 x 3 inches | 541.913.9410  | workshop-thegranite.com