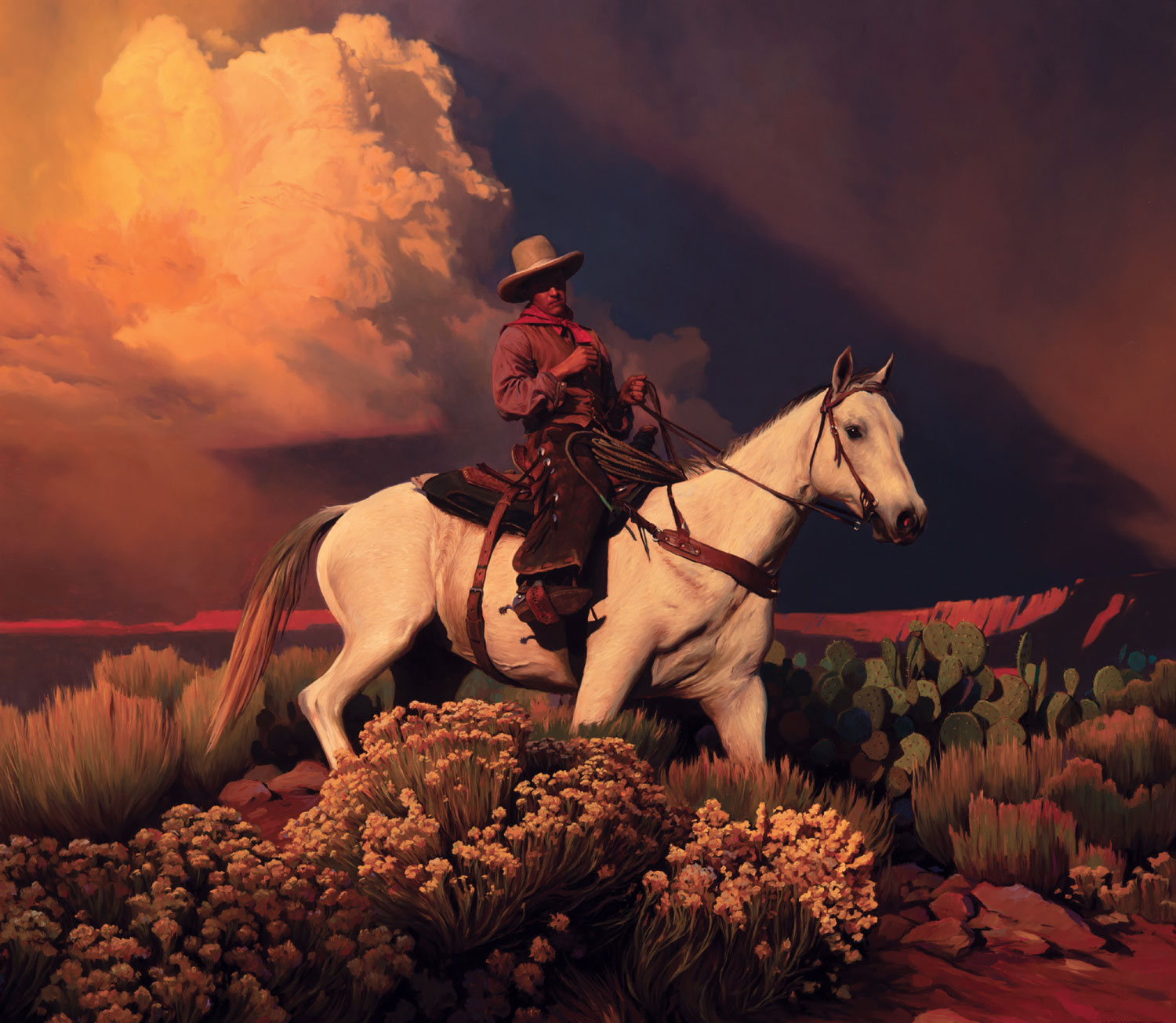 Mark Maggiori, Electric Desert Oil | 35 x 40 inches | Sold: $99,450 | Image courtesy of Scottsdale Art Auction
07 May

Auction Block: Where the Wild Western Things Are
Bonhams California and Western
Paintings and Sculpture
April 16, 2019
Colorist Selden Connor Gile led Bonhams California and Western artwork auction in April in Los Angeles. Gile's Quiet Cove (Belvedere) sold for $312,575 with fees, even as one of Frederic Remington's most prized tabletop bronzes, The Bronco Buster, went for $68,825.
California impressionist William Wendt's Clouds over a Field of Poppies presented a landscape with trees, clouds, and grass, punctuated by bright red blossoms in a piece that brought a healthy $68,825.
On the lower end of sales but the higher end of enchantment was Maynard Dixon's Navajo Land, Southwest of Chinle (Arizona), a restful, horizontal composition that sold for $12,575, including buyer's premium.
Similarly, On Homeward Trail by Gordon Coutts fetched a modest $12,575 but is praiseworthy for more than its price. The play of light and shadow as a figure mounted on a donkey winds through lonely desert lands aptly illustrates the smallness of man against the magnitude of arid mountains.
Scottsdale Art Auction
April 6, 2019
Logan Maxwell Hagege has easily outpaced early praise that pegged him as a rising contemporary artist for his scenes of the American Southwest. That promise has blossomed, and perhaps there is no better empirical evidence than the new auction record set for one of his paintings at the Scottsdale Art Auction in early April.
Breaking Through the Storm, Hagege's arresting composition centered on Native Americans and featuring clouds, color, and light, brought $234,000 — compared to pre-sale estimates ranging from $50,000 to $75,000. 
More records were shattered at an auction that marked its 15th anniversary this year. The sale totaled $13.7 million and was led by the sale of Thomas Moran's Castle Rock, Green River, WY at $2.75 million.
Melvin Warren's Remnants of the Herd, depicting a short line of longhorn on the move, sold for $497,250, setting a new high for the artist whose work had been expected to fetch between $100,000 and $150,000. Painter Mark Maggiori also set a record for the sale of Electric Desert at $99,450, or nearly four times the predicted price of $25,000.
The sale, brought by Legacy Gallery, hardly skipped a beat before setting a world auction record for a bronze buffalo by Henry Shrady. The 22.5-inch sculpture brought $380,250, far higher than its low-end estimate of $200,000, and topping its high-end estimate of $300,000.
The successful bid for Frank Tenney Johnson's Smoke of a .45 was a dizzying $669,000 in an auction that saw the sale of 94 percent of the 346 lots offered. And a crowd estimated to number 500 showed no hesitation in driving up the price of a tranquil waterside landscape by Albert Bierstadt. Sunset, Salt Lake fetched $315,900 or more than twice its low estimate, while Martin Grelle's Offerings of the Wind brought $438,750 compared to expectations ranging from $125,000 to $175,000.
Night of the Artists Art Sale & Exhibition
March 29–30, 2019
It is doubtful that pronghorn, an animal whose beauty of form and swiftness of hoof place it among the most admired of the West's charismatic creatures, have been rendered in a more poetic fashion than in Ralph Oberg's painting, Prairie Sundown. The oil on linen depicts pronghorn surveying an expanse of sagebrush flats; the tan-orange of their fur and the bluish tints in the bouquets of sage is echoed in shallow sloped mountains that vie with a diminishing horizon for the light and warmth of a vanishing sun.
The piece, priced at $30,000, received the Briscoe Museum's purchase award during the awards dinner and live auction on March 29. The sale and exhibition in San Antonio, Texas, brought artistic talent and appreciation, with the totals for the weekend exceeding $2 million, and a gathering of artists and guests that numbered above 400.
"Something we focused on this year was catering to every audience during the Night of Artists opening weekend," says committee chair, Nicole McClane, in a statement. "Whether an attendee was a seasoned collector, an artist, or a patron, we felt like we delivered all of the above."
The bulk of weekend proceeds stemmed from The Luck of the Draw Sale & Reception on March 30, where artwork sales totaled nearly $1.3 million. Highlights included Martin Grelle's Shoshone Searchers, which commanded $118,750, and Z.S. Liang's Horse Medicine Man, which sold for $62,500. Honors included Mick Doellinger with the David Crockett Award for Artists' Choice; Jeremy Conrad Winborg with the Sam Houston Award for Painting; John Coleman with the James Bowie Award for Sculpture; and Greg Beecham with the William B. Travis Award for Patrons' Choice.
The money raised by the Briscoe Western Art Museum's centerpiece sale and show benefit its programs, exhibits, and collections.     
Altermann Galleries & Auctioneers'
Online Auction
March 29, 2019
Siberian Tiger, an acrylic on board by the late Bob Kuhn, brought $26,400 to lead Altermann Galleries' online auction in March. The 12-by-14-inch gem is a prime example of Kuhn's mastery in depicting animals, with the tiger from the title appearing to sleep but alive with litheness, muscle, and the confidence that comes with an apex predator.
The same sale saw Kevin Red Star's Bear Claw and Willow garner $8,750 and capture the number two slot, with a mixed media on canvas of a dramatic depiction of two Native Americans against a black backdrop that is only relieved by the curves of a pale orange moon.
March in Montana
March 22–23, 2019
A canyon wonderland laid out in pastels captivated collectors at a two-day sale that saw buyers in every category primed to purchase. The painting, The Listeners, streaked past its pre-sale estimates of $10,000 to $15,000 to fetch $38,350 with fees in a new auction record for the late artist Ross Stefan. The sale of the 20-by-40-inch oil on canvas underscored the growing strength of the Stefan market, said Ron Nicklas, partner of March in Montana, which this year marked its 32nd anniversary.
The Listeners, whose amount represented more than twice the previous amount, or $16,000, for a Stefan painting, was one of several by the artist that surpassed expectations. "Prices for his pieces during the sale were really unmatched; his market has grown slowly but steadily, along with an appreciation for the artistry," Nicklas says.
Two determined floor bidders led to a handsome sum for deceased artist Edgar Paxson's Two Scouts Watching Custer's Command, Big Horn, a vertical and historical depiction of two Native Americans intently looking down from their rocky perch at a group of barely there, mounted troops riding below. The painting gives hardly a hint of the carnage to come; instead, it is a delicately rendered scene that includes ponies in relaxed poses amid scrabbled conifers. They appear dreamily unaware of the developments that will unfold. Two Scouts realized $76,700, topping pre-sale estimates that ranged from $50,000 to $75,000. "A couple of people came to the sale seeking to purchase that piece. They'd flown in to inspect it beforehand, and they were on the floor trying to outbid each other," says Nicklas.
Sizable sums attended such paintings as Olaf Seltzer's Trail of the Diamond R, which depicts a wagon train rumbling across rough country and sold for $46,750, and an oil by Don Oelze, Day Traders, realized $29,000, or nearly double its high estimate.
Textile art showed resurgent strength, with a selection of mostly antique rugs and blankets achieving amounts that included five figures. For example, a Crystal Trading Post rug elicited a flurry of bids to sell for $13,000, exceeding pre-auction estimates.
The sale, which featured two sessions for 725 lots, and which saw a sell-through rate of 96 percent, brought more than $1.9 million, or 10 percent more than last year's auction. The auction takes place during Western Art Week in Great Falls, Montana, where events are shaped around the town's storied former resident, Charlie Russell, and where the signal sale at the C.M. Russell Museum sets the tone and the tempo.
The Russell: An Exhibition and Sale to Benefit the C.M. Russell Museum
March 21–23, 2019
The sale of historic and contemporary Western art brought gross sales of $4.7 million amid three days in late March in Great Falls, Montana. The live auction, tied to the C.M. Russell Museum, serves as the highlight of Western Art Week in the Northcentral Montana city where Russell lived and worked, and where the week's overflow crowds represent yet another of the artist's lasting legacies.
Works by C.M. Russell led sales, with top prices for such paintings as Approach of White Men, a 1897 oil that sold for $1,369,000; Indian with Bow, a 1900 oil that fetched $753,000; Indian Scout, a watercolor painted in 1895 that garnered $409,500; and an 1898 watercolor ink wash, Preparation for the Buffalo Hunt, which went for $128,700.
Contemporary Western artists led the event known as First Strike, an auction that featured 70 works and which ultimately achieved a sell-through rate of 100 percent this year. The auction brought $420,556 with fees and was led by All Legs, a portrait by Adeline Halvorson of a winsome white colt. The vertical painting rose to fetch $40,000 amid a sale that drew nearly 700 guests and artists.
Art in Action played to a sold-out crowd at the Meadow Lark Country Club, where artists gave their time and talent to the quick draw, which was followed by a live auction that tallied nearly $150,000 — including the top-selling work by Michael Barlow, which realized $13,000.
The art of apparel was on display during The Russell Runway Show. In its third year, the show featured everything from hand-painted vests by Russell artists, vintage leather jackets, artfully beaded accessories, and sartorial masterpieces by international fashion names. The more than $16,000 that was raised by sales and donations was augmented by an anonymous patron who matched contributions to bring the total to $27,235. The funds are earmarked for the museum's Russell for Learning program, which creates an art-centered literacy curriculum for area middle schools. 
Sotheby's American Art
March 6, 2019
Milton Avery's tranquil rendering of his daughter, Portrait of the Artist's Daughter Reading, dated 1951, arched above pre-sale estimates of $120,000 to $180,000 to achieve $425,000 with fees at Sotheby's sale of American art on March 6. 
The auction totaled $3,340,625, and the theme might as well have been paintings that evoke a sense of peace paired with place. An all-but-architectural rendering by Andrew Wyeth, Cordwood, a watercolor on paper depicting the stacked logs of the artwork's title, went for $350,000 compared to pre-sale expectations that ranged from $200,000 to $350,000.
An unusual offering by the esteemed Western landscape artist Albert Bierstadt sold above its high estimate, with Butterfly, a miniature of the winged insect in oil and pencil on paper and board, fetching $22,500 compared to estimates of $12,000 to $18,000.
The sale also saw a nicely rendered landscape by Edgar Payne, The Miner Peaks at Iceberg Lake, go unsold, as did Edward Borein's Bell Mare and an action-packed oil, Wagon Train, by Edgar Paxson.