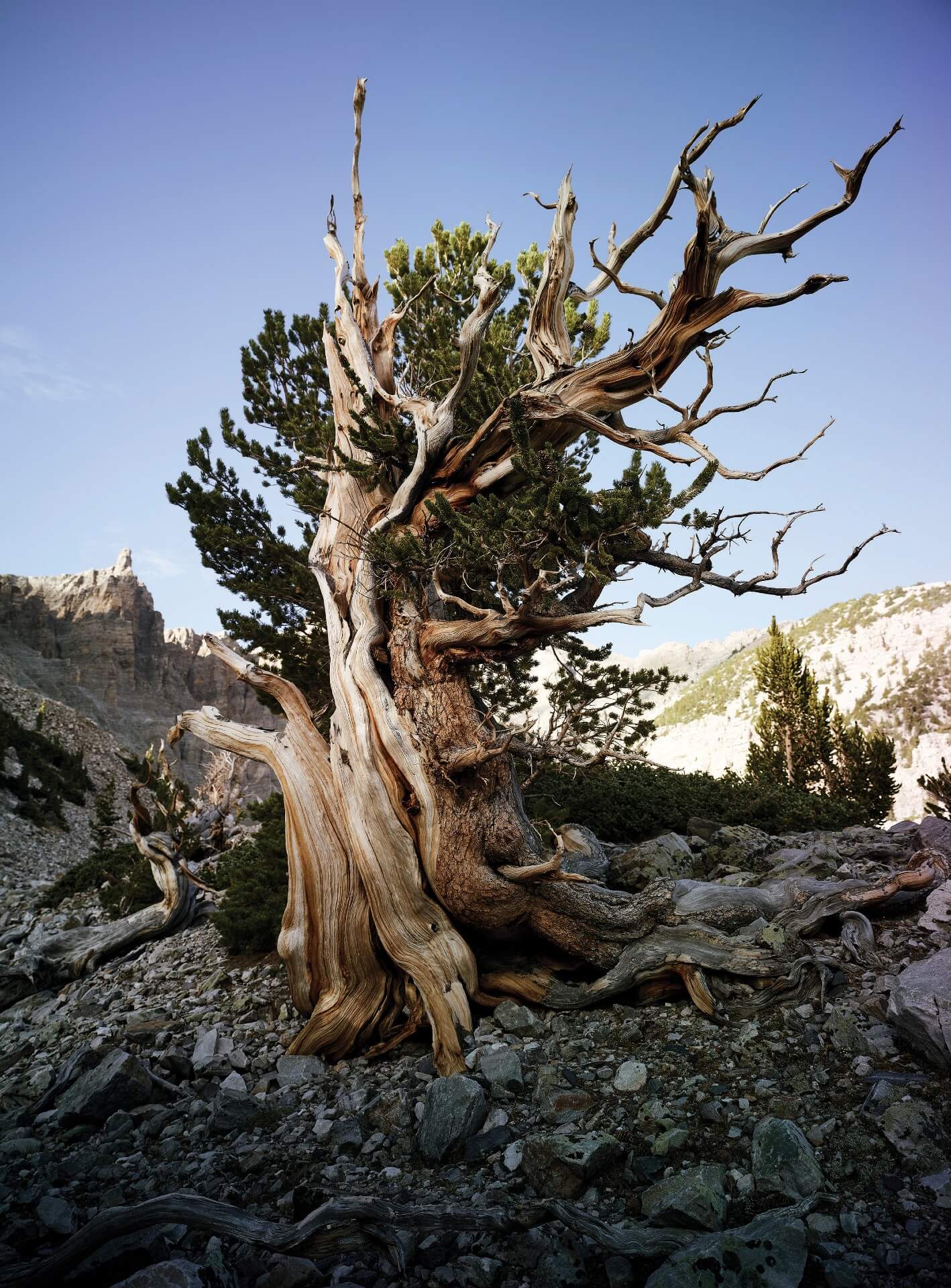 Bristlecone Pine #2 — Wheeler Peak Grove, Great Basin National Park, Nevada | Pigment Print on Rag Paper | 40 x 50 inches | 2018
10 May

A Sense of the Sublime

Ian van Coller's extensive body of work examines the art of seeing, not merely observing but looking deeply at nature in regard to humanity's time and impact on the planet. His large-scale photography books cover scoured glaciers in Antarctica, bristlecone pines in Nevada's Great Basin National Park, a Norwegian archipelago, and a solitary broken stand of ice on Mount Kilimanjaro. These images underline his interest in the idea of deep time, or an unimaginable length of time far beyond our human scale, often thought of as geologic time.

"I've been interested in deep time for a while," van Coller says. "Bristlecone pine trees are the longest-living non-cloning tree still alive. There are species growing that are 5,000 years old. The choices we make today will affect things seven generations from now."

"I'm always happiest when I'm out in nature," the artist says, as we wait for the special collections librarian to bring out one of his 11 books. His books reside in the collections of such hallowed art institutions as the Getty Museum and such universities as Yale, Stanford, and, in this case, Montana State University. "A lot of my work is about getting humans to make choices to continue to [survive] beyond today."

The librarian brings Bristlecone of the Long Now, which covers most of the library's table. But it's not a book, not in the traditional sense. It's more akin to a portfolio, album, or cumulative history of time spanning thousands of years. The 42-by-30-inch pages carry a delicate, wordless whisper as van Coller gently lifts and turns one at a time. The 23 photographs, each printed by van Coller using Japanese washi paper, culminate into an exquisite narrative, both tragic and vital. 

As Jonathon Keats, a conceptual artist and experimental philosopher, writes in the book's introduction, "Bristlecone pine trees are intermediaries. They're deep-time liaisons. They connect us with the planet before the Industrial Revolution — a world that none of us encountered directly — because many of these trees lived before the steam engine was invented. Some have survived through the better part of human civilization — nearly halfway back to when the Ice Age ended — and memories of all that has occurred are embodied in their contours. When we encounter these arboreal elders, we're reminded of a time when humans did not have dominance. We fathom that their inner rings are unsullied by human industry."

The "long now" in the book's title refers to the Long Now Foundation, a non-profit established to develop "a counterpoint to today's accelerating culture and to help make long-term thinking more common," according to the organization's mission statement. The bristlecone pines van Coller photographed share land with the Long Now Foundation and Great Basin National Park in  Nevada. The sparse, rugged landscape scrapes across the images, each tree a portrait, an entity, like sentient beings anchored in place. Perhaps it is van Coller's perspective, but each one seems to reach beyond the page, harkening. 

"I'm interested in the sense of the sublime in nature and how that feeling can be transferred to someone else," he says. Photos appear in black and white, some in color, some printed to allow large swaths of white space, singularly worthy of contemplation. Taken as a whole, it is a harrowing history that conveys a sense of vastness and the finite. 

Van Coller's bookseller, David Abel, proprietor of Passages Bookshop in Portland, Oregon, immediately responded to the photographer's imagery. "Most books feel like an object; [van Coller's books] really feel like environments. You are in a space that can be entered into, a physical entering," he says. Abel, who owns a collectible book shop and also places art books like van Coller's in museums and libraries, knew he wanted to work with van Coller in some capacity. He appreciates the photographer's subtle palette that results from his choice of conditions and time of day. And he finds the use of light specific, not formulaic. 

"Trying to pinpoint what it is about Ian's work is very hard. There's a quality of simultaneous mystery and humility I find very powerful," says Abel. "I felt that the work wasn't about him; it was really about what he was looking at and an attempt to see it. There's great care, technically, in the books." 

In the Bristlecone of the Long Now, van Coller "shows each tree with the same kind of care and reverence you would have for a person," Abel says, adding that the artist deploys his skills in service of this exploration. "Sometimes he finds things he doesn't expect to find. A simple technical thing is the suppression of scale. [In] a lot of the images, you can't tell how big it is, how far away it is." 

William Fox, writer, author, scholar, and director for the Center for Art + Environment at the Nevada Museum of Art, shares a few interests with van Coller. "We both go to extreme environments to investigate climate change," he says. "I'm fascinated by how human cognition turns land into landscape, or space into place, or terrain into territory. Ian is fascinated by this process as well. 

"When you go to the Antarctic, where we both worked, you are in a place — which is space before you encounter it. The first thing you do is attempt to measure how far you are from things. But you can't easily measure yourself in a place like that," says Fox. It's called a cognitive dissonance of isotropic space, which is the undefined knowledge of not knowing how big you are compared to a landscape. "As a writer, that's the context where I look at his work," Fox adds. "His books are notable partially due to their size. Artists have made large books for a very long time." For instance, John James Audubon's Double Elephant Folio (1933) is based on how far apart you can spread your arms for relative scale. "Ian is not going to make a book the size of the mountain. But he kicks you out of the conception of what a photography book is — it changes your scale to the subject; it draws you into the context of the image."

Fox notes how van Coller creates artwork that evokes all the senses in addition to sight. "He's a great photographer. He does it with a full heart and walks on the planet that way — alert to the world and the environment," he says. 

The Last Glacier project, a collaborative artist group that van Coller belongs to, documents the effects of climate change. Beginning in 2010, over the course of four years van Coller, Todd Anderson, and Bruce Crownover visited the last glaciers in the "crown jewel of the continent," Glacier National Park in Montana. Their work resulted in artworks and a limited edition book that serves as a historical document of climate change in the park. The Last Glacier includes 21 original woodcuts by printmakers Anderson and Crownover, and photographic prints by van Coller. The collection is touring Montana for the next two years.

Van Coller, a 2018 Guggenheim Fellow and a Fellow at The Explorers Club, has two upcoming books, including Oldest Ice on Earth, a collaboration from Antarctica with Anderson completed in conjunction with the National Science Foundation's Antarctic Writers & Artists Program. "Some of the ice drilled there goes back 3 to 5 million years," van Coller says. The other book, The Last Glacier: Wind River, is a collaboration with Anderson, Crownover, and ice scientist Carsten Braun. 

Van Coller's high-resolution images, his taste for adventurous terrain, and his urgency regarding climate change drive him from mountain ranges to the southernmost points on earth. It is his fervent hope to express ephemeral beauty in the fragility of this world.
The Last Glacier will be touring Montana through November 2024, stopping at these locations:
Northcutt Steele Gallery at Montana State University Billings, June 12 – July 21

Danforth Museum of Art in Livingston, August 21 – November 19

Holter Museum of Art in Helena, January 3 – February 14, 2024

Bob & Gennie DeWeese Gallery in Bozeman, February 23 – April 05, 2024

Carle Gallery in the Butte Silver-Bow Public Library in Butte, May 1 – June 12, 2024

Schoolhouse History and Art Center in Colstrip, October 16 – November 27, 2024