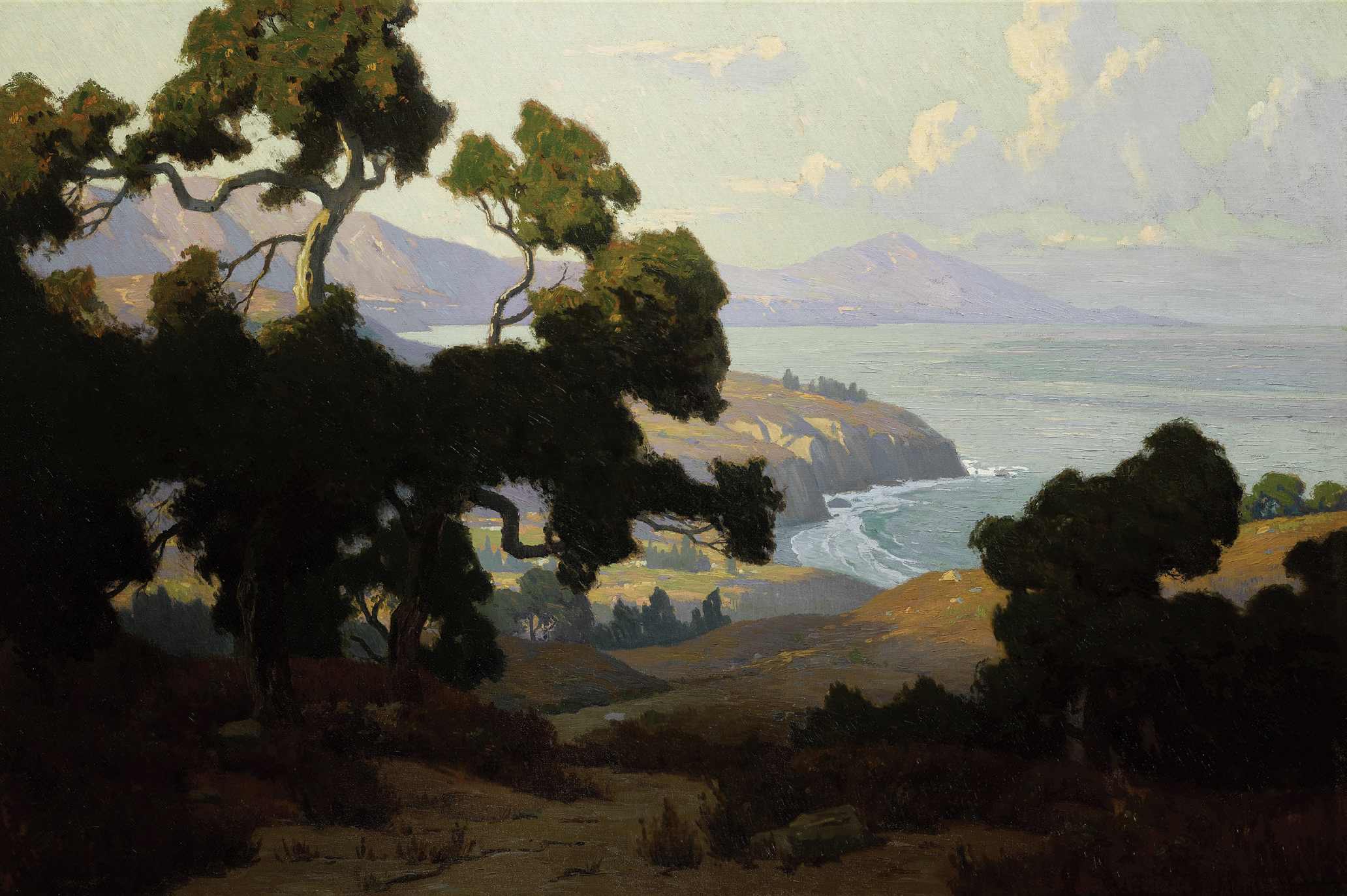 Elmer Wachtel, The California Coast | Oil on Canvas | 40 x 60 inches | Sold: $168,825 Courtesy of Bonhams
06 May

Auction Block: Time-Honored Traditions

In a time when challenges and uncertainties abound, it's reassuring to learn that artists, art dealers, and collectors are doing what they do best: seeking to support those activities that raise the spirits and the reflections of humankind. Art is a signal method toward that end, but many in that community did not stop there.

Amid postponements of some sales and the remote opening of others to protect workers and clients from COVID-19, auction owners and sale organizers sent kind messages outlining their concerns for others' well-being and the precautions that were in place. And some even deepened their appeal. Bonhams, for example, hosted the Blue Auction in aid of the National Health Service Charities in Britain, where the auction house is based.

In what may be a sign of buyers' hopes for a return to normalcy, the art market showed strength in pieces that evoked nostalgia, conveyed tranquility, and expressed emotion. Time-honored traditions and symbols drew collectors' interest, such as a William Standing painting of Native Americans hunting buffalo that sold high at March in Montana, or the prospect of ripe pumpkins in a Grandma Moses painting that brought more than twice its low estimate at Sotheby's. Flowers bloomed with bids at Bonhams' California and Western Art auction, where Frederic Remington's The Broncho Buster was the top-selling lot. And the weavings and wearable art created decades ago by the Navajo elicited the attention of buyers at John Moran Auctioneers' Art of the American West.
March in Montana
March 20 – 21, 2020
Total: $1.8 million
March in Montana, the annual sale presented by Coeur d'Alene Galleries and the Coeur d'Alene Art Auction, conducted its business entirely remotely for the first time for an event that brought the second-highest total in its history. The success of the electronic affair was all the more notable, because the sale coincides with activities and a centerpiece auction put on by the C.M. Russell Museum, based in Great Falls, Montana. Yet the museum's fanfare, known as The Russell, was rescheduled for September due to concerns tied to the coronavirus.
The Last Chase by Montana artist William Standing proved to be among the most sought after paintings, with the horizontal oil depicting Native Americans hunting buffalo selling for $118,000 with fees to set a new world record. Pre-sale estimates for the work ranged from $25,000 to $35,000.
The Race, an early 20th-century illustration that depicts a charged scene of a man and wolves by celebrated American illustrator Phillip Goodwin, went for $38,350, compared to expectations of $30,000 to $50,000. On a more serene note, a pastel-colored mountain valley scene in gouache by Edgar Paxson — Marcus Daly Ranch, Hamilton, a picture commissioned by the Montana copper king himself — brought $35,400, nicely surpassing its low, pre-sale figure.
John Fery's Bull Elk, a painting of the iconic Western animal, brought $8,260, while a small-sized piece by Ken Carlson, Monarchs of the Plains, sold for $4,425 with fees, slipping below its pre-sale estimate but exceeding price in execution.
In a nod to Western design and craftsmanship, a pair of club chairs by furniture maker Thomas Molesworth brought $60,000, or twice the low-end, pre-sale estimate, and a decorative Edward Bohlin parade saddle went for $38,350.
Bonhams' California & Western Art
March 17, 2020
Total: $2,611,000
The Broncho Buster, arguably Frederic Remington's most recognizable bronze, was purchased for $437,575 with fees to lead Bonhams' California and Western Art sale in Los Angeles in mid-March. The event was highlighted by the sculpture, which was from a private collection and is inscribed with the artist's name on its base as well as an imprint of the Bronx, New York, foundry where it was produced through lost-wax casting.
The Broncho Buster was just one of several treasures created by Western and California artists that sold high or within pre-sale estimates at an auction with top offerings that depicted the transcendent power of nature in its infinite expressions, from brilliant blooms to quiet coastal scenes.
Tulip Field, California native Joseph Raphael's dream-like depiction of color and emotion embodied in tulips, sold for $187,500 to lead a pair of flower-centric paintings that were among the event's top 10 sellers. Joseph Kleitsch's Geraniums in Bloom (Laguna Beach) went for $75,075, compared to estimates of $60,000 to $80,000, to take the auction's seventh slot.
Coastal waters and serene scenes similarly captivated bidders and ultimately made up half of the 10 best-selling items. Bringing in the Boat by Arthur Grover Rider sold for $187,575 — compared to estimates of $80,000 to $120,000 — to take the third position, followed by Elmer Wachtel's The California Coast, which brought $168,825, compared to estimates of $100,000 to $120,000.
California impressionist William Wendt's San Juan Capistrano Road, a symphony in cool colors, sold for the tidy sum of $81,325, or nearly three times its low pre-sale estimate, while Edgar Payne's moody Santa Cruz Island easily outdid its expectations, ranging from $12,000 to $16,000, to achieve $56,325.
John Moran Auctioneers' Art of the American West
March 15, 2020
Total: N/A
Telephone and online bidders vied mightily for top-selling items, chiefly textiles and Native American jewelry from the latter half of the 19th century, at John Moran Auctioneers' Art of the American West sale in mid-March.
Two bidders pushed up the price of a Navajo chief's blanket — with bands of red from a cochineal beetle dye — to $40,625 with fees, or twice its high-end estimate. The blanket represents the second of three phases — called the classical period — of prized pieces by skilled Navajo weavers.
A manta weaving from the same period, also featuring cochineal dye and making liberal use of geometric designs, went for $28,125 to become the sale's second best-selling item.
Navajo silverwork likewise proved popular, including a concho belt from the late 19th century which brought $13,750, or more than twice its high estimate. To no one's surprise, an early squash blossom necklace, with handmade beads and a pendant that was made by pouring silver into a sand cast, realized $10,000. That was one of two hand-crafted necklaces that sold high; the other featured drops of set turquoise fringe in a unique show of expert workmanship and sold for $10,625 with fees.
A determined bidder snapped up Ed Mell's Sidestepper, a tabletop sculpture of cowboy and horse that makes an art of angles, for $10,000. And Cheyenne War Party Leader led the sale of several colorful sculptures by David Lemon. The piece, which features a ceremonially dressed Native American seated on a rearing horse, brought $3,437.
Sotheby's American Art Online
February 19 – March 5, 2020
Total: $3 million
A painting featuring a brilliantly colored olive grove in a tranquil setting led Sotheby's American Art Online sale, with the work by John Singer Sargent — A Landscape View Near Nice — going for $350,000, with fees. The oil is remarkable for its idyllic setting, loaded brushwork, and for charmingly depicting the quiet vitality of nature, which perhaps is why the price arced over its pre-sale estimates of $200,000 to $300,000.
Elsie's House, a watercolor and pencil on paper by Andrew Wyeth, brought $225,000 to become the second top-selling item at the sale. The naturalistic picture featuring a frame house with white shiplap siding was expected to go for $200,000 to $300,000.
In third position was a beautifully rendered coastal scene by 19th-century artist Francis Augustus Silva, with Evening on the Coast achieving $150,000, or nearly twice its low-end estimate.
Winslow Homer may have been the master of pastoral paintings — a gentle irony for an artist whose initial recognition came from images of the American Civil War published in Harper's Weekly, according to Sotheby's, and On the Fence is a tender example of the artist's love for rural settings. The picture, which realized $137,500 with fees to take the fourth-highest slot, shows a girl sitting on an uneven, low stone wall, hands loosely placed on her lap.
October, Anna Mary Robertson Moses' painting of that fall month, outpaced expectations by realizing $125,000, far more than its $50,000 to $70,000 estimate, yet still a steal. Painted by the folk artist known as Grandma Moses, the work conveys all the elements associated with autumn, including trees of gold and pumpkins ripe for the picking. October was the fifth-highest selling item in Sotheby's American Art Online auction.
Altermann Galleries & Auctioneers' Online Only Auction
February 21, 2020
Total: N/A
Ken Carlson created his own version of a fairytale with Three Bears, depicting a mama grizzly and two cubs. The painting landed in the top tier of prices during an online-only sale by Altermann Galleries, and brought $12,500 with fees. Its nearest competitor — a Scott Rogers bronze titled Hightailin' — sold for $10,000.
Several pieces went for a tidy $9,375, including a Howard Terpning giclee The Force of Nature Humbles All Men, a large canvas showing Native Americans on a rocky ledge before a raging waterfall, and Peter Hurd's sublime watercolor of falling light, Aguacero en Año Seco. An alabaster sculpture of two Native Americans, Owners of the Horse Songs by Joe Oreland Sr., and a tabletop bronze, Waiting for Dark by Allan Houser, both sold for $6,875 in yet another sign of the strength of sculpture at the auction.
Zuni Heritage, Rock Newcomb's painting of Native American vessels, made more dramatic by a black background, achieved $5,625, the same price as Carl Oscar Borg's Monte Soratte, Civita Castellana, which employs all the subtle colors of the Southwest.
Claude Monet, Camille Pissarro, and James Tissot were just a few of the acknowledged masters of garden paintings. Yet it could be argued that an honorary 20th-century member of that club could be Conrad Schwiering, with Jacaranda Time as an example. The 20-by-30-inch oil does more to express a season of warmth and an outpouring of joy than many flower paintings, and went for $4,375.