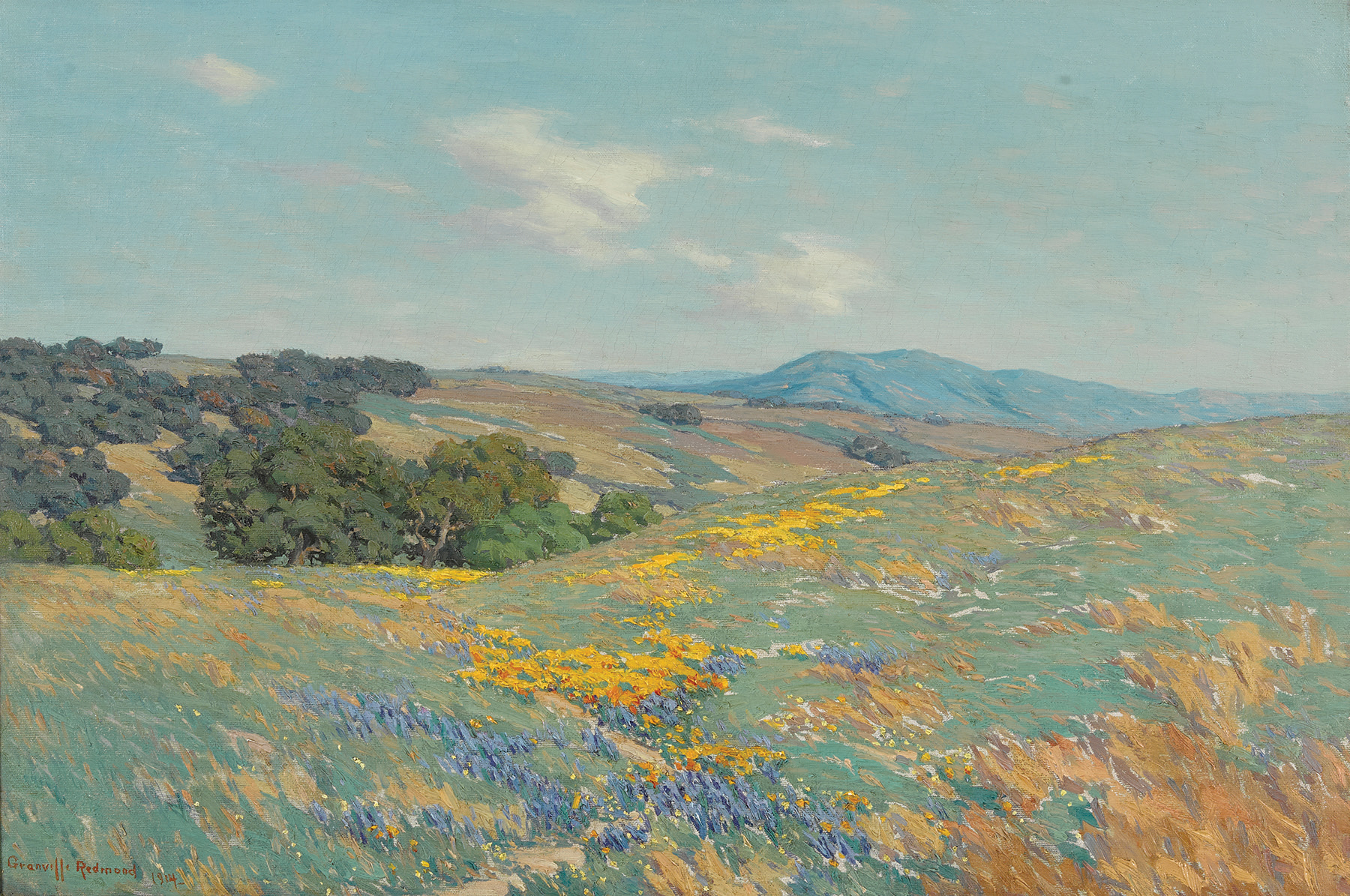 Granville Redmond, Poppies and Lupine | Oil on Canvas | 20 x 30 inches | Sold: $212,575
10 Sep

Auction Block: An Eternal Appeal

Auction houses and Western art shows and sales have worked mightily to overcome challenges that are implicit in seeking buyers and selling works amid a global pandemic. Despite grappling with difficulties that periodically appeared insurmountable, officials and organizers soldiered on to deliver promising results.

The Coeur d'Alene Art Auction, a Western art market bellwether, experienced a solid performance in July, as did Sotheby's the month before and Bonhams the month after. Where certain shows went entirely online for the first time, results were mixed, chiefly because those events depend on crowds of people coming from across the country to attend a host of art-related activities in addition to sales.

Through the summer months, collectors showed unabated enthusiasm for Western works and artists, leading several to point to the continuing strength of the market. Landscapes were noticeably favored at several sales, and prices for certain works climbed far higher than expected. Examples include a beauty by Thomas Moran at the Coeur d'Alene Auction, a flower-framed scene by Granville Redmond at Bonhams, and a swoon-worthy work by Thomas Hill at Altermann Galleries' online sale.

The Briscoe Western Art Museum's Night of Artists saw solid sales, as did Cheyenne Frontier Days Western Art Show in Wyoming's capital city. Both events relied heavily on online interest and purchases. Night of Artists saw paintings with familiar figures of the American Southwest go for large amounts, while the Cheyenne Frontier Days sale saw popular picks range widely, from watercolors to mixed media sculpture.
Bonhams' California and Western Art Sale
August 4, 2020
Total: $2,168,753
A highlight of Bonhams' signature summer sale of California and Western art brought a mesmerizing landscape in which fields of wildflowers are framed by the sky. The painting by California Impressionist Granville Redmond, Poppies and Lupine, achieved $212,575 with fees to lead a sale with totals of more than $2.1 million, nearly equal to last year's August auction.
Poppies and Lupine was one of several paintings with a price that far exceeded pre-sale estimates (in this case, $100,000 to $150,000) at a sale that also set five world auction records.
Another large landscape, The Grandeur that is California by Elmer Wachtel, realized $106,325 with fees, or more than twice its high estimate. And Sun and Sail, a boat and beach scene by Arthur Grover Rider, went for $100,075 compared to pre-sale expectations ranging from $40,000 to $60,000.
Plein air painter William Alexander Griffith's Along the Laguna Coast, complete with waters where aquamarine mixes with lavender, brought $87,575 to mark a world auction record for an artist whose studies took him to Paris before returning to his native state to teach art at the University of Kansas.
A painting by William Wendt, whose work is arguably the most recognizable among California Impressionists of the early 20th century, sold for a price much higher than anticipated. The work, California Landscape, also sold for $87,575, compared to pre-sale estimates of $40,000 to $60,000. The oil was one of three that went for that amount to tie for the third slot among the auction's top-selling items.
Edgar Payne's Canyon de Chelly rounded out the three-way tie. The small-scale oil depicts mammoth red cliffs, with several riders on horseback below. The piece, which was expected to go from $50,000 to $70,000, is a testimony to the vastness of the West and man's relative place within it.
Coeur d'Alene Art Auction
July 25, 2020
Total: $10.4 million
It's been said that people are defined by their landscapes, so imagine the figures that might emerge from the ethereal yet majestic mountains and river valleys painted by 19th-century artist Thomas Moran. The wilds and waters of Wyoming are where Moran fully conjured up a West of limitless imagination. So it is fitting that his Green River, Wyoming (1863) was the top seller at the Coeur d'Alene Art Auction on July 25 in Reno, Nevada. Celebrated for its ethereal light and awe-inspiring atmospherics, the painting went for $1,633,800 with fees, compared to pre-sale expectations that ranged from $1 million to $1.5 million.
Splashes of red and the masterful handling of contrasting colors in a still life led Victor Higgins' New Mexico Zinnias to fetch $416,500, against estimates of $200,000 to $300,000. Auction officials said it was the second-highest amount achieved for a still life painting tied to the Taos Society of Artists.
A work by Ernest Blumenschein, also known for his affiliation with the Taos Society, sparked a bidding battle at the auction, with White Sun (1927), an evocative portrait of a Native American, ultimately realizing $357,000, or more than twice its low-end estimate.
And one can see why it was hard to resist a signature work by Carl Rungius, master of wildlife art, when Herd Bull, which combines color and geometric design to produce a portrait of a bull elk, sold for $339,150. The painting was once owned by industrialist and philanthropist Richard P. Mellon, according to auction officials.
The auction brought a smattering of stellar moments for traditional Western artists, including Trail Boss by Edward Borein, which went for a handsome $83,300, the highest price for a Borein on the secondary market in more than five years, according to event officials. And, in a nod to contemporary masters, the work of Logan Maxwell Hagege continues to show strength, with the oil painting Where Land Meets Sky selling for $154,700.
Cheyenne Frontier Days Western Art Show & Sale
July 16–August 16, 2020
Total: $140,000
The signature summer event, Cheyenne Frontier Days, was canceled in 2020 for the first time in decades, but its associated art show went on in Wyoming's capital city. Cameron Green, a coordinator with the Western art show, knew as early as April that a decision had to be made to either cancel or carry on. The event did the latter, with a mix of in-person viewings that included best practices tied to COVID-19 and online purchasing that proved more popular than expected.
Green said the modified event was a salute to the efforts of officials and volunteers with the Old West Museum, where the show is staged, and to artists counting on such shows to stay afloat. "It was quite a challenge, but I think we all rose to the occasion," he says.
Colt Idol, a Montana artist new to the show, led for total sales after three of his four works were snapped up by buyers. Idol uses the foreground of his canvases to present traditional subjects, then gives his imagination free rein with the surrounding sky and clouds. Green describes the effect as dream-like and, indeed, Once in a Blue Moon, a painting of clouds hovering over a barn, and Azure, which successfully pairs a lighted teepee with a night sky and clouds exuding a corresponding luminescence, show how strongly we rely on more than the artist's eye to create mood and a sense of place. The paintings sold for $7,650 and $1,250, respectively, while a third, Safe Haven, was purchased for $5,350.
Sculptor James Moore saw all four of his works sell during the event, with a charming piece in bronze, steel, and cedar, Harvest Mouse, going for $500; Trout Dish for $400; Bluegill Vessel for $350; and Dragonfly Icon for $300.
The vanishing America that watercolorist Robert McFarland has sought to capture in art proved exceedingly appealing to buyers. All four of McFarland's offerings were purchased, with The Meetinghouse for $1,100; Winter Pasture for $1,850; and Emma's in Shadow and Winter in Woodland for $900 apiece.
Night of Artists, Briscoe Western Art Museum
March 27–July 26, 2020
Total: N/A
The Briscoe Western Art Museum in San Antonio, Texas, worked diligently and successfully to meet the challenge of converting its annual sale and gathering of artists and collectors to an online event that stretched over several months and showcased roughly 300 paintings, sculptures, and mixed media works by 80 contemporary Western artists.
A work by Martin Grelle led the online affair, with Wolves in Blue bringing $70,000. The oil on linen is a skillful blend of figures, movement, and color, all offset by mountains and sky in varying shades of blue. The same tint is echoed in separate articles of clothing worn by the three Native Americans, two on horseback and one leading his horse. The piece employs — or even transcends — every technique that years ago sent Grelle to Western art's apex, and it was the winner of the event's Sam Houston Award for Painting.
Father's Daughter, by Mark Maggiori, is a portrait of a young woman and an older man riding through a foreground of starkly lit rabbitbrush set against the backdrop of a darkening sky and mountains. The painting, which makes dramatic use of light and dark, went for $45,000 to become the sale's second-highest seller.
A large-scale oil by Billy Schenck climbed to the third-highest slot, with Sarah's Blanket selling for $38,000. Like the works by Grelle and Maggiori, Schenck's painting depicts arid lands punctuated by people on horseback. Here, a trio of riders, with one reaching for a woven blanket with lines that mimic the layered sands where it lay, creates the illusion of three paintings in one.
Paul Moore's The Procession was the fifth-highest selling piece at $34,000. The bronze relief sculpture, which is set in a concave, gold-leaf frame with a distressed green base, won the James Bowie Award for Sculpture and the Briscoe Museum Purchase Award.
Brent Cotton received honors in two categories, with his oil Search Party garnering the David Crockett Award for Artists' Choice, and his painting While the Iron is Hot receiving the William B. Travis Award for Patrons' Choice.
Sotheby's Sale of American Art
June 26, 2020
Total: $9,103,750
America's president during the Civil War needs no introduction, and none would be sufficient to describe the sterling qualities of a leader who steered his country to safety amid one of its most dire hours. Abraham Lincoln: The Man (Standing Lincoln), a 40-inch bronze by famed 19th-century American sculptor Augustus Saint-Gaudens, brought $1,580,000 to lead Sotheby's sale of American Art in late June. According to Sotheby's, the sculpture represents a reduction of the larger-than-life statue that was commissioned for Chicago's Lincoln Park. Its ultimate price climbed past pre-sale estimates of $600,000 to $900,000.
The same sale saw Thomas Hart Benton's Noon — depicting a farmer, furrowed earth, and a pair of harnessed donkeys — achieve its $1 million high estimate. The small-sized tempera and oil was from the collection of Marylou Whitney and was painted in 1939. The work is one of the finer examples of Benton's mastery in depicting rural American life. It also was one of the paintings featured in 1939 in the artist's first major retrospective in New York City, according to Sotheby's.
In a sign that the rural scenes painted by regionalist Dale William Nichols continue to have traction, a painting featuring a signature red barn, snow, and sleigh carriage — Untitled (Winter on the Farm) — brought $60,000, hitting the high mark in estimates that began at $40,000. The artist is celebrated in a museum in his home state of Nebraska, with the institution brought into being by Anna Nolan and Allen Covault, staunch admirers and collectors of his work.
Modernist Milton Avery's Mandolin with Pears, a color-saturated depiction of the instrument and the fruit, elicited an enthusiastic response among collectors, with a winning bid of $740,000 with fees, compared to pre-sale estimates ranging from $400,000 to $700,000.
In a poignant note, a horizontal landscape, Whetstone Valley II, by Wolf Kahn, who died in March 2020, far outstripped pre-sale expectations of $30,000 to $50,000 to bring $81,250.
Kayla Carlsen, head of Sotheby's American Art Department, marked the June 26 sale as a successful return to the New York saleroom, adding in a statement, "The overall strength of the market was reflected in strong results across paintings, sculpture, and works on paper."
Altermann Galleries' Live Online Auction
June 19, 2020
Total: $780,541
Thomas Hill's Yosemite Valley was a top seller at Altermann Galleries' live online sale in June. The painting, featuring the ethereal light perfected by Hudson River School painters with whom Hill was known to associate, depicts the mountain landscape as nearly — but not entirely — bare of human society, a nod to the belief by 19th-century Romantics that nature was all for authenticity and even purity. The oil, measuring 36 by 54 inches, went for $66,000 with fees.
A painting by G. Harvey featuring cowboys gathered around a campfire, brought $54,000 in yet another high for the auction. The oil, Spinnin' Yarns, is nostalgic, evoking a time in the U.S. West when weary riders and chuckwagons were seen amid the sagebrush.
Open Rose, Ed Mell's beautifully rendered blossom with the perfect placement of light and dark, brought a handsome $40,000, while a masterful landscape by Carl Von Hassler, Northern New Mexico Village Winter Scene, also achieved a top slot at the sale. The painting is notable for combining disparate elements and textures — adobe, snow, and trees bearing orange-brown leaves — and it sold for $16,800 with fees.
Polychrome bronzes by the late Dave McGary sold for solid prices, led by Blessing of the Bear Masterwork for $17,500, Memories of Honor Maquette for $14,375, and Memories of Honor Bust for $5,938.