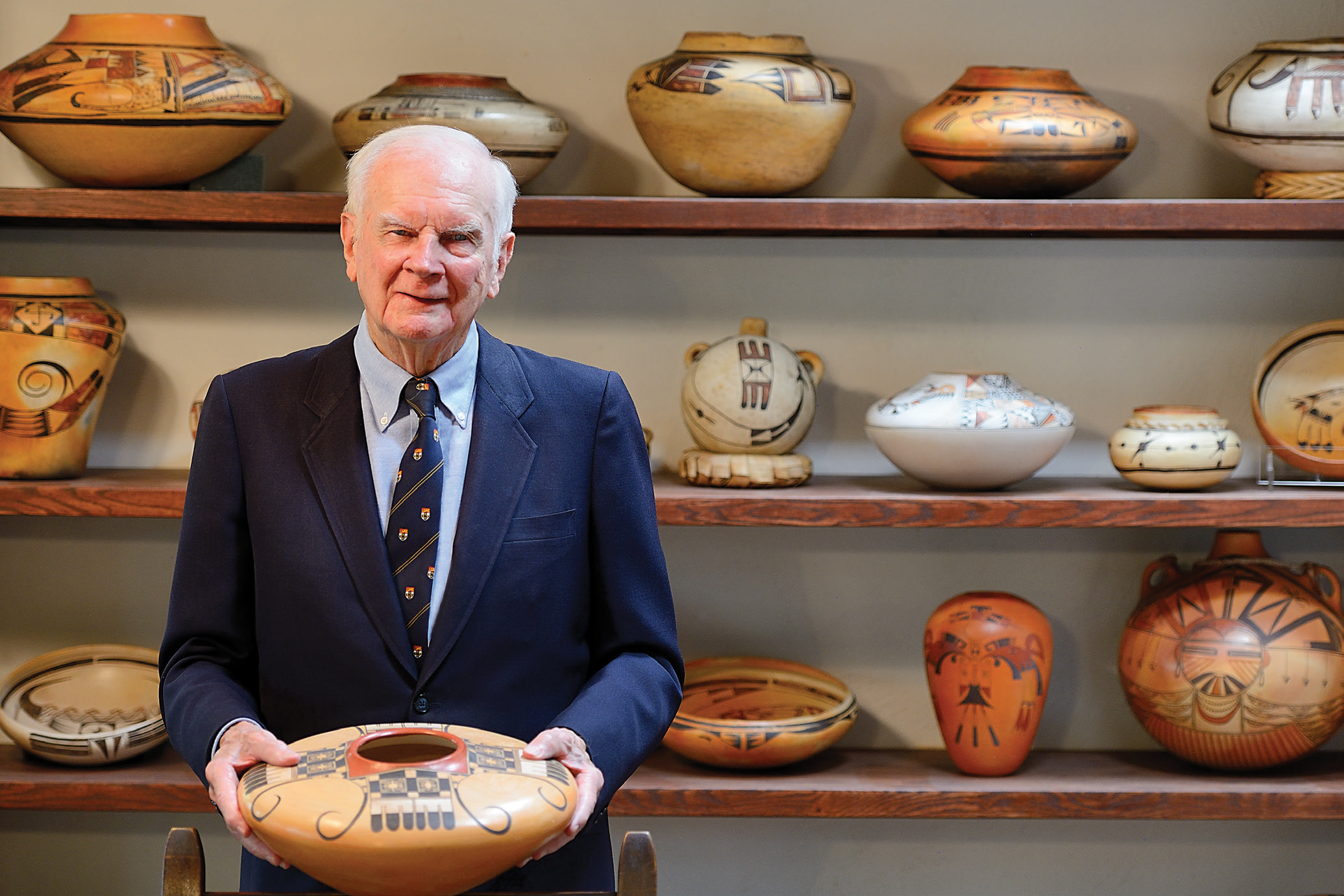 10 Sep

Collector's Eye: Of Form, Function, and Beauty

Ever since he was a child growing up in Australia, Dr. Allan Cooke felt a strong pull toward the arts along with an innate desire to collect, whether it was cards from cereal boxes, stamps, and, later on, prints of European masterpieces. "For some reason or other, I was always interested in art," he says. "It wasn't that I was exposed to art as a child; none of my family collected art, and I didn't spend my time in art museums. But somewhere in the back of my mind, I wanted to collect it."

Collecting was a hobby that Dr. Cooke continued to dabble in until the time he and his late wife, Judith, took a two-week vacation to Santa Fe, New Mexico, with side trips to Chaco Canyon, Mesa Verde, and other historical sites that highlight the ancestral Pueblo culture. They topped off the trip with a visit to Santa Fe's annual Indian Market, and that's when Dr. Cooke discovered his real muse, one that Judith was just as passionate about: Hopi pottery. "We looked at a lot of Indian pottery on the Hopi mesas," Dr. Cooke says. "Then, back in Santa Fe, we bought three pieces of pottery, and one, which was the most expensive, was Hopi. We fell in love. On the trip back, we'd pull it out, put it on a bench, and just stare at it."

The Cookes were drawn to the beauty of these Hopi artworks, and they were also intrigued by the way they were made. "The Hopi didn't use a wheel, and still, they created these perfectly symmetrical, beautifully painted pieces," Dr. Cooke says. "It seemed like magic how they transformed this clay. We just fell in love with their pottery."

From that point forward, the Cookes dove in headfirst. Eager to learn more, they bought books on Hopi pottery, traveled to Hopi and other Native American art exhibits whenever possible, and continued to visit Santa Fe every summer. They also began meeting other authorities on Native American arts. One, in particular, was Dr. Edwin Wade, the former curator of American Indian art at the Philbrook Art Center in Tulsa, Oklahoma, and the director of the Museum of Northern Arizona, when Dr. Cooke met him. Together, they ended up co-writing the 2012 book Canvas of Clay about Hopi pottery.

The Cookes eventually amassed more than 150 Hopi pottery works that span six centuries. They gifted more than 65 pieces to Western Spirit: Scottsdale's Museum of the West, which are featured in an ongoing exhibition, Canvas of Clay: Hopi Pottery Masterworks from the Allan and Judith Cooke Collection. The rest are displayed around Dr. Cooke's home in Albuquerque, New Mexico, and are promised to Western Spirit.

WA&A: What inspires you to collect art?
Dr. Allan Cooke: I have always collected something. As a child, I collected stamps, cereal box cards of World War II heroes, and marbles. As an adult, from 1970 on, when I had some spare money from teaching as a professor of medicine at the University of Iowa — where I was from 1970 to 1976, before moving on to the University of Kansas Medical Center in Kansas City — I collected original European prints by Goya, Blake, Ensor, Redon, and others. Then, in about 1990, I started collecting Hopi pottery with my late wife, Judith.

WA&A: What appeals to you about this genre of art?
A.C.: Pottery is an ancient art form; it has practical aspects and can also be a work of art. Particularly Pueblo pottery, which is hand-built and not made with a wheel.

WA&A: Who are some of your favorite artists in your collection?
A.C.: My favorite artists are Nampeyo, Dextra Nampeyo, Priscilla Nampeyo, Garnet Pavatea, Steve Lucas, and the Sahmie Nampeyo sisters.

WA&A: What was the first work you purchased, and what made you choose it?
A.C.: The first piece I collected was by Rachel Sahmie Nampeyo. It depicted the mythic being Um-tok-ina, the Thunderer, which brings rain to the Hopi mesas. It's a striking image and harks back to ancient pottery imagery.

WA&A: What is your most beloved piece, and why?
A.C.: There are two pieces: the Sikyatki polychrome jar (circa 1550–1600) and the polychrome jar by Nampeyo. Both were depicted in my book with Dr. Wade. They are both masterpieces, perfectly executed, and beautiful to look at.

WA&A: At what point did you realize you were a collector?
A.C.: I think when I had accumulated about 60 pieces.

WA&A: If you could meet any artist in history, who would it be and why?
A.C.: It would be Nampeyo, the greatest of all Pueblo potters and a world-class artist. And despite her fame, she was never interviewed by anyone.

WA&A: What do you hope the public takes away from the exhibit of your collection at Western Spirit: Scottsdale's Museum of the West?
A.C.: I believe they will see how beautiful Hopi pottery is as an art form. They will see how amazing it is that it's built without a wheel and fired in an outside kiln using coal or sheep dung as fuel.

WA&A: Where do you imagine your collection will be in 100 years?
A.C.: I hope it is still in the Western Spirit Museum.