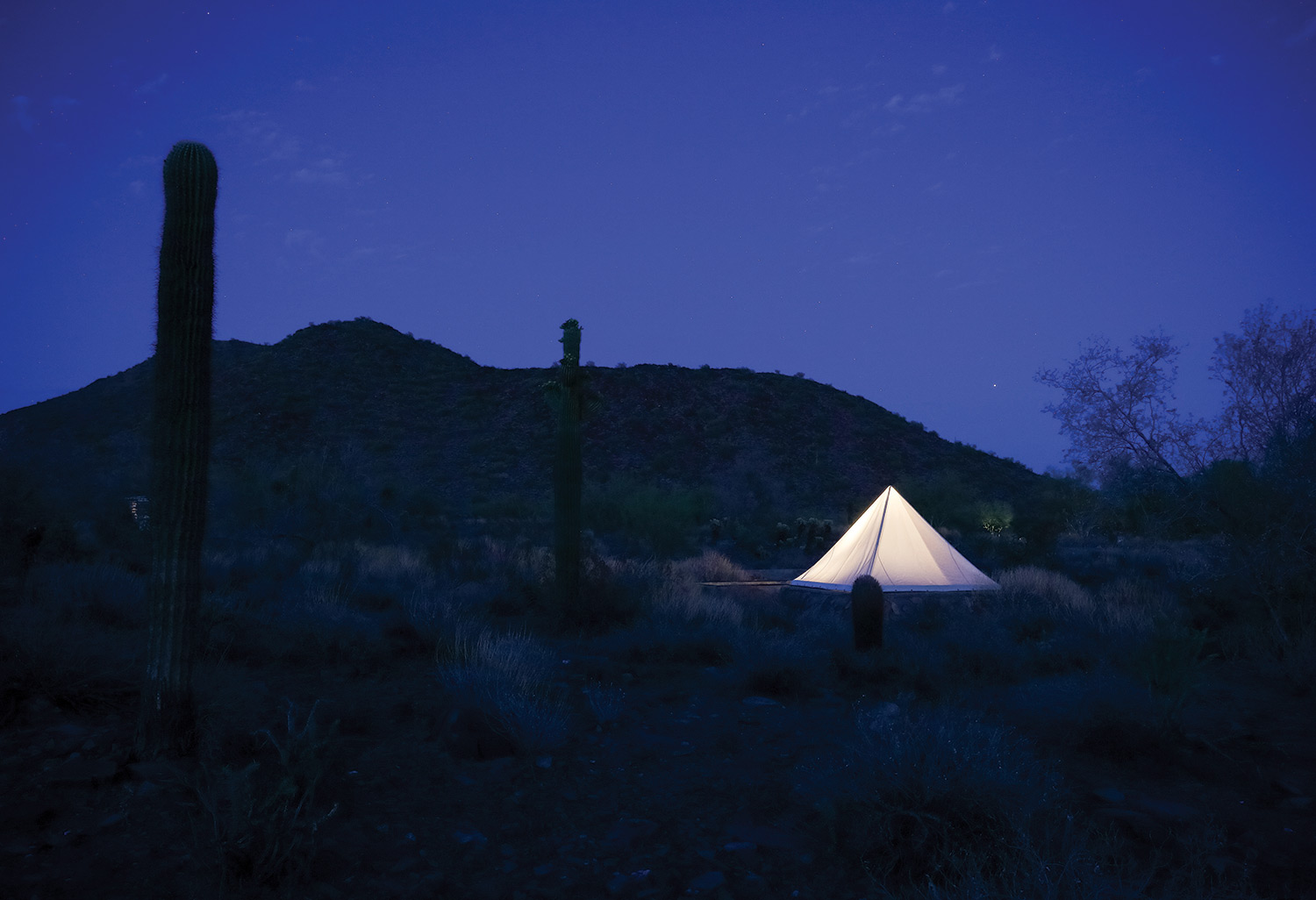 A canvas shepherd's tent situated on one of the original foundations from 1934.
14 Sep

Amid the Environment

BEGINNING IN THE WINTERS OF THE 1930s, Frank Lloyd Wright, the father of organic architecture, embraced the ancient act of migration. He led his apprentices and his wife on a wild adventure south, settling on the inhospitable red earth of the Sonoran Desert in Scottsdale, Arizona.

Guided by his vision, and embracing the idea that the best way to learn is to do the work with your hands, the apprentices — manned with picks, shovels, and wheelbarrows — built Taliesin West. They embraced an unorthodox way of life, were part of a social and architectural experiment, and were the first students of the School of Architecture at Taliesin (SOAT). In exchange for their time and labor, they studied and built with Wright, and unknowingly created a National Historic Landmark.

A 10-by-10-foot canvas shepherd's tent was given to each person as basic shelter from the challenging desert environment. In spite of these conditions, and in reaction to them, the enterprising individuals began to integrate their personal aesthetics and customize their shelters. A simple, tented living solution transformed into an experimental learning project of designing and building shelters that pushed the limits of form and structural engineering. These shelters created a dialogue with the environment that changed the experience of living and redefined the goal of architecture.

Wandering through the prickly pear cacti, aware that scorpions, rattlesnakes, and javelina call the desert home, engages the senses. Discovering these site-specific architectural works of art is like stumbling upon one oasis after another. Taliesin apprentices must design and build a shelter for their final thesis. They embrace the ideas of experimentation and vulnerability, and accept lessons from successes and failures with the understanding that only through doing can the journey of self-discovery and actualization happen