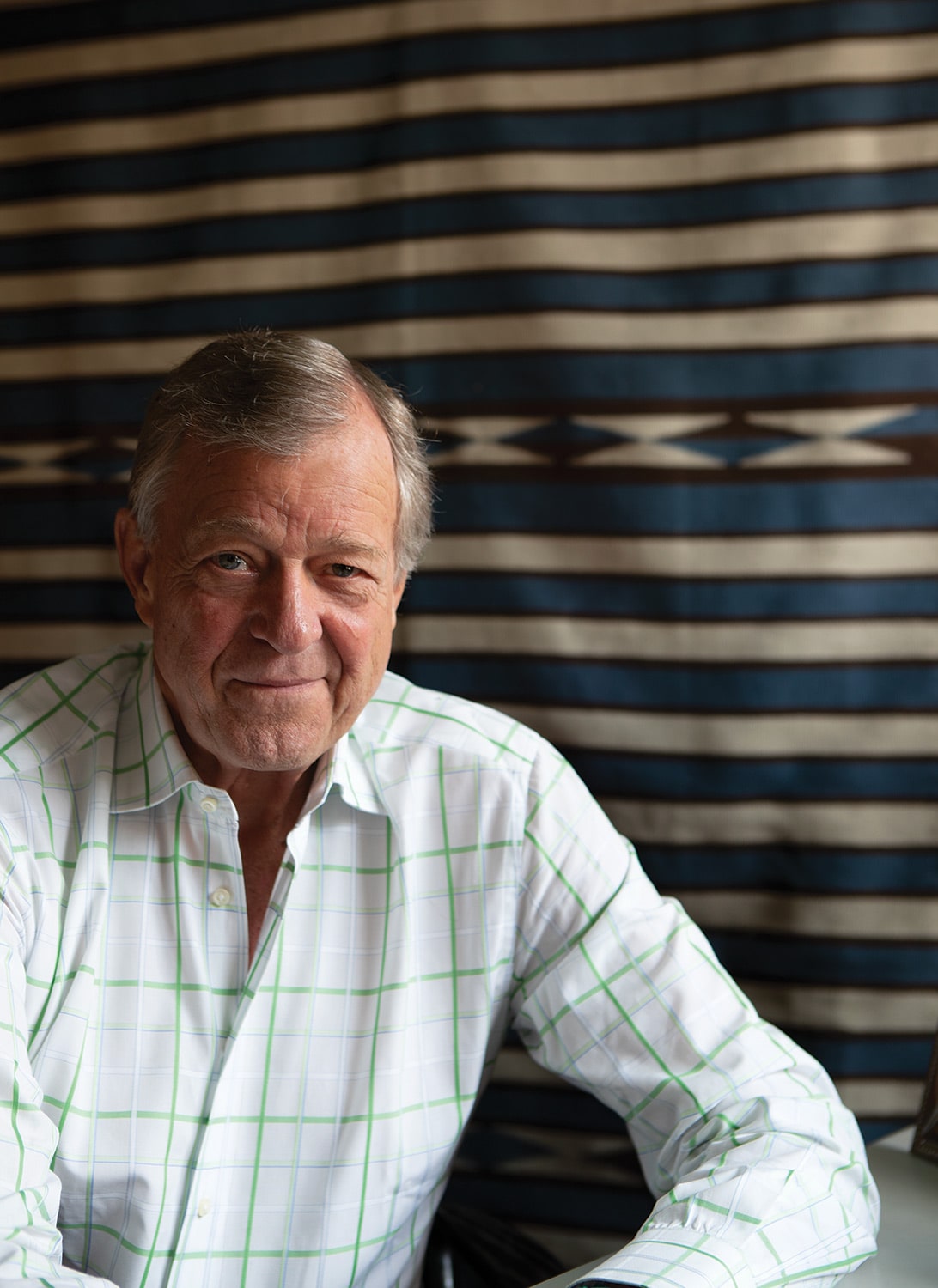 14 Sep

Collector's Eye: Good Taste is Timeless

For 46 years, Chris Webster's office has been located above Lincoln Avenue, on the grassy Santa Fe Plaza. Up a flight of stairs, the office opens into a space designed to resemble an 18th-century hacienda. Navajo weavings, Spanish Colonial furniture, and a chapirito, (a fermentation jar from Peru) are placed throughout. A Chancay gauze weaving hangs on a wall and is, "an extraordinary example of indigo," Webster says. On his desk sits a wide-eyed Nasca figurine, circa 300 to 600 A.D., which, Webster humorously says, reminds him of himself when he first arrived in Santa Fe. The figure stands with chiles in one hand and a rattle in the other. The earth-tone colors of Peru adorn its poncho.

"That's me," Webster says. "When I arrived here, I had the clothes on my back and a few worldly possessions. This wide-eyed kid wasn't prepared for the powerful sensual bombardment of adobe architecture and cuisine I found here."

Life is different now. Webster sold his real estate firm in 1998 to Sotheby's International Realty, and though he continues to broker real estate, he also publishes a magazine, Leading Estates of the World, and deals in museum-quality art. He, his wife, Patti, and their son, Christopher, work together at Webster Enterprises, each of them focused on different aspects of their companies.

The path to collecting happened as Webster was creating his businesses in the 1970s. He credits the quality of his collection to two books he read, Minding the Store and Quest for the Best by Stanley Marcus, of Neiman Marcus fame, who later became his client and friend. Because of the philosophy he adapted from Marcus, he confesses, "I have purchased whole collections just to get 'the one best piece.'" Another example of his personal quest for the best is shown by the love and attention he devotes to constantly curating the creative display of art in his Plaza office.

WA&A: What inspires you to collect art?

Chris Webster: I would say that there is a continuation of family tradition. While growing up in North Carolina, my mother was active at the North Carolina Museum of Art, overseeing and growing its membership. I find artistry in everything, and I am passionate about learning. You could say it's my passion that inspires me to collect.

WA&A: What was the first piece you bought and why?

C.W.: It was an Etruscan vase I bought in Rome when I was on an adventure exploring different countries in Europe in 1970. It was a small piece, so I wrapped it up in a towel and carried it in my luggage. I still own that piece, and I've lent it to several museums for exhibitions.

WA&A: When did you realize you were a collector?

C.W.: That epiphany never hit me that way. Living with antique furniture and family portraits as I was growing up certainly influenced me. I had the great fortune to take frequent trips around the country and elsewhere, so, by the time I was 21, I had been to many of the major museums in the U.S. and Europe. As a history major at Duke University, I was interested in museum artifacts, but I was a voyeur — in museums you can't touch. I like to experience things by handling them, whether it's a 200-year-old carved wooden chest or a fine weaving.

In retrospect, I began to be a collector as a boy when my dad and I searched the banks of the Potomac River at Stratford Hall, finding shark teeth. We also found the bowl of a rare clay pipe believed to have belonged to an English ship captain in the late 17th or early 18th century. I treasure it for the rich, shared experience with my dad.

WA&A: If you could be any artist in history, who would it be?

C.W.: Leonardo da Vinci. He was an extraordinary man of genius with an insatiable curiosity that led him to produce timeless treasures, including the Mona Lisa, as well as many other sketches, works of art, and inventions. There's a man who had a curiosity! I'm very curious, too.

WA&A: Was there one that got away?

C.W.: There are clearly things I've seen and wanted that I didn't get. But I never beat myself up about it. Philosophically, if it was meant to be, I would have it.

I've always admired and desired items related to my personal and family history, as I am a descendant from an officer who served with George Washington in the Revolutionary War. I have collected a few items related to those times and that chapter in history. There was an equestrian portrait of George Washington by Rembrandt Peale that I was unable to acquire prior to its sale.

WA&A: Where do you see your collection in 100 years?

C.W.: My collection is still a work in progress. My children have numerous pieces, I've sold some, and I continue to deaccession as well as add to the collection. My collection is fluid with no strict boundaries. In 100 years — several generations away — I trust that my progeny, as well as others who become owners of the collection's items, will accept the custodial responsibility and joy of having in their possession priceless and timeless treasures.