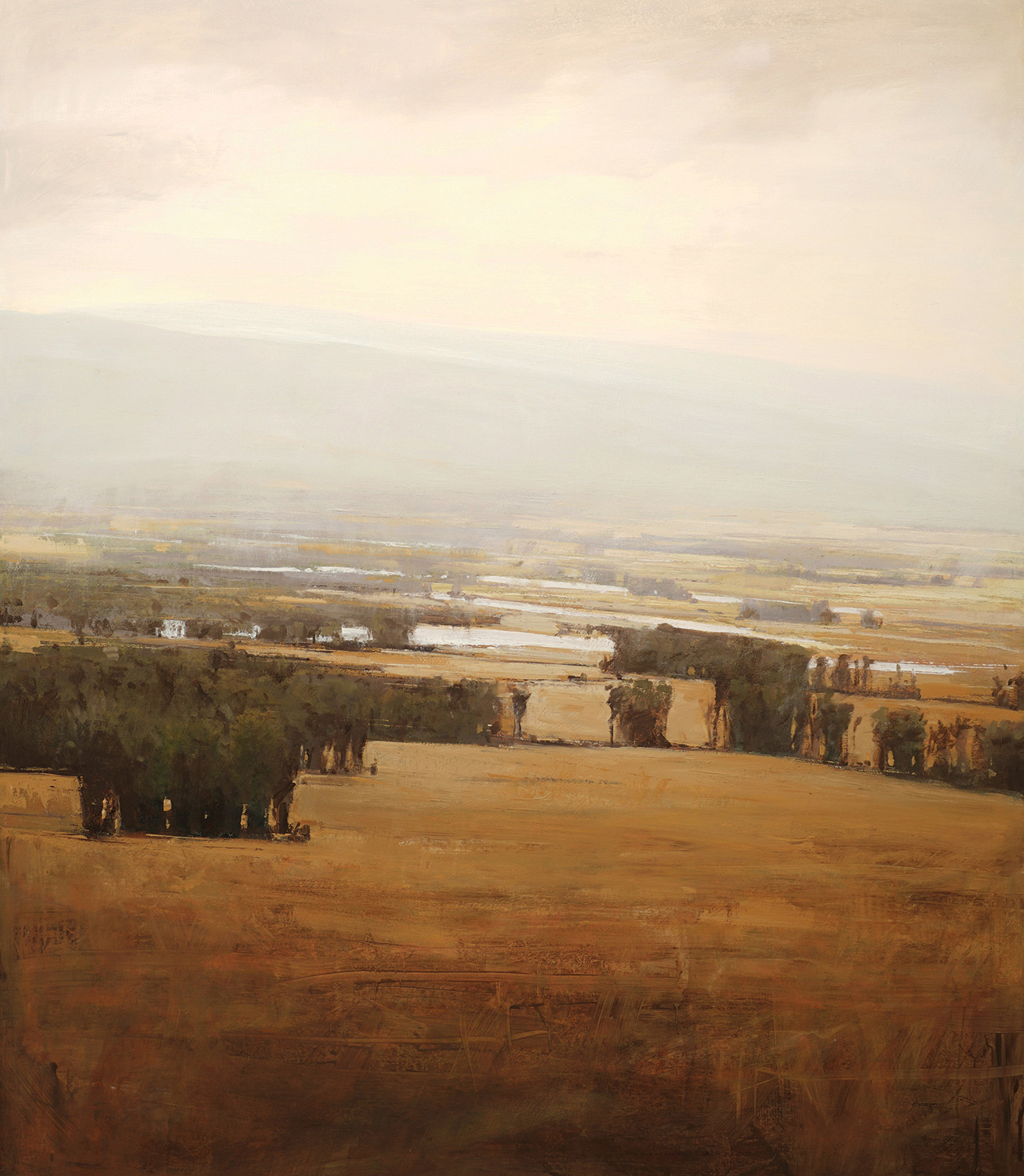 "Serene Landscape" | Oil on Canvas | 60 x 50 inches
02 Oct

Highlighting the work of painter Andrew Skorut

Scraping each layer to reveal a glimpse of what waits beneath, Andrew Skorut patiently creates his landscapes. It's as if he's uncovering the distance by offering a compressed surface, a surface beveled and scratched with the notion of space.

"It's interesting to me; from a distance, it's a landscape, but the closer you get to the painting, the surface becomes the main focal point," he says. "It's about both the process and the layering. It has a duality."
"Moon Rising" | Oil on Canvas | 29 x 33 inches
Skorut started as an abstract painter inspired by glazing — the process of layered transparent brushstrokes to build upon what previously happened on the canvas. His current work combines his need for abstraction with his attraction to the landscape, layering what he sees.
About eight years ago, he starting riding dirt bikes and instead of using a still camera, he began using a GoPro, filming his rides for later paintings. "Because I ride with my friends, I can't always stop for places to take photographs," he says. "Now I can make a movie, and later on I can stop the video and use one frame to create a painting."
This allows him to widen his field of scope, covering more than a hundred miles in a day. "I can get more and more information for my paintings," he says. "And I'm getting to pretty remote areas that I otherwise couldn't reach."
As if the dirt bike adventures didn't give him enough variations on the landscape, Skorut started paragliding with his GoPro attached to his helmet. "I want to push it more and get an engine on the back. This way I'm not limited to the one area where I'm flying and can go hundreds of miles," he says. "Perspective in painting is everything, so when you're looking down it's different. That's what inspired me to try it."
It all comes back to his process. Each painting takes him from two to five weeks, start to finish. Packing the richness of his experiences into the abstracted surfaces, Skorut's pieces speak to the landscape but they also speak to the fragility of life and the suspension of time.
"The light in my studio is just perfect," Skorut says. "When I start a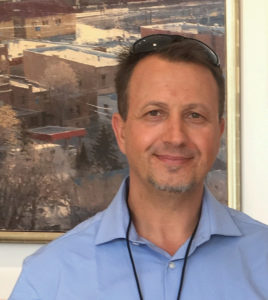 painting, I block it in. I use different thicknesses of the oil paint. When I have it all blocked in, I start the layering of glazes, using very thin layers. It's like putting on sunglasses — with multiple layers the effect multiplies and the surface gets rich and colorful. Then I will scratch into the surface, dragging the paint and leaving interesting marks. All the marks, when you add them up, translate into the landscape painting. There's simplicity in the landscape, but the process makes it complex."
Skorut's work appears in the Springville Museum in Springville, Utah, and resides in private and public collections. He's represented by Gallery 1261 in Denver, Colorado; Kneeland Gallery in Ketchum, Idaho; The Torrey Gallery in Torrey, Utah; A Gallery Fine Art in Palm Desert, California; Gallery 89 in Steamboat Springs, Colorado; and the 15th Street Gallery in Salt Lake City, Utah.