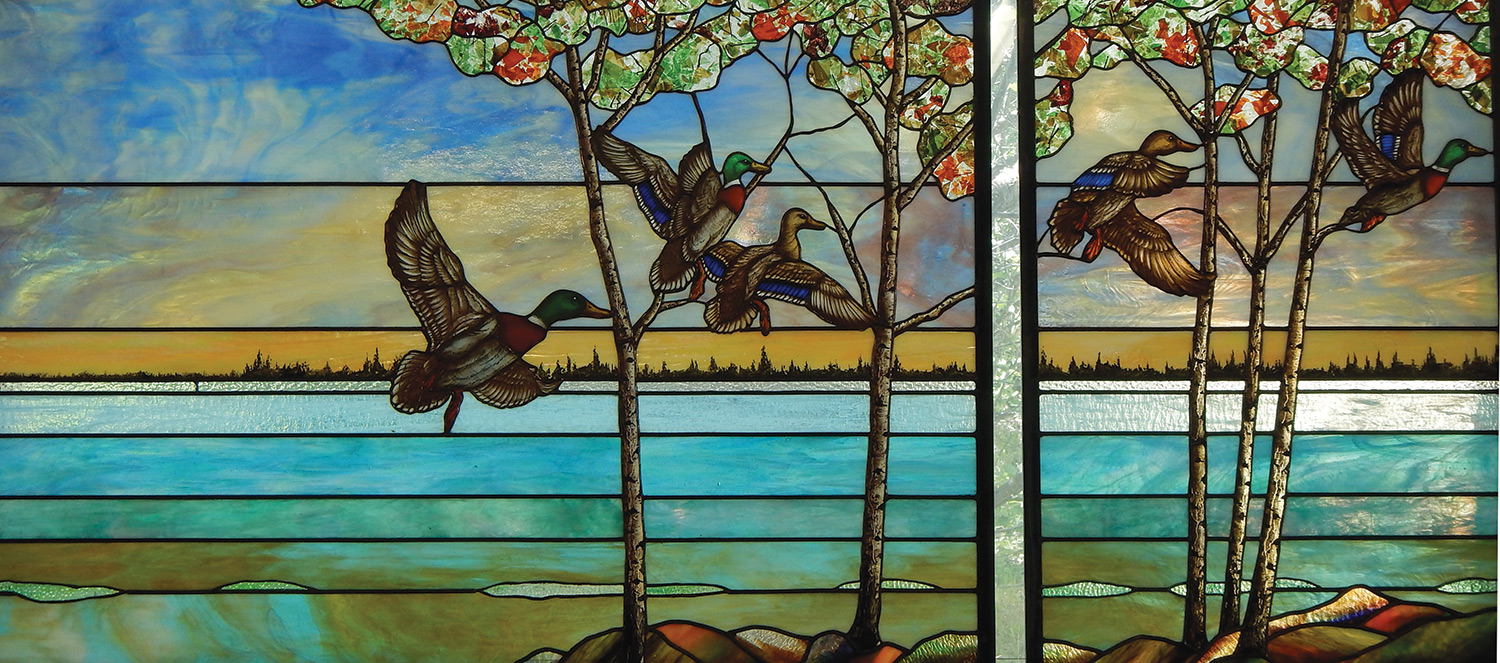 Commissioned for a private home in Seeley Lake, Montana, 2012
02 Oct

Highlighting the work of stained-glass artist David Fjeld

David Fjeld creates stained glass windows using traditional techniques that date back to the 11th century. Working all over the country, from New York City to Hawaii, Fjeld designs windows for private homes as well as churches and commercial establishments.
Commissioned for a fishing cabin on the Beaverhead River, 2016
"My dad owned Lake Glass in Bozeman until 1968," Fjeld says. "We were all cutting commercial glass since we were little kids. I was always interested in art. It was the only thing that got me through high school. Then, right out of high school, I was meandering around and my dad said, 'Let's try some stained glass,' and we did."
That was 45 years ago, and Fjeld has been designing and creating stained glass windows ever since. He buys the glass in sheets, in the tradition of stained glass, then sketches out the designs, cuts the glass, and builds the panels with a lead and copper foil technique that Louis Tiffany started. He also does a lot of painting on glass, which is then fired to make the image permanent.
"Most of the time, I try to make use of the glass's natural beauty," Fjeld says. "Right now, I'm working on a window for a new C.C. Filson store in New York City. I painted all the ducks that will appear in the background, then fired the glass."
Fjeld's clients all come to him through word of mouth. They usually have an idea in mind, whether it's a house or a church, and they tell him if they want something geometric or something from nature. He then draws up a few designs, and the clients choose which they like best. Although these days, he asks what they want and many leave the rest up to him.
"It's something I really enjoy," he says. Fjeld studied with Patrick Reyntiens, the leading practitioner of stained glass design in England, back in the 1970s. Reyntiens was known for his work in cathedrals. "I don't think I'd still be in business if it weren't for him. He really was modern in his design," he says. "I did go to Pilchuck, in 1976, and learned about glass blowing." At the Pilchuck Glass School, Fjeld worked in its first cold-glass studio, studying under Paul Marioni, an innovator in contemporary glass art. "I just kept learning and getting commissions. In the last 20 years, it's been pretty steady," Fjeld says.
After Fjeld tightens up the sketches, figures out the sizes, and the number of pieces he's going to need for a specific design, the heart of the project begins.
"Then it takes on a life of its own," he says. "I start picking out glass and thinking about getting the kind of realism that I want. I start with a wax up. Back in the old days, they used beeswax to put the pieces of glass up to the light." Fjeld determines how each piece will reflect light and color throughout the day — it's at that point that he knows if his design will work. "If they're meant to be interior pieces, I'll put the frame up and fool around with artificial light. It's a matter of living with the process. From experience, I know what will work."