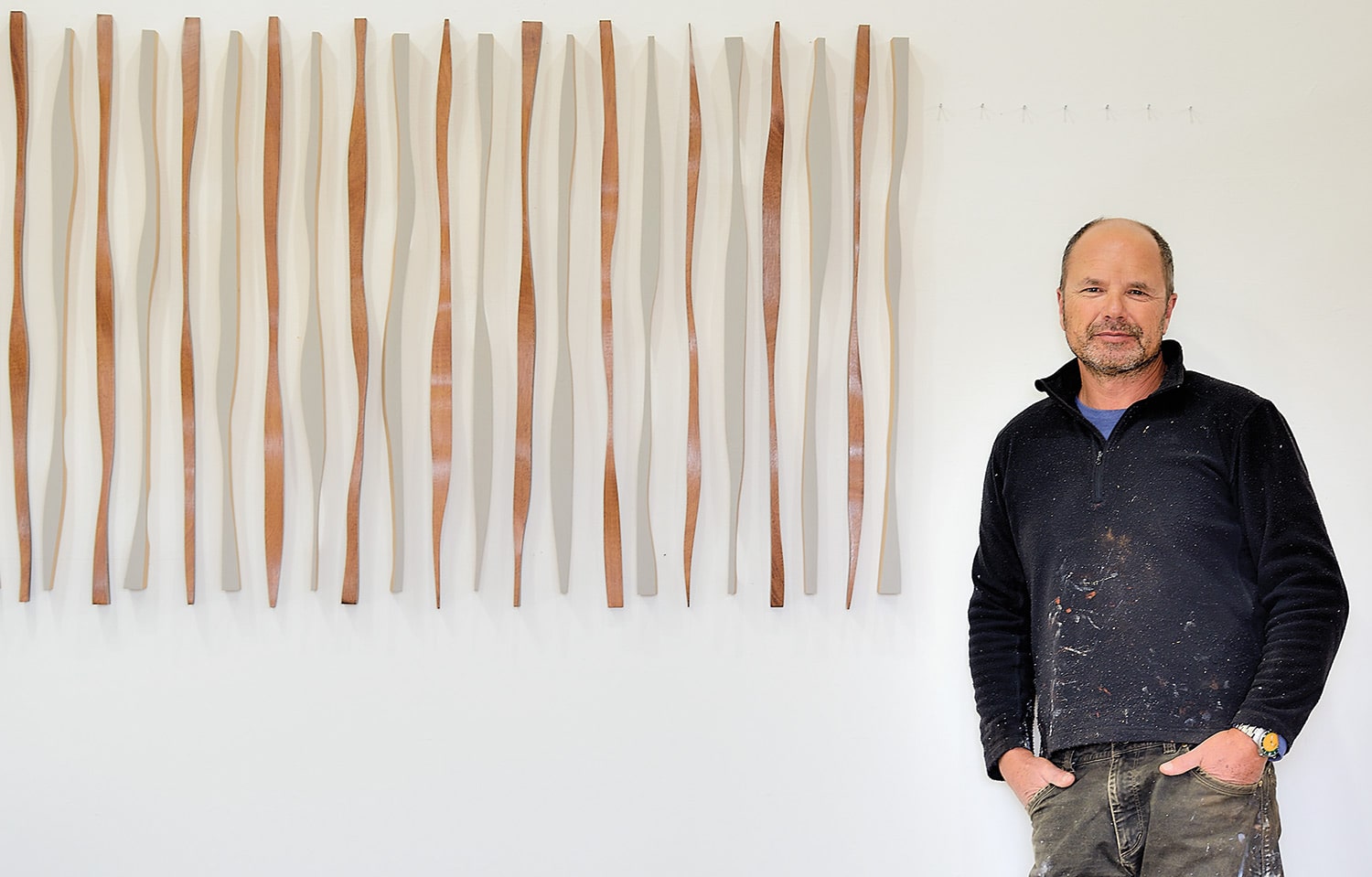 14 Sep

The Art of Self Discovery

For artist Pascal Pierme, art is both a calling and an inquiry. Both a way of life, and a way of posing questions through which to explore internal and external worlds.

Pierme's sculptures evoke qualities of architecture and nature, combining balance, energy, and movement. "I have an admiration for architecture," he says. "And then, when I look at what nature does, I'm very admirative as well. So, what I'm often trying to do is take what I receive from the natural world and mix it with the human influence."

That contrast of the organic and mechanical typifies his love of tension and contradiction — the way color and positive-negative juxtaposition can create a kinetic effect, or the emotional demands of making art. "It's a mixture of adventure and fear," he says. "Controlling and letting go. Possessing and giving up."

"We all have conflict and serenity in our lives," says Deborah Fritz of galleryFRITZ, which represents Pierme in Santa Fe, New Mexico, "and I think his pieces encompass that. There's the light and the dark. The masculine and the feminine. Wildness and calmness. Push and pull. I think he encompasses a lot in his life experience and it just naturally flows through him. He can't control it."

Born in 1962 in St. Rafael, France, Pierme moved to Santa Fe in 1997. His home and studio sit atop a mountain that reminds the artist of those in the south of France. "Creativity doesn't come when you decide," Pierme says. "So, access to the studio is very important. I can work in the middle of the night or take a nap in the afternoon."
Pascal in the "clean" side of his studio. Like a scientist or engineer, he finds joy and wisdom in research, development, and the often unanticipated outcomes of his creative process.
He's traveled extensively around New Mexico, discovering new landscapes, cultures, and inspiration. "The magic of New Mexico was a life-changing experience for me," Pierme says. "I fell in love."
In the studio, there are "dirty" and "clean" areas. The former holds the saws, shapers, and sanders, with which he fashions his sculptures and offers the smell of fresh sawdust, the clutter of hardwood boards and scraps, and the softness of wood shavings underfoot. The latter is pristine and dust-free in order to mix and apply paint, stains, and patinas, and perform the final assembly of his works.
Pierme's creative process displays that same contrast. "With a sculpture, you have some rules to respect. It needs to stand in a certain way. There is a top and a bottom, a left and a right. Effect in a sculpture has to be designed before," he says. "But sometimes, I just start. I don't know where I'm going. I just pick up a piece of wood and start cutting. I want to get to the point that I don't make any conscious decisions about the first cut. In French, we say, 'Prends la vie comme elle vient — take life as it comes.'"
The artist explains that experimentation in creativity is a way to understand yourself better. "[With creativity], it's a very interesting moment, where you don't know exactly where you want to go. You don't know exactly what you want to do. You just have to take a step," he says. "And this first step could take two hours, or two months, or two years."
The first step for Pierme came in 1988 when he set a one-year deadline to establish himself as a working artist. "At that time, I was asking myself thousands of questions to which I had no answers," he says. "My experiences and ideas were conflicting. I was a humble man, but I believed I had something important enough to say that people should listen. And at the same time, art filled me with a mix of fear and attraction."
That first year led to solo exhibitions in France and Switzerland, and collaborative projects with avant-garde French fashion designer Pierre Cardin. It also caused him to choose a primary medium. After experimenting with stone, ceramic, steel, resin, bronze, and cement, he settled on a medium which first attracted his attention in his grandfather's shop in their native Provence — wood.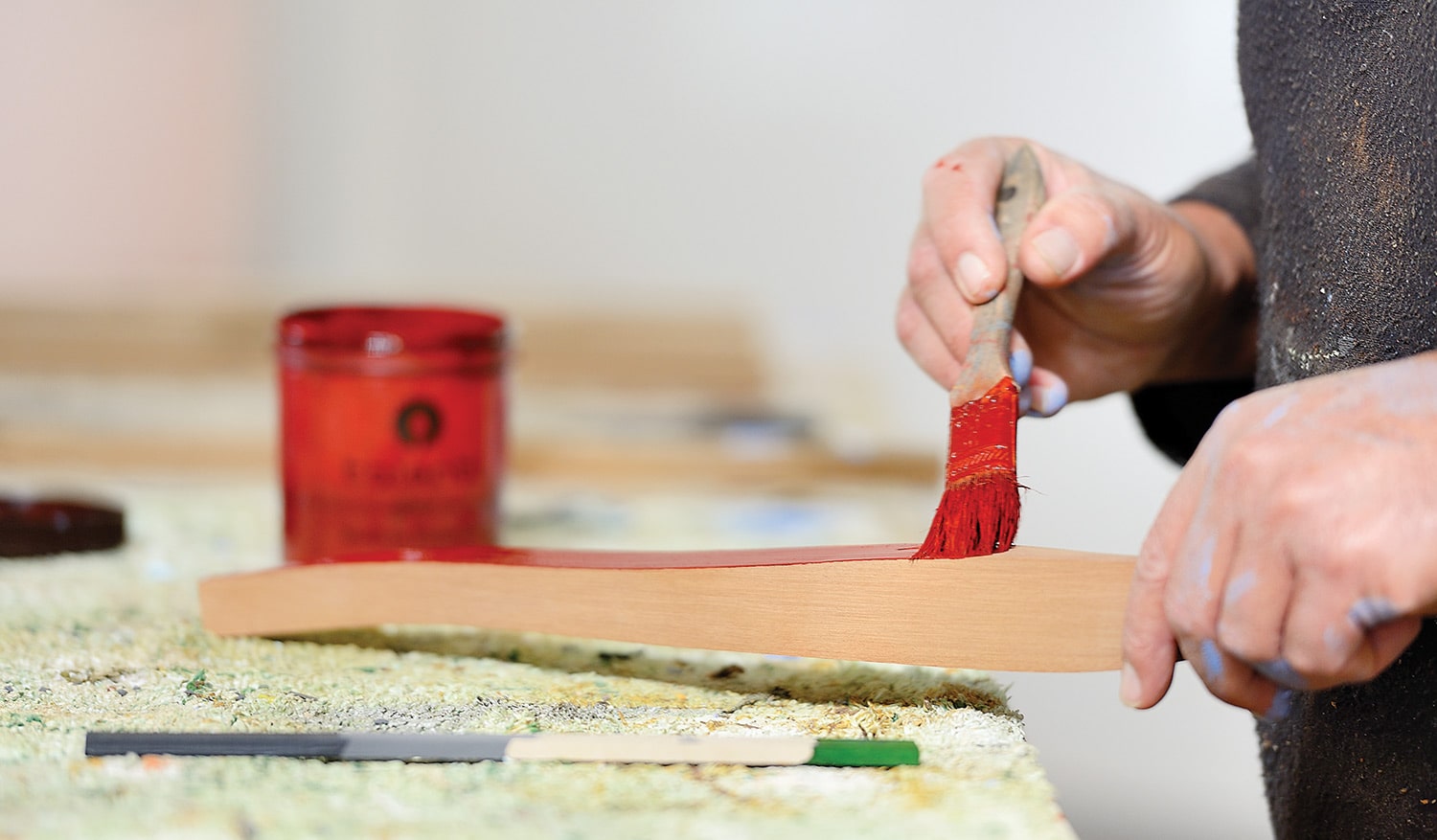 "Wood has its own intelligence," Pierme says. "It has grain, memory, resilience, texture. … It knows many things, and it teaches them to me. It's not going to let me be in control of it. And by not being in control, it excites my creativity and forces me to take other directions."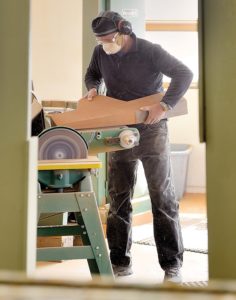 To maintain his center and foster his creativity, Pierme frequently disconnects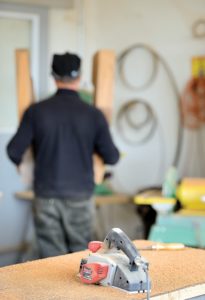 from his home and his work, loading his BMW motorcycle with camping gear and hitting the open road. Guided by whimsy, he might head to Mexico, Canada, or California.
"I disconnect myself because I have to," he says. "I'm not looking for any inspiration. I totally shut down on the creativity. I don't go to galleries, I don't want to see art. It's like being with someone every day in a relationship. It can bore you over time. Distance is better. It's cleansing."
After over 20 years of success in America, Pierme is exploring new avenues. He explains that he continues to adjust to creativity's beckoning, and it shows in the end result: "When I started my work, I was in search of myself," he says. "And now it's almost like there is nothing else I can do. At first, I had a choice. But now I have no choice. I cannot stop working. I cannot do anything else. It has become such a part of me, it's like breathing.
"But what I am trying to do now is simplify. To be lighter. To have less. To be more detached. Not like I want to become a minimalist, but I feel the logic of maturity is simplicity. Like when you are younger, you want three cars, five motorcycles. But as you get older, you don't want all that crap. It's prison."
"Blue Line On Me 1" | Mixed Media | 30 x 30 inches
Pierme says this philosophy translates to his work, even down to writing more concise artist statements and by using less color, shape, and physical presence.
"Of course, it is much more difficult," he says. "But the more you open, the more you let it breathe. And when it's more open, you have to show more of the truth. To the public and to yourself."
---
Editor's Note: Pascal Pierme: Hylê Forever, a solo exhibition at galleryFRITZ in Santa Fe, New Mexico, opens with a reception on September 28 and concludes on October 22, 2018.