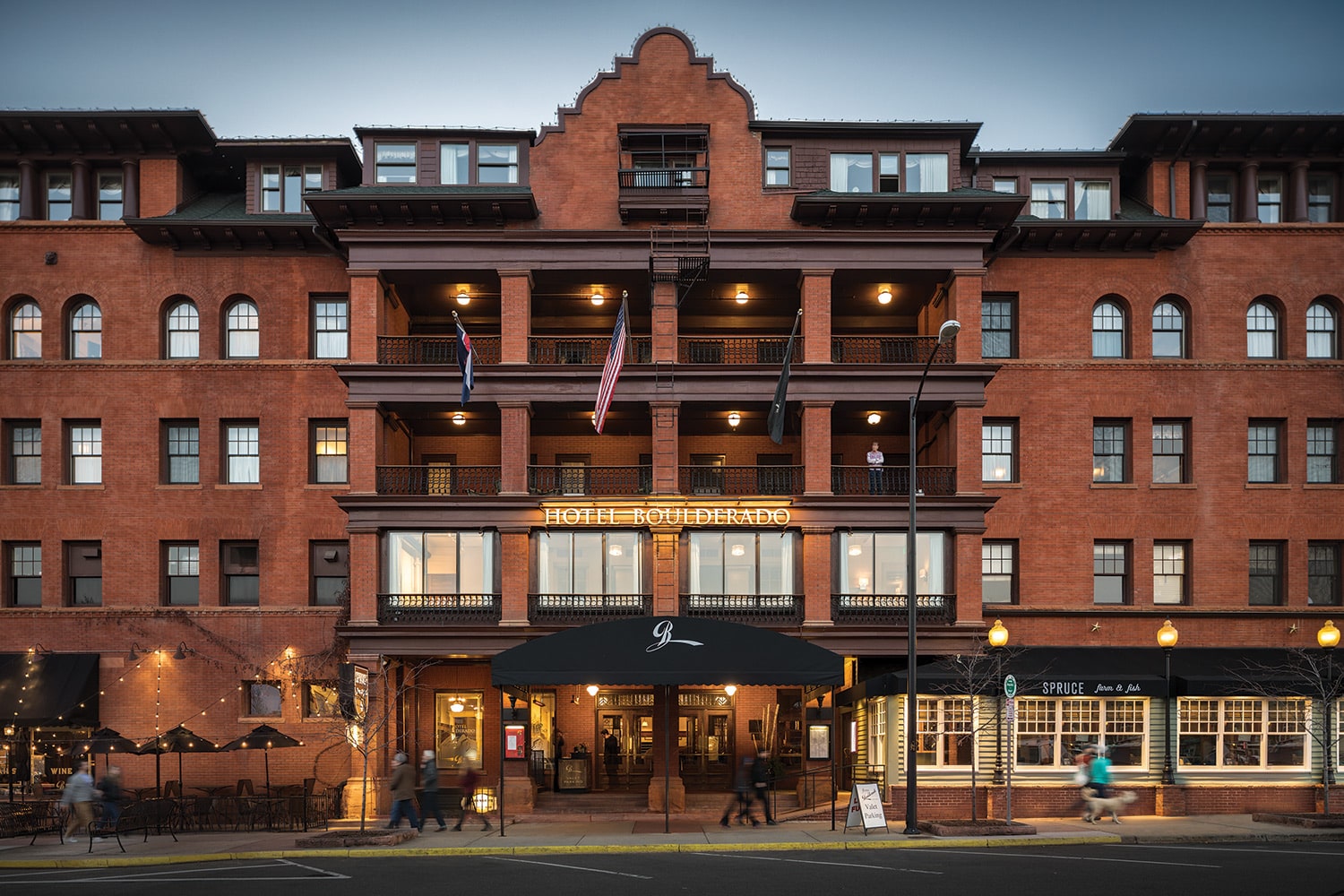 This red-brick building has been a hospitality mainstay in Boulder for more than a century.
14 Sep

The Hotel Boulderado

WHEN THE HOTEL BOULDERADO OPENED on New Year's Day of 1909, it hadn't been long since there were gunfights in the streets outside.

Boulder, Colorado, has changed since then, from an early-20th-century boomtown to a hip, 21st-century city that's "nestled between the mountains and reality," according to the visitors bureau.

But the Hotel Boulderado hasn't changed much since it first opened. This five-story, red-brick building still stands as the Grand Empress of Boulder, and as a glorious vestige of Old West and Victorian architecture and ambience. In an age when strikingly modern (and moderne) hotels have come to Boulder, this one remains an icon.

The Boulderado is listed on the National Register of Historic Places, with good reason. There aren't many hotels still around that boast a stained-glass ceiling five stories above the lobby and a cantilevered cherrywood staircase with thick, red, floral carpet winding up those five floors. Or a giant moose head hanging over the bar and an original Otis elevator operated by an attendant.
At the Boulderado, the echoes of history still reverberate.
At this hotel, your nightstand might be made of wood and date back to the days of the Old West. It might also be adorned with a Victorian-style lamp with a pull-string. There are 160 rooms in the hotel, 42 of which are in the Historic Wing, recalling the 1890s. There's also a nearby guest house built in 1904.
At the turn of the 20th century, Boulder was a prosperous town with the state's largest university and the Chautauqua educational institution. So local residents decided that their town needed a first-class hotel. They formed a company to build it and combined "Boulder" and "Colorado" to create its name, in the hope that anyone who stayed there would always remember the hotel.
They needn't have worried.
The hotel's courtyard offers a quiet reprieve for reading with a cup of coffee or glass of wine.
Designed by local architects William Redding & Son, the hotel's open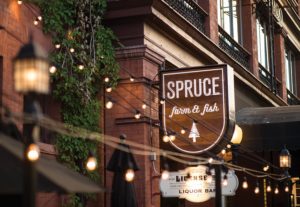 courtyard followed a trend started by the Palace Hotel in San Francisco, California, in 1875. The Brown Palace Hotel, built in Denver in 1892, followed suit. The Boulderado's cathedral windows were brought in from Italy to make the stained glass atrium. Then they filled this Western, red-brick building with Italian Renaissance and Spanish Revival design touches, among them arched windows, iron railings, and gables.
A guest room overlooks Boulder and the distant Chautauqua Mountains. Photos: Tim Romano
From its grand opening that New Year's Eve in 1908 to the present, people have come to experience this marriage of Old European and Old West, among them Ethel Barrymore, Douglas Fairbanks Sr., Clarence Darrow, Helen Keller, Robert Frost, Benny Goodman, and Louis Armstrong.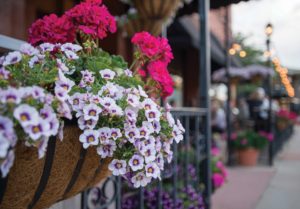 People tend to return to the Hotel Boulderado. And some guests loved it so much, they never checked out. The hotel happily boasts of its ghostly "longtime" residents. There was the tapping on the shoulder felt by a young elevator operator, but no one there when he turned around. There was the rattling of pots and pans in the kitchen, but no one there to rattle them. There was the housekeeper making the beds while a dim, white shadow stood in the corner of the room, watching her. There are even said to be a few ghostly visitors to the bar, revisiting the spot where they apparently had some good times.
"It's incredible that our forefathers in Boulder had the wisdom and foresight to build this iconic property," says Creighton Smith, the Boulderado's general manager. "From the mining years to the Roaring '20s to the present, Hotel Boulderado has been taking care of guests — and ghosts — in style, combining Old World elegance and Old West authenticity."
And I know at least one extremely reliable source who can prove there are ghosts at the Boulderado — me.
I stayed at the hotel a few years ago. Before going to sleep, I did what I always do when I travel — drop my pocketful of change (which, when I travel, is easily 25 to 30 coins) on the nightstand. Since this nightstand was wooden with a glass top, the coins rolled around wildly before settling all over it. I then went to sleep.
When I woke seven hours later, the coins were in a neatly stacked vertical pile. I hadn't heard a sound, or even a movement, all night. But somebody put those coins into that pile. True story!
We've all probably heard stories about not-so-benevolent ghosts. But I was lucky enough to get a neat-freak. And an unbelievable-but-true story that made for an unforgettable stay.