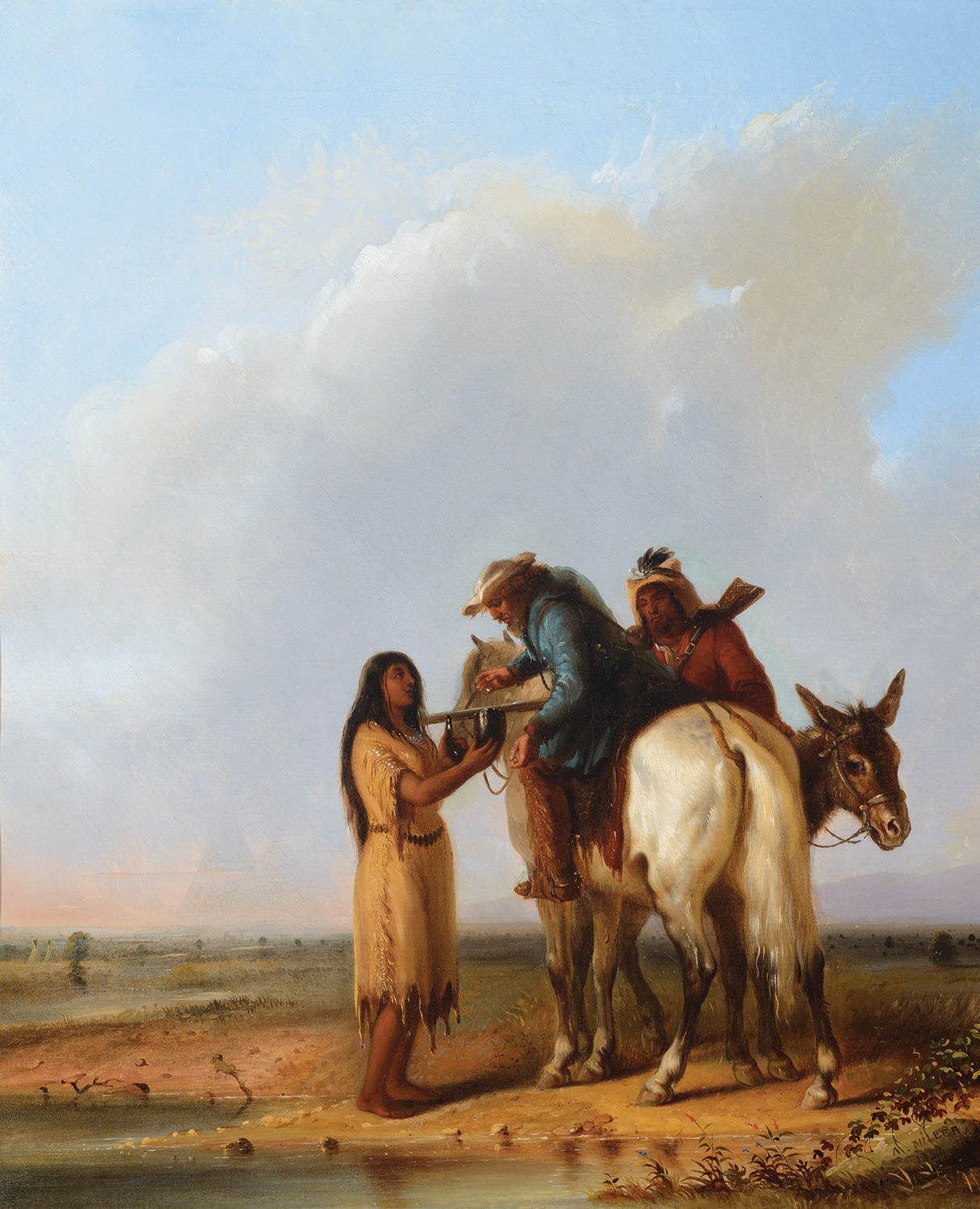 Alfred Jacob Miller, "The Thirsty Trapper" | Oil on Canvas | 24 x 20 inches | 1850 | Sold for $1,715,000
14 Sep

Auction Block: Wending West

Thought-provoking images of Western lands, figures, and habitations dominated sales as summer wound to a slow end. Auctions saw brisk bidding by collectors arrested by renderings of the places and the peoples that anchor a region with representations tied to both contemporary and historic artists.

A classical style attended Alfred Jacob Miller's depiction of a mountain man in The Thirsty Trapper, capturing critical accolades as well as the fancy of buyers at the Coeur d'Alene Art Auction. The painting realized $1.7 million in a sale that tallied more than $13.4 million. The sale also set a world-auction record for a Southwestern work by Logan Maxwell Hagege.

Opening night at Cheyenne Frontier Days Western Art Show indicated strength for pieces by known and new artists, as sales grew to $287,000, the highest in recent history.

California Impressionists were at the fore at Bonhams' sale of works tied to the Golden State and the U.S. West, with William Wendt's meditative painting of a sycamore grove selling for a pleasing $300,000.

And the charm of Post-impressionism was in plentiful supply at Altermann Galleries' Santa Fe Auction, where a work by the late New Mexico artist William Henderson realized $480,000, nearly twice the amount expected.
Altermann Galleries  | Santa Fe Auction | August 10 – 11, 2018
If you sense Paul Cézanne as an influence in the work of New Mexico artist William P. Henderson, there is good reason. Henderson's 20th-century take on seasonal signs of renewal in the oil Another Spring brought a hefty $480,000, compared with pre-sale estimates of $150,000 to $250,000, at Altermann Galleries' two-day art sale in Santa Fe.
The sale saw an arresting Native American portrait, Absaroka, by Kenneth Riley — a veteran member of the Cowboy Artists of America and commissioned painter by the National Park Service — go for $72,000 against pre-sale estimates of $70,000 to $80,000. Its nearest contender was Gathering for Vespers, an oil by Theodore Van Soelen that brought $52,800 with fees, according to results posted on Altermann Galleries' website.
And Apache Trail, a moody rendering of riders on a rocky mountain path overseen by a benign azure sky, garnered $42,600. The painting by Olaf Wieghorst underscores the late artist's mastery of depicting the Old West's chief mode of transportation: the horse.
In three-dimensional art, a short-necked clay jar attributed to Maria (Poveka) Da Martinez — and whose simplicity is a form of adornment — went for $18,000. And Apache Dancer, a 1991 bronze by Craig Dan Goseyun, realized $8,100.
Bonhams | California and Western Paintings and Sculpture | August 7, 2018
California Impressionists wooed and ultimately won the adulation of collectors who attended Bonhams' auction of California and Western artworks. An oil by William Wendt, one of the most celebrated American artists who applied their prodigious plein air talents to the terrain and seascapes of Southern California in the early decades of the 20th century, dominated the event by achieving $300,000, including fees.
William Wendt, "Patriarchs of the Grove" | Oil on Canvas | 40 x 50 inches | 1920 | Sold for $300,000
Images of Wendt's Patriarchs of the Grove, a portrait of towering sycamores against a distant mountain backdrop, were abundant in popular publications and art institutions in Southern California from World War I until the threshold of the Great Depression, making it among the artist's most important works, according to Bonhams.
And an ethereal rendering of waves meeting a sandy shore below a pastel sky elicited high marks — and a tidy sum — from bidders, with Laguna Beach by Guy Rose, at the vanguard of California Impressionism, fetching $145,000 for the second highest slot at the sale.
American Women Artists |Haggin Museum Show | August 2, 2018
Full Sun: American Women Artists Illuminate the Haggin Museum brought 100 new paintings and sculptures to the Stockton, California, institution in the style of its 19th- and 20th-century collection by artists ranging from Albert Bierstadt to Pierre-Auguste Renoir. Last year, American Women Artists launched a campaign, 25 in 25, which seeks to secure 25 museum exhibits for its members in 25 years in recognition that the works of female artists make up just 3 to 5 percent of permanent holdings in U.S. museums.
Kim VanDerHoek was named the winner of the Western Art & Architecture Award of Excellence for CrissCross, a fetching cityscape bisected by aqueducts, painted in the tradition of French landscape painter Jan Monchablon.
Coeur d'Alene Art Auction | July 28, 2018
Nineteenth-century artist Alfred Jacob Miller refined his talents in Paris and Rome, an unexpected but fortuitous path for a painter born in Baltimore, Maryland, whose style evoked the Old Masters and whose career would take him into the wilds of modern-day Wyoming and alongside the hearths of Native Americans and so-called mountain men.
William Penhallow Henderson, "Another Spring" | Oil on Canvas | 32.25 x 40.25 inches | 1920 | Estimate: $150,000–$250,000 | Sold: $465,000
It is an ode to Miller's insights about the peoples and the practices of indigenous populations, early explorers, and fur trappers in the American West that a painting depicting interactions among those cultures led sales on July 28 at the Coeur d'Alene Art Auction in Reno, Nevada.
The Thirsty Trapper, in which a Native American woman offers water to a grizzled and weary figure on horseback, went for $1,715,000 — just shy of a world-auction record for the artist — amid an auction that totaled more than $13.4 million, and which saw the sale of more than 92 percent of the 300-plus lots.
Miller was among those who accompanied Scottish aristocrat and eccentric William Stewart on one of his several trips to the Green River Valley of Western Wyoming to attend what had become an established annual meeting — the rendezvous — of mountain men. His experiences out West gave his paintings the kind of authenticity that lent credibility and enhanced the appeal of later Western art giants, including Frederic Remington and Charlie Russell.
Miller wrote of the scene in The Thirsty Trapper that want of water was one of the subject's greatest privations, adding that only the experience would give one full understanding of the value of being offered refreshment after a day of travel on horseback in arid lands and under an oppressive sun. "To fully appreciate the boon, one must absolutely go through the ordeal," he wrote, according to Lisa Strong's book, Sentimental Journey: The Art of Alfred Jacob Miller.
In present-day terms — or, indeed, any terms — the strong showing by The Thirsty Trapper was a triumph for the artist and for a celebrated annual sale of Western art that can boast achieving 160 world-record prices.
"It was a showstopper, a museum-quality piece," Mike Overby, auction partner, says of the painting.
Although Miller momentarily outshone other deceased artists, painters such as Edgar Payne and LaVerne Nelson Black drew weighty sums for their works. Payne's enchanting and aptly named High Sierra portrait, Solitude's Enchantment, went for $476,000, on the high end of pre-sale estimates, and Black's painterly Southwestern scene, Along the Old Trail, brought $238,000, including fees.
Overby said the auction brought the bonus of new buyers and a larger in-person crowd — he notes that technology is an aid, but nothing compares to the live event. And there were several highs for artists whose names are not as well known but whose works are stunning by any standard.
Peter Hurd, a native New Mexican who studied under acclaimed American illustrator N.C. Wyeth and went on to marry his painter-daughter Henriette, brought lyricism to egg tempera on board with The Horse Wrangler.
Overby says the piece, which garnered $107,000 with fees, set a world record for the artist even as it caused a stir among bidders. "It really caused some fireworks in the room when it went across the block," he says of the painting, estimated to go for a maximum of $30,000.
The sale of works by contemporary artists did not disappoint. In confirmation of the growing reputation of Logan Maxwell Hagege, a world-auction record was set for Before the Cold Winds Come at $95,200, compared to pre-sale estimates ranging from $50,000 to $75,000. "It had multiple bidders going after it' and it was worth every penny," says Overby.
And the auction underscored what is already well known in Western art circles: Howard Terpning has lost none of his luster, with the top seller among four oils, Dust of Many Pony Soliders, a brightly lit tableau of Native Americans, selling at $819,000, with fees.
Cheyenne Frontier Days Western Art Show | July 19, 2018
The July 19 opening night of a monthlong art show and sale tied to Cheyenne Frontier Days in Cody, Wyoming, marked the most sales in recent history, with the purchase of dozens of Western works — representing 30 percent of pieces available that evening — tallying $287,000.
Carrie Wild brought stellar samples of her work to a show that adds to the leading tourist event in Southeastern Wyoming and, in the process, generated an excess of excitement. A mesmerizing rendering of migrating bison, Lit by the Sun, sold for $4,200, a bargain for the buyer. Wild's paintings of imagination proved irresistible.
"She has a bold use of colors and a variety of media — her work thrills collectors," says Kathryn Boswell, auction coordinator.
The invitational that showcases 60 artists and artisans awarded top marks to sculptors working within the traditions of the genre, including Wyoming native D. Michael Thomas. Three of his pieces featuring horses were snapped up at prices ranging between $2,400 and $7,500.
Matt Wolf, whose Winter Blues was the event's official print for 2018, is working wonders with depictions of teepees. His oils, featuring the structures in cool to fiery tones, speak of humans and their habitation in a landscape otherwise emptied of all but sky. The interaction between defined manmade structures and untrammeled surroundings is at the forefront of such Wolf oils as Sun Storm, which went for $4,200 and which was one of four works — from a total of five — that sold on the spot.
The same event saw a landscape, Spring Meadows in the Rockies, by Tom Lockhart, sell for more than $31,000. The artist describes himself as mostly self-taught and preferring the challenge and the reward of plein air painting.