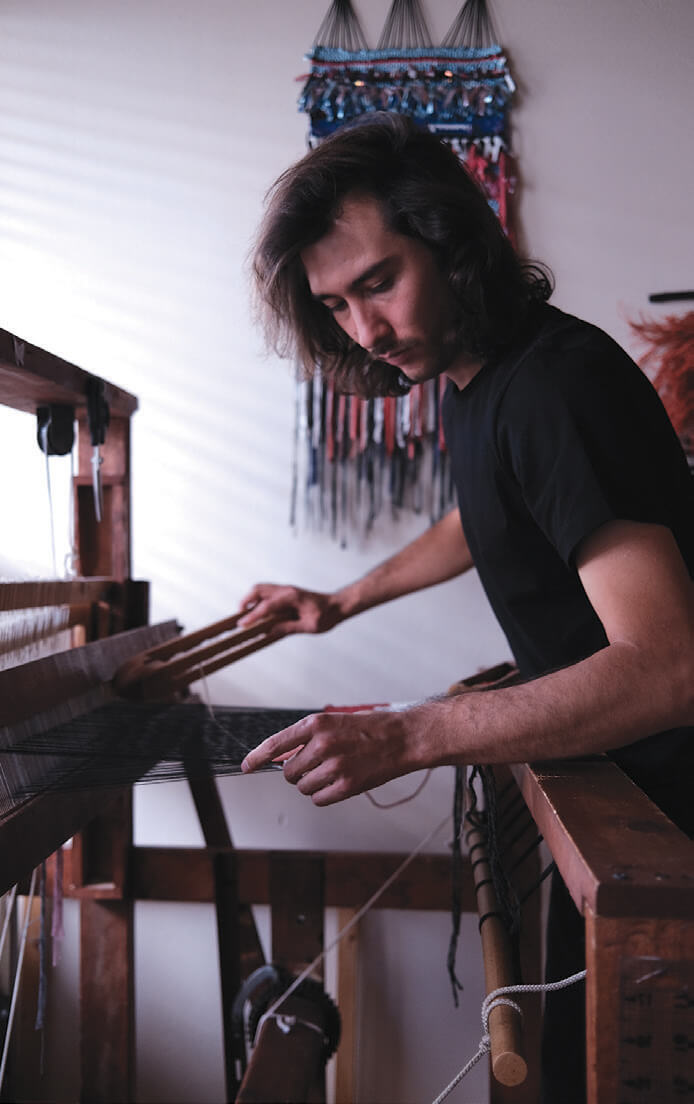 17 Sep

Artist Spotlight: Josh Tafoya

Josh Tafoya designs and weaves vivid, contemporary textiles that draw on his Southwestern heritage in Northern New Mexico, "going back all the way to the Spanish Conquistadors who settled the rural area of Taos County where my cousins and my parents still live." More and more lately, the 30-year-old artisan combines his weavings into visually arresting garments that form sculptural displays on the human body.

Tafoya grew up in a home where weavings made by his grandmother, with wool from sheep raised by his grandfather, hung on the walls and stretched out as runners on tabletops. Starting with stick figures early in grade school, sketching the human form was one of his favorite childhood pastimes. His parents, recognizing the boy's aesthetic interests, enrolled him in summertime classes focusing on traditional regional arts, where Tafoya did everything from painting the small religious icons called retablos to punching and hammering tinwork and beading bracelets.

As he progressed through high school, those aesthetic interests evolved into designing and hand-sewing clothing. "I loved how fabric could mold and shape around a body," Tafoya says. By his junior year, he had a thriving business making and selling t-shirts and hoodies. "And then, when people started commissioning them from me, I realized this was my path," he says.

Tafoya enrolled, sight unseen, in the prestigious fashion department at New York's Parsons School for Design. "Lord, coming from Taos to the biggest city in the country was a complete culture shock!" he says. But he thrived there, honing his design skills while learning "everything from the proper pattern-making process, to the difference between one fabric and another, to figuring out the whole fashion world."

After graduating with a Bachelor of Fine Arts, Tafoya landed a coveted job for a newly launched luxury brand. Four years ago, however, that startup went belly-up, and he began shuttling back and forth between his family home in New Mexico and New York, where he worked as a freelance patternmaker. Eventually, he got his hands on a traditional Rio Grande-style loom, and a friend who was raising heritage Navajo-Churro sheep, descendants of a breed initially brought to the New World in 1598, offered him some of the animal's durable wool. So Tafoya learned to weave, combining his lifelong experience of traditional New Mexican patterns with his own cutting-edge sensibilities. Since the pandemic hit last year, he's been focusing full-time on his own fashions back in Taos.

The enthralling results of all those influences and peregrinations are seen in such creations as his Deconstruct to Reconstruct, a sculptural garment that began with about 20 runners he designed and wove. "I just started draping them on a form to see how they flowed, and then hand-sewing them together in a merger of tapestry and fashion," he explains. "A big inspiration was the way Native Americans drape themselves with blankets in the winter." From the varicolored threads he used to join the various pieces, he also spontaneously created an exuberant mask to go with it. More and more, he says, Tafoya views such fashions as his movement toward creating a "New Mexican version of French couture, creating sellable and wearable art."

See Tafoya's woven fashions online at joshtafoya.com and MAIDA Goods, maidagoods.com.