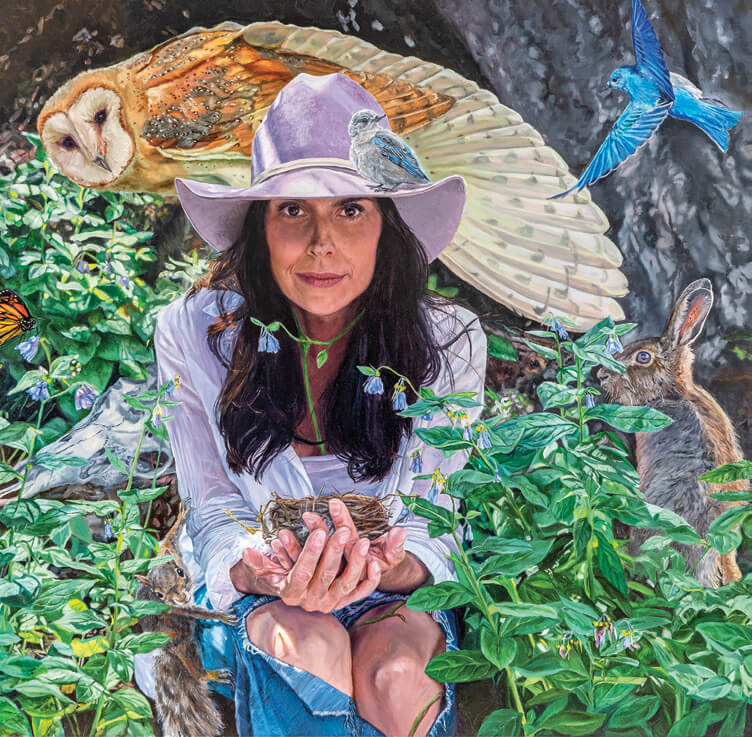 Empty Nested | Oil on Aluminum | 32 x 34 inches | 2021
08 Sep

Artist Spotlight: Nicole Finger

Early next year, some of Nicole Finger's paintings will soar to their greatest heights yet. That's when three works, including Butterfly Express, depicting her 23-year-old daughter, Sam, on a bed of peonies, and Freedom, depicting her 19-year-old son, Max, against the backdrop of Palmyra Peak not far from the family's Telluride, Colorado, home, will blast off for the moon as part of the "Lunar Codex." The digitized time capsule of creations by more than 1,200 artists and writers will travel into space as part of a NASA program that aims to return humans to the lunar surface in 2024.

"It's really wild," says the artist modestly. "I feel lucky to be involved." But luck has nothing to do with it. Finger's success over the past 15 years results directly from a carefully nurtured, natural-born talent — and from the advice of a loved one lost.

Finger grew up in Bethesda, Maryland, where early inspiration came from her mother, an accomplished amateur artist. "She had a tiny studio literally in our boiler room, and I would go in there while she painted. So I always felt comfortable with art, and got positive attention for it in school," Finger says. Her high school art teacher, Walt Bartman, encouraged that talent, and her work was included in an exhibition of National Merit Scholarship winners at the Corcoran Gallery in Washington, D.C.

After earning a Bachelor of Fine Arts at the University of Colorado Boulder, she moved to Los Angeles, where she kept painting while working assorted jobs, including "drawing blades of grass" in architectural renderings. After marrying, Finger moved to Colorado and took time off, she says, to be a full-time mother.

As her children approached school age, she set up a home studio. Then, in 2005, her beloved father, "my hero figure," died. "He was an attorney, but racehorses were his passion, and when I was a kid, he used to take me out to the track," Finger says. "After college, he always said to me, 'You know, you should paint the horses.' When he died, as a catharsis, I started painting large-scale portraits of horse after horse." The Telluride Gallery showed them, then another gallery, "and they all sold out."

Gradually, Finger's boldly colorful, loosely representational style evolved into hyperrealism. Food became another favored subject, "blowing the mind by elevating benign objects" like donuts, cupcakes, ice cream, and tacos into icons even more Instagram-worthy than their real-world counterparts. More recently, she's turned her attention to figurative works, creating portraits of her son and daughter with elements like reflective sunglasses, lace veils, strings of light, or rippling water to conjure the same mysterious air endowed to foods by glazes and frostings.

Whatever her subject, she approaches it methodically, working from photographs to produce a black and white drawing that she transfers to a primed canvas before meticulously recording minute details on a grand scale. "I've had some ideas floating around for years that are probably going to happen, but I just haven't quite figured them out yet," Finger says. When she does, her art will likely fly even higher.

Finger's work appears through October 30 in Painting the Figure Now at the Wausau Museum of Contemporary Art in Wausau, Wisconsin. She is represented by Victory Contemporary in Santa Fe, New Mexico; Telluride Gallery in Telluride, Colorado; and Skidmore Contemporary in Santa Monica, California.