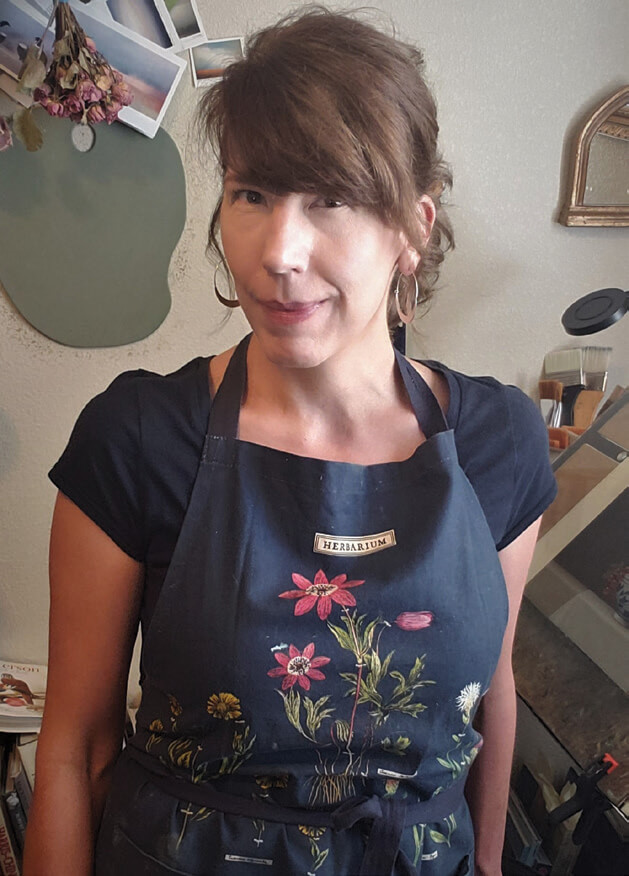 08 Sep

Artist Spotlight: Sarah Siltala

Still-life paintings by Sarah Siltala stir the soul like small miracles. Consider American Goldfinch, for example. The bird looks vibrantly three-dimensional and is thrumming with energy as if it flew in through the window just a moment ago. The bird's eye shines, creating an eerie sense that you, the viewer, are being viewed.

"I actually paint the eye first," admits Siltala with a warm chuckle. "That is the focal point of the painting, and putting that little sparkle in the eye makes the bird come to life. It is human nature to be drawn to make eye contact when you encounter another creature. The rest of the painting almost emanates from that point."

Siltala first seriously applied herself to oil painting just 23 years ago, when the older of her two sons was newly born. "I can't really explain it," she says. "I had never painted. But I had this overwhelming desire to learn oil painting. So I got all the supplies and a book that broke down different techniques. I did the exercises and fell in love with a classical Old Masters' technique that dates back centuries," she says. In this technique, each work starts with a monochromatic underpainting, onto which Siltala transfers her painstakingly perfected composition before adding transparent layers of richly saturated color. The results are luminous. Within a year, Siltala's paintings hung in two galleries and were accepted into juried art fairs.

That is not to suggest, however, that she didn't already come to painting with a well-nurtured artistic sensibility. Both her parents were professional artists: ceramicist Kenyon Thomas and weaver Marcia Thomas. And the Santa Fe, New Mexico, home in which she and her sister — Mary Alayne Thomas, also an artist — were raised was filled with aesthetic energy that included both art and music. "So I grew up with a vision that I would have a creative lifestyle," Siltala says.

She channeled those ambitions toward playing the piano, eventually studying music at the University of New Mexico. But a car accident and prolonged recovery eventually led her away from the high-pressure world of performance. Nonetheless, she never lost faith that she'd discover her creative path. "I trusted the universe for guidance," she says.

Today, Siltala leads that creative life in a "wonderful studio space" in her home in Rio Rancho, north of Albuquerque, New Mexico. She's also always on the lookout for new subjects to paint as an amateur birder and photographer. "Photography captures the moment for me and blazes the bird's energy into my brain. But I'll draw the bird's position in a way that complements the still life while creating a connection between the viewer and nature," she says.

Siltala's work is represented by Collins Galleries in Orleans, Massachusetts; Sugarlift in New York City; and Lily Pad Gallery in Watch Hill, Rhode Island.