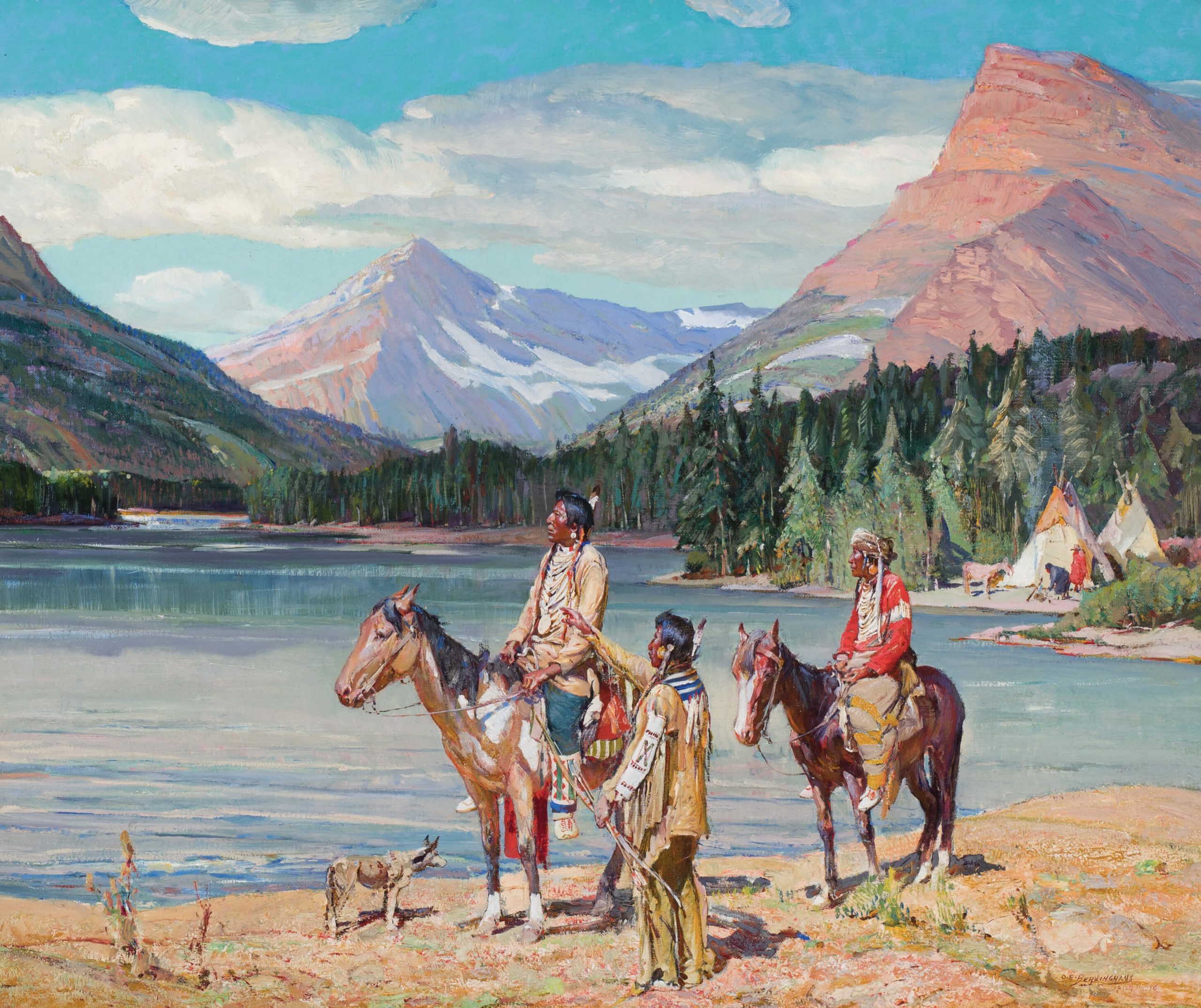 Oscar Berninghaus, The Domain of their Ancestors | Oil on Canvas | 25 x 30 inches | Sold: $847,000 | Courtesy of Coeur d'Alene Art Auction
17 Sep

Auction Block: Back to Business

Auction houses were happily subjected to pent-up demand from collectors during late summer sales. Prices edged upward, as did spirits during a return to in-person events that continued to offer remote bidding for those with concerns about COVID-19. Multiple auction records were set, as bidders showed unending enthusiasm for Western works representing the region's history, people, and wildlife.

Artists associated with the exploration and culture of the historic U.S. West — notably Frederic Remington, Charles Russell, Albert Bierstadt, and Thomas Moran — brought solid prices, and collectors also showed strong interest in works tied to the Taos Society of Artists.
The Russell Auction at the C.M. Russell Museum
August 20–21
Total: $3.6 million+
A work by Tom Gilleon earned the highest bid for a contemporary artist during The Russell Auction, a multi-day, multi-event exhibition and sale supporting the C.M. Russell Museum in Great Falls, Montana. Gilleon's Mourning Star hammered for a hefty $350,000, grabbing the third-highest position overall and setting a record for the Montana artist. The skillfully colored picture of a teepee relies heavily on tone to create drama.
The stand-out artist was the museum's namesake, Charles Russell, whose painting Cochrane Shot the Indian sold for $994,500, earning the top-selling slot. The action-oriented piece was one of five works by the artist to place in the top 10, with Drifting, Christmas Dinner, A Stagecoach: Illustrated Greeting Card, and Do I Look like a Piker taking the second ($653,400), fifth ($140,400), sixth ($40,950), and seventh ($38,025) positions.
Indian on Horseback by Charles Schreyvogel brought $140,400 to achieve fourth place, with an energizing portrait of a rider on horseback. Edgar Paxson's A Cheyenne Brave also achieved a top-ten rank, bringing $36,270 for the eighth spot, followed by Raising Warriors by Jeremy Winborg, which realized $35,100. Rounding out the top-ten sellers was R.S. Riddick, with Dawning Voice selling for $32,175.
Two artists tied for the top slot during Art in Action, a quick-draw event that took place on August 20. The pieces by Winborg and Joe Kronenberg went for $8,500 each.
Bonhams Los Angeles: Best in the West
August 3–4
Total: $9 million+
Sixteen world auction records were set in early August during Bonhams' Best in the West auction, which comprised three sales of Western and California art over two days.
Ernest Martin Hennings's work Indian Horsemen, featured in the August 4 sale titled Portrait of the West: The Diane and Sam Stewart Collection, was the star of all the shows, garnering $918,313, compared to pre-sale predictions of $600,000 to $800,000. Portrait of the West also saw a painting by William Herbert Dunton go for more than twice its high estimate, with Delivering the Mail bringing $525,323.
The high-caliber collection additionally featured paintings by Western landscape masters. Thomas Moran's Indians at Green River, a spare, small-sized exploration of earth tones in a Wyoming wilderness, brought $212,813. And Indian Hunter by Albert Bierstadt, a portrait set in a riverine environment, went for $200,312 instead of expectations that ranged from $100,000 to $150,000.
Guy Rose, known for his California Impressionism, led the August 3 auction of works by Golden State artists with Foggy Morning, Veules, a painting that recalls the Normandy Coast works by French Impressionist Claude Monet. Rose, who attended the Academie Julian in Paris, transformed water, sand, rock, and sky into a pastel dreamscape. The painting sold for $250,313, within estimates of $200,000 to $300,000.
The August 3 sale also featured the second top-selling lot, Portrait of a Japanese Woman in an Iris Garden by Maurice Logan. The painting — reminiscent of Winslow Homer's Peach Blossoms and James McNeill Whistler's Caprice in Purple and Gold: The Golden Screen — uses elements of still life but is anything but static. The painting realized $181,563, or three times its high estimate, and was among world auction records set at Bonhams.
Birger Sandzen's Riverbank with Cedars, Rocheport MO was the top-selling work during the third and final auction of Western art. The painting brought $137,813, compared to predictions of $50,000 to $70,000.
Coeur d'Alene Art Auction
July 31
Total: $17.5 million+
Roping a Wolf by Charles Russell lassoed $1.77 million during the Coeur d'Alene Art Auction, which marked a sell-through rate of 94 percent during its signature event in Reno, Nevada. The action-oriented painting, featuring riders on horses that appear to be charging through the air instead of a sagebrush steppe, was estimated to bring between $1 million and $1.5 million. The ultimate price represented the highest total for a Russell in over seven years and was the 10th highest all-time total for the artist's work, according to auction officials.
The fervor for Russell's works did not dissipate, and five additional pieces by the celebrated painter brought handsome sums, with the total amount for Russell paintings exceeding $3.2 million.
The world records kept shattering amid in-person and virtual bids. A record was set for a piece by Philip R. Goodwin, with Hitting the Trail going for $453,750 to eclipse pre-sale estimates of $100,000 to $150,000. Two Hunting Dogs by Edmund H. Osthaus likewise set a world auction record, selling for $242,000 or roughly four times its high estimate. And Herman W. Hansen's Attack on the Stagecoach swept past previous records, with the oil bringing $157,300 and arcing over expectations that ranged from $80,000 to $120,000.
Paintings tied to the Taos Society of Artists also showed strong appeal. The Domain of their Ancestors by Oscar Berninghaus sold for $847,000, a price only exceeded in 2008 when The Pueblos Await the Dancers brought $1.471 million at the Coeur d'Alene Art Auction, officials said.And Taos Art Society co-founder Eanger Irving Couse's The New Rug went for $484,000, compared to estimates of $250,000 to $350,000. The small-sized oil features a portrait of a Native American grasping a reddish rug woven with a contrasting green diamond. The color intensity is matched by the figure's gaze; his eyes stare directly at 
the viewer.
Cheyenne Frontier Days Western Art Show & Sale
July 22–August 15
Total: $215,000
Cheyenne Frontier Days Western Art Show & Sale returned to its traditional format for the first time since COVID-19 precautions forced its cancellation. The art sale is part of a multi-day event that includes a rodeo and carnival in Wyoming's capital city.
D. Michael Thomas's Just LeDoux It won the purchase award and was added to the Old West Museum's permanent collection. The small but strongly animated bronze of singer-songwriter and rodeo champ Chris LeDoux was snapped up for $3,100. A Wyoming native and University of Wyoming graduate, Thomas said he became interested in sculpting while in college and has been "lucky enough to make a living at this since 1993." Each of Thomas's works sold during the summer auction.
Matt Wolf also sold each of his four paintings for prices that ranged between $1,900 to $4,100. The Utah painter lyrically captures layered skies and is inspired by the Wasatch Mountains. His goal is to convey "that we live in a place of great beauty, peace, and harmony."
Coloradoan Sarah Woods likewise saw all of her works purchased. The most startling of her wildlife works was Glint, which brought $2,000. The vertical painting depicts a black wolf whose intense, golden stare juxtaposed autumn aspen leaves.
Martin Rotach's American Anthem was the featured artwork for the 2021 show and sale, and the artist also sold all four of his paintings, with Cheyenne Dreams, an evocative watercolor of a cowboy and his horse outside an arena, bringing $2,500.
Bonhams Los Angeles: The Curtis Studio
June 30
Total: $1.73+
Bonhams saw successful results from what's believed to be the largest collection of photography and ephemera from Edward S. Curtis to come to market. The 165-lot sale realized more than $1.73 million, with a sell-through rate of 95 percent. The American photographer is legendary for his images of Native Americans amid a social and environmental turning point.
The Vanishing Race led the sale, with the image of Navajos on horseback riding away from the camera on a dusty trail bringing $100,313, or more than three times its high estimate. The 1904 photograph "encapsulates pervasive themes in Curtis's work, featuring the Native American figures shorn of their traditional dress, riding into a future unknown," Bonhams' New York Head of Photographs Laura Paterson said in a statement.
Bids easily surpassed expected estimates for several of the sale's top 10 sellers. The Scout Apache, a heroic portrait of an American Indian on horseback, attained the second slot, bringing $94,063, compared to pre-sale expectations of $7,000 to $9,000.
Canyon de Chelly, the artist's largest-known orotone print, hung above the fireplace in Curtis's home in Santa Fe Springs, California, according to Bonhams; it realized $62,813, exceeding the anticipated $30,000 to $50,000 and coming in third place. Black Eagle, Assiniboin went for $56,563, well above estimates of $3,000 to $5,000, and Oasis in the Badlands, Chief Red Hawk, Sioux sold for $56,563, exceeding expected amounts of $10,000 to $15,000 and rounding out the top five lots.
"With engaged buyers and enthusiastic bidding throughout the entirety of the auction, it looks as though the market for Curtis's work is now stronger than ever," Bonhams' Paterson says.
Brian Lebel's Cody Old West Show & Auction
June 26–27
Total: $1.1 million
Brian Lebel's Cody Old West Show & Auction realized $1.1 million, a record amount for its Santa Fe, New Mexico-based sale in late June. Western tack, firearms, and memorabilia sold swiftly and within expected ranges.
Top lots included a J. Tapia Target Pattern Spade Bit. The beautifully crafted piece was expected to sell for $9,000 to $12,000 but instead achieved $23,600. Also tying for first place was an 1863 Henry Repeating Rifle, which also sold for $23,600.
Other notable sellers included a Jefferson B. Farr's 14-karat gold Presentation Badge, which went for $22,240, above estimates of $12,000 to $16,000. The elaborate badge, topped by an eagle, marked Farr's stint as a lawman in Colorado. And a Winchester Model 1886 Saddle Ring Carbine, circa 1893, sold for $21,240, compared to expectations of $10,000 to $15,000.
Cowboy hats that once graced the heads of celebrities evoked strong interest among the standing-room-only crowd of 200. A hat from rodeo champion and famed cowboy actor Ben Johnson realized $8,850, more than 14 times its high estimate.
After months of uncertainty for auctions tied to COVID-19, the Old West sale brought hope. "No one quite knew what to expect. We knew we were offering great items, but no one could predict such an enthusiastic turnout, both in live attendees and total sales prices," says owner Brian Lebel.
Prix de West Invitational Art Exhibition & Sale
June 25–26
Total: $2.68 million
A mix of in-person and live-streamed events heralded the opening of the Prix de West Invitational Art Exhibition & Sale at the National Cowboy & Western Heritage Museum in Oklahoma City.
Greg Beecham gained the event's top honor, with his painting Gone Fishin' winning the prestigious Purchase Award. The painting sold for $34,000 and earned the artist an additional $5,000 prize. The oil on linen is a skillfully executed depiction of a mountain lion leaping into a pool of water. The painting is tantalizing to the eye and stirring to the spirit.
The mesmerizing eyes of a mountain lion were also foremost in Bonnie Marris's A Cold Reception. The painting, which sold for $19,000 during the June 26 fixed-price sale, won the Jackie L. Coles Buyers' Choice Award and a prize of $3,000.
Daniel F. Gerhartz received the Frederic Remington Painting Award for Wayfaring Stranger, which sold for $42,000. The oil on linen depicts a girl, her long hair blowing in the wind, against the backdrop of nature's power. The award, which came with $3,000, is given for exceptional artistic merit.
Daniel Smith once again proved that his unerring understanding of the West's iconic wildlife translates into sublime art. His latest work featuring a grizzly bear, Through the Caldera, was given the Major General and Mrs. Don D. Pittman Wildlife Award, which provides $3,000 and is geared toward exceptional artistic merit for wildlife artwork. The piece sold for $20,000.
Rounding out the evening's events, the James Earle Fraser Sculpture Award went to Ross Matteson for Black Merlin, which sold for $12,000 and earned a $3,000 prize. The piece is striking for its sleek lines and for capturing the intent look characteristic of falcons.
WA&A's senior contributing editor Laura Zuckerman lives and writes in Salmon, Idaho. Her work has appeared in such publications as The New York Times Magazine.