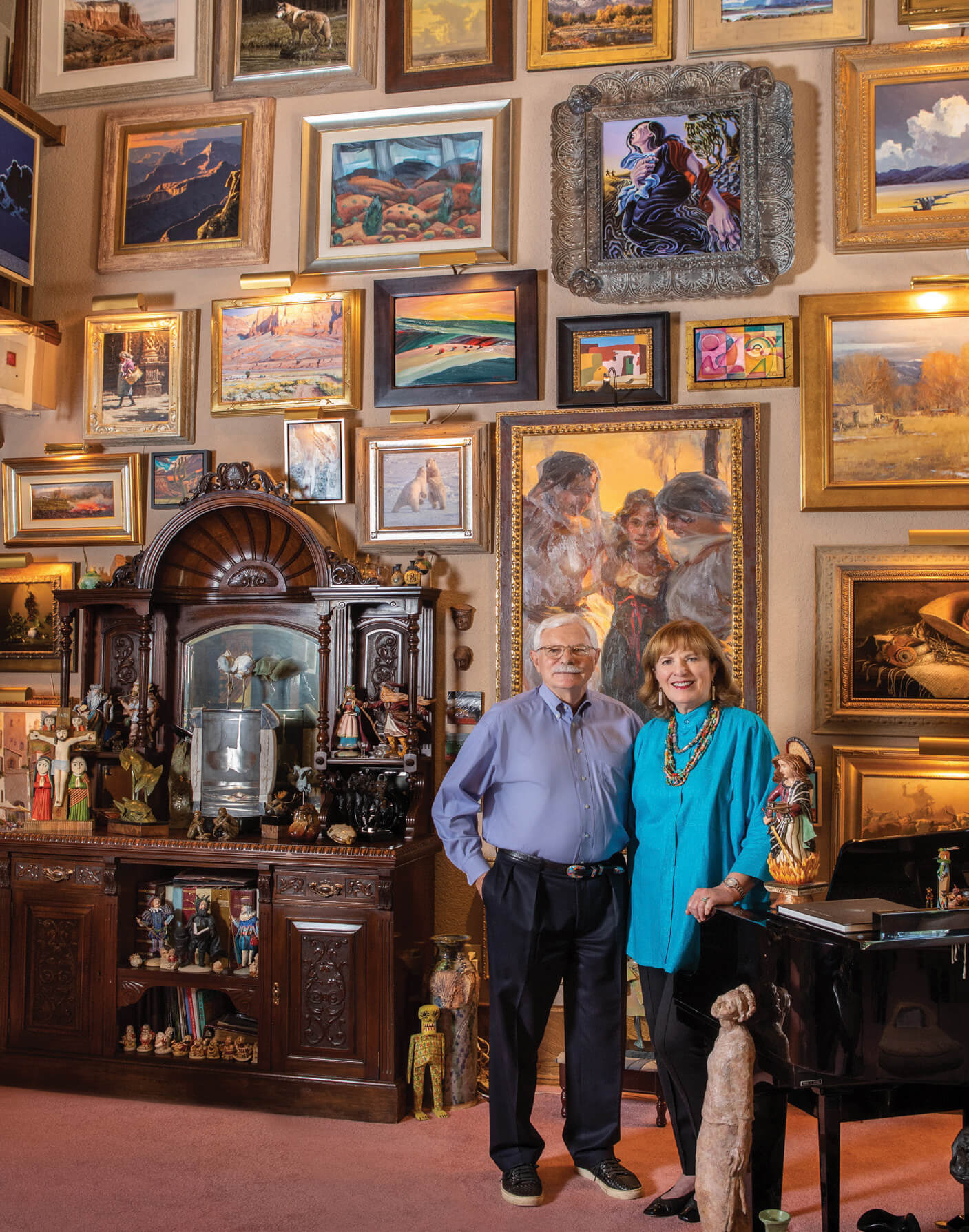 Randel and Dana Shadid have grown their collection over many years by finding and purchasing the artwork they love.
17 Sep

Collector's Eye: Enriching a Community

Dana and Randel Shadid are passionate about art. The walls of their Edmond, Oklahoma, home are covered with paintings from floor to ceiling — salon-style, but on steroids.

If Edmond has a power couple, it would have to be the Shadids. Dana has had a long career in the non-profit sector in Oklahoma — from serving on the board of directors for various organizations to consulting, speaking, and organizing. Randel, a retired attorney active in real estate, served three terms on Edmond's City Council and twice as mayor. While his legal knowledge and experience with city government have been of great service, perhaps the most lasting contribution he's made is establishing Edmond's public art program.

The 20-year-old program, based first on public and private matching funds and now augmented by a commitment to dedicating 1 percent of money marked for public construction projects to the arts, has resulted in 268 installations, including sculpture, murals, and paintings.

Randel sums up his philosophy of collecting this way: "I can't imagine a home without at least one original painting or sculpture. If a person will just take the time to look at art and buy something they love for its beauty, the emotional response it evokes, the memory of a place one has lived or traveled, or a happy time, then the person will buy more art and more varied art — like Dana and me — and become an accidental collector."

WA&A: When did you begin collecting?

Randel Shadid: Twenty-five years ago, more or less. Dana had collected some works from art festivals. She wanted to go to Santa Fe, New Mexico, for a long weekend. I said I didn't like cowboy and Indian or Southwest stuff. That was the dumbest statement I ever made. We bought three large paintings, and I had to call my banker to increase my line of credit in order to get released from Santa Fe!

Dana Shadid: He's got that kind of OCD collector's thing now. Everybody started teasing him because we went to Santa Fe a lot, and they'd ask, 'How much art did you buy?'

WA&A: How large is your collection?

R.S.: Eight-hundred and thirty pieces and counting. All our art is on display in our home, my law office, and our mobile mansion (the wheels are off) at a lake in eastern Oklahoma. Art is meant to be enjoyed and should not be stored or hidden away from view. The first thing I see in the morning is our art, and the last thing I see at night is our art. If I can't see it daily, then I wasted my money buying it.

WA&A: Is there a theme or focus to your collection?

R.S.: There is no theme. My initial preference was landscapes, as they relaxed me. I didn't want people in my art, as I had to deal with their problems in my law practice daily and wanted to be able to escape humans when enjoying my paintings. Dana liked figurative work, and we have enjoyed collecting all our art, agreeing most of the time on a painting. The ones I like and she doesn't are on display at my office.

D.S.: There are some that are unsettling to me. They're amazing pieces of art, but the story… Randel has one by Alice Leora Briggs. She did a whole series on the atrocities of the Juarez cartels. It depicts a body in the trunk of a car with a caption in very small print that reads: "You are going about your business, and suddenly men with guns come, and you go with them. Sometimes you return as a corpse, and this is a blessing since then your family knows your fate and can visit your grave. But usually, you never come back."

R.S.: Art ought to evoke some emotions — good or bad, happy or sad. Some things just break your heart when you see them. But I like those things; they speak to me.

WA&A: In case of disaster, what piece would you save first?

R.S.: I would take an abstracted landscape by Dick Evans that we bought over 20 years ago during an art feeding frenzy at Dick and Susan's home and studio in Santa Fe. Dick tried to acquire the painting from me years later. He made me a great deal, but I had to advise him that even though I loved him, he was not getting the painting back.

D.S.: If it looked like there was a tornado coming, Dan Gerhartz' Much Afraid. It was probably our first major investment in a piece of art, and I still think it's one of Dan's best pieces. It's based on a Christian allegory.

WA&A: Do you have personal relationships with the artists you collect?

R.S.: With many. Kenny McKenna and his wife, Janet, have been friends for 25-plus years. Dick and Susan Evans; David Pearson and Patricia Carlisle; Greg and Teresa Reiche; Tony and Shannon Hochstetler; Josh and Josephine Tobey; Dale Lamphere and Jane Murphy; George and Lisa Hallmark; and Kevin and Jennifer Box are all wonderful friends who have shared a meal or glass of wine in our home, and we have shared good times in many of their homes. We spent a night at the home of artist Greg Beecham and his wife, Lu, in Dubois, Wyoming, in 2017 and watched the solar eclipse on the hill behind their home with their family and artist Josh Elliott's family, who came down from Montana. The best relationship you can have is with a great artist who is a genuinely nice person. Beecham won the Purchase Award at the Prix de West this year, and I don't know who was happier, Greg or me. Seeing your friends succeed is the greatest feeling in the world.

Based in Edmond, Oklahoma, Elaine Warner is a member of the Society of American Travel Writers. She's the author of two books, including More than Petticoats: Remarkable Missouri Women.

Johnny and Carrie Holland own J. Holland Photography in Edmond, Oklahoma, and specialize in family, senior, and business portraits.