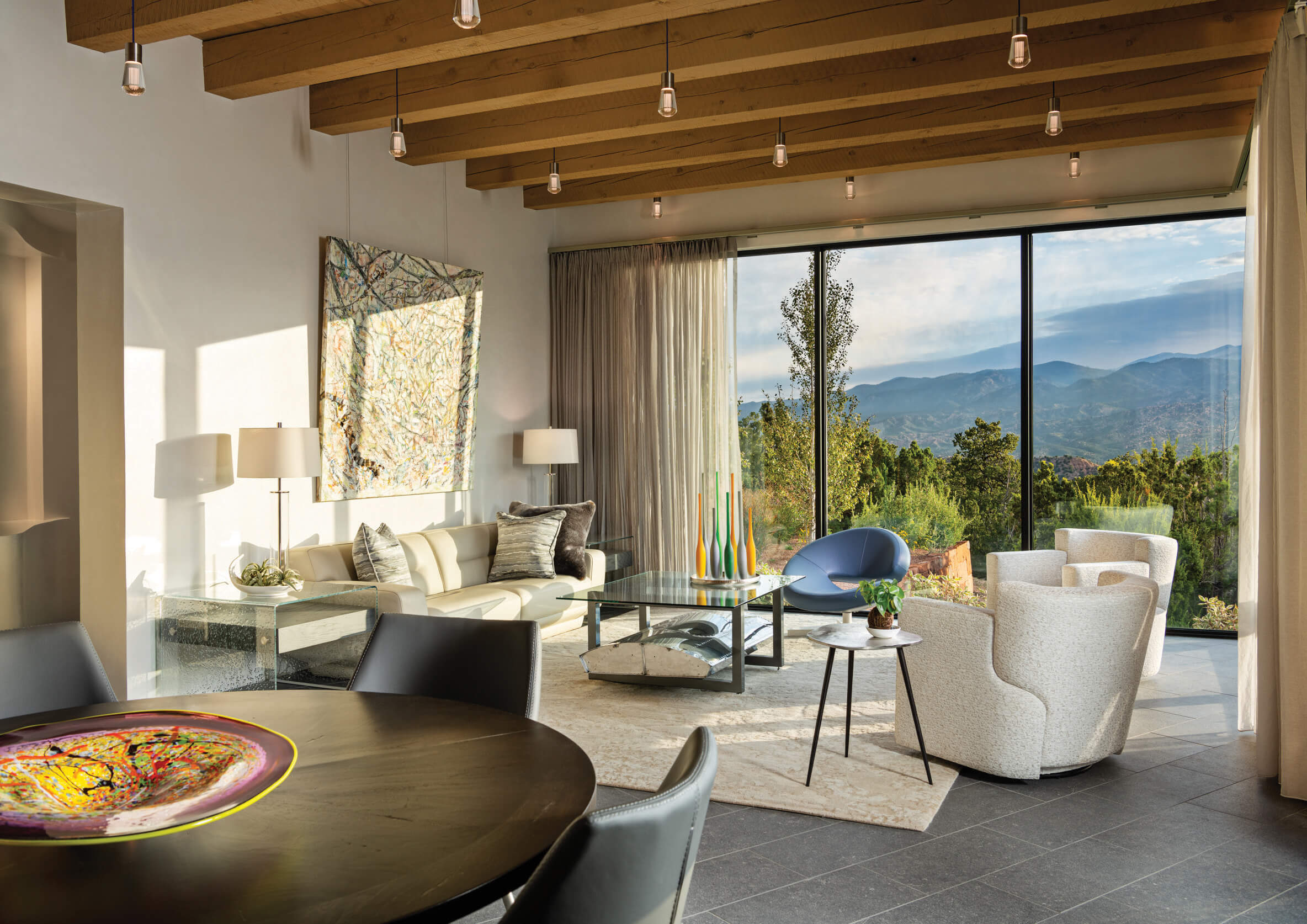 Annie O'Carroll furnished the living room of this mountain view home in Santa Fe, New Mexico, with a Roche Bobois sofa and blue leather chair. The artwork is by Helene Pfeffer.
17 Sep

Designing the West: Santa Fe Style

When Annie O'Carroll was in her twenties, traveling the world as a sales manager for Marriott Hotels, she never dreamed that she'd have a flourishing interior design career someday. "I think my whole life, it was like being in training for what I eventually landed on," she says. "When I traveled, I loved to see all the beautiful hotels in the places that I was visiting, and the art, and the culture, and the clothes, so I was always interested in the overall design and beauty of wherever it was that I was traveling to."

O'Carroll sensed her career was ready for a new chapter — if only she could find one. "I lucked into this wonderful experience, and I knew that it wasn't what I wanted to do in the long run in my life, but I could not identify what the 'it' was," she says.

As fate would have it, O'Carroll was literally stopped in her tracks when she discovered the answer. "I was living in Southern California, and I was in Corona del Mar, and I walked by the Interior Design Institute," she recalls. "I thought, 'Oh my gosh, I think this has all of the components of what I want to do!'" O'Carroll signed up for a three-month certificate program as a test to see if she'd like interior design. The result, instead, was love. So, she enrolled in a full-time, two-year course.

O'Carroll relocated to Santa Fe, New Mexico, in 1991. She joined a couple of partners there in starting an interior design business, but when those partners moved away, O'Carroll established her own firm, Annie O'Connell Interior Design, in 1997. "I started to slowly build a business," she explains. "Everything just fell into place for me; it just fit. And I decided to stay, and I've been here for 30 years."

Today, O'Carroll has a flourishing residential interior design career focused on projects in Santa Fe and beyond. She keeps it simple in her office, working with only a project manager and bookkeeper.

O'Carroll enjoys the collaborative process of creating a home. "Building a house is a big puzzle," she says. "The pieces have to fit together because it's such a collaboration — the client, the architect, the builder, and the interior designer — it has to just really fit and be a nice team." Her goal is to smooth over the building process so that it's enjoyable for the homeowners.

Like all the best interior designers, O'Carroll listens carefully to her clients. She gets to know them by first asking about their art collection. "I always want to see art because art is a fabulous way to start a project," she says. "If they have a piece, even if it's one painting that they love, that tells me a lot about them." Then she follows up with questions, including whether they like to entertain or if they have children, grandchildren, or pets. Along the way, O'Carroll learns what her clients connect with. "I start to see a theme," she says. "I'm good at intuiting an overall feel of what they want for a home."

In Santa Fe, O'Carroll works on new homes and remodels historic homes as well. "I think people want to know where they are," she says. "They want a touch of Santa Fe; they want something that's of this vernacular, and there's a nod to the Southwest." Her projects often feature plaster walls and high-beamed ceilings with stone, wood, or tile floors. Midnight blue tones, inspired by the clear Santa Fe sky, also weave through many of O'Carroll's homes.

She's drawn to interiors with a soft, clean-lined, contemporary style. "It's warm, livable, and relatable," O'Carroll says. "You walk into a house, and you don't know why you love it and why it feels good, but it does." She often chooses relaxed, upholstered furniture from Cisco Home and fabrics from SDH Fine European Linens. O'Carroll skillfully mixes textures, incorporating reclaimed and modern materials, and she loves to feature the work of local artists and artisans. "Just taking a walk up [Santa Fe's] Canyon Road is inspiring, and going into the art galleries and our Railyard area," O'Carroll says. "We're so fortunate to live in this artist community."

Her favorite space to design is the bedroom, creating a quiet haven in soothing colors with minimal furniture. "Bedrooms are intimate, and they're personal, and they're serene," O'Carroll says. She enjoys creating a sanctuary where people can relax. "It's a crazy world, so to have a place that's really peaceful and calm is important."
Q&A with interior designer Annie O'Carroll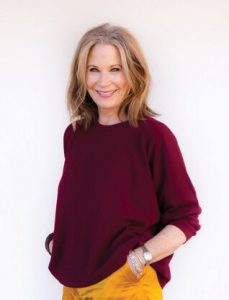 What's your dream project?
n It would be to design a Japanese-inspired home. I love the Japanese aesthetic — I love the sliding walls and the multifunctional spaces. I love that calm, peaceful aesthetic. So, a Japanese mountain house would be my dream job. I traveled to Japan during my Marriott career. I went to Kyoto, and it really touched me.
What other countries have inspired you?
Well, I'm 100-percent Irish — my parents were born and raised in Ireland. So, when I go to Ireland, it's inspiring. It feels like part of me. I ride horses, so riding with my aunts and just being up in those hills and seeing the rolling green and the beautiful country is very inspiring to me.
Do you have a favorite interior wall color?
Benjamin Moore's White Sand.
What's your favorite Santa Fe art gallery?
I would say Zaplin Lampert is my favorite art gallery. They just have beautiful historic art.
What makes a perfect Santa Fe day?
I think maybe a morning hike, and finishing at Ten Thousand Waves with a massage, a soak, and dinner. That's a perfect day!