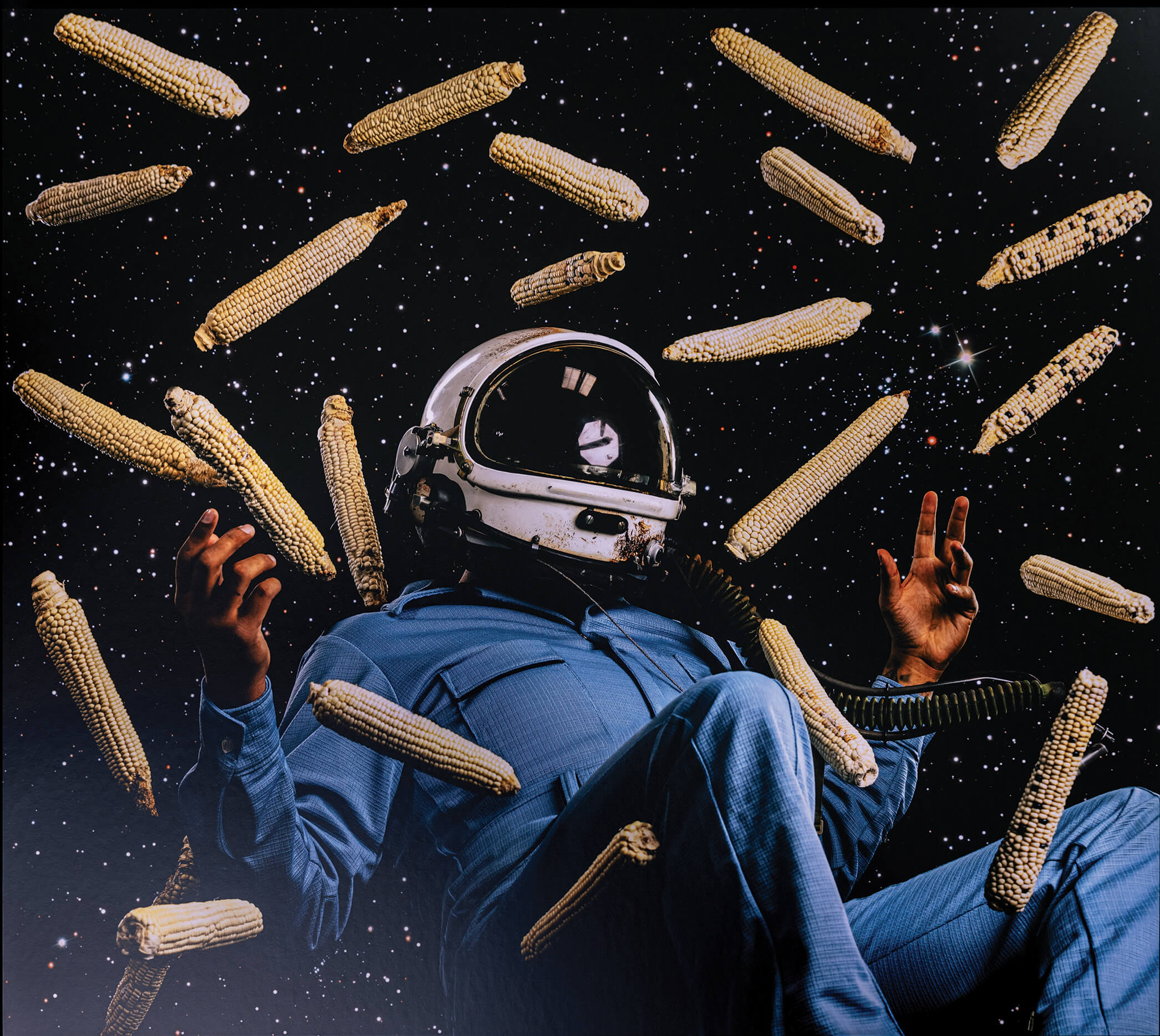 Cara Romero, The Zenith | Archival Pigment Print | 43 x 48 inches | Best of Class in Painting, Drawing, Graphics, and Photography | Courtesy of Santa Fe Indian Market, Photo: Tira Howard
06 Sep

Auction Block: Wide Open Places

Prices heated up in recent auctions, where buyers showed equal enthusiasm for traditional Western art and contemporary works that explored the themes of landscape, history, and society in new ways.

The art market has been buffeted in recent years by the same challenges people have sought to cope with in everyday life, but it has remained surprisingly elastic. Where Western art venues have an edge is their resilience and that they attract a loyal following. During a time when novelty has infiltrated popular judgment, Western art sales have largely resisted the trend of "high highs" and, as a result, avoided the "low lows." The Western art collector community gives rise to a market that's steady in its acquisition habits and more enthusiastic than ever about the genre.
Santa Fe Indian Market
August 17–23, 2022
Total: Undisclosed
Russell Sanchez's polychrome jar, 100 Years in the Making!, was awarded Best of Show during the centennial exhibit of Santa Fe Indian Market in August. The century-old event celebrates Native American artists under the auspices of the Southwestern Association for Indian Arts (SWAIA).
Festivities and exhibits in 2022 culminated in an awards ceremony that saw Sanchez's incised and painted work mesmerize judges. The jar was inlaid with hematite and turquoise in a process that uses traditional materials and methods, and its title refers to the historical practice of Pueblo pottery.
Navajo artist Ernest Benally's jeweled belt, Turtle Family, won the Best of Class in Jewelry. The belt features 12 turtles ornamented with natural stones and shells. The cohesion of color and shape, each echoing the other, suggests familial relationships.
Best of Class in Painting, Drawing, Graphics, and Photography went to Cara Romero (Chemehuevi) for her archival pigment print, The Zenith. The digital print shows a figure afloat in the night sky, where stars compete with corn on a fishing line and reference the cosmos and life.
Additional award winners included: Manuel Chavarria (Hopi), Best of Class in Wooden Pueblo Figurative Carving and Sculpture for Qooglee Storyteller Hunters; Ryan Benally (Diné), Best of Class in Sculpture for Bold as Love; Ahkima Honyumptewa (Hopi), Best of Class in Textiles for Oryavi Kenel Kwasa; Glenda McKay (Ingalik Athabascan), Best of Class in Diverse Arts for a traditional walrus harpoon; Juanita Growing Thunder Fogarty (Assiniboine Sioux), Best of Class in Beadwork and Quillwork for Walking this Good Way of Life Together; TobieMae Patricio (Acoma Pueblo), Best of Class in the Youth category for a woven polychrome pot; and Jeremy Frey (Passamaquoddy), Best of Class in Basketry for Dawnland.
The Russell Reignited
August 18–21, 2022
Total: $2.4 million+
Jeremy Winborg brought to life a celebrated Blackfeet warrior woman in Pitamakan; Braver than the Braves. The painting topped sales of contemporary works during the centerpiece auction The Russell Reignited, which takes place in Great Falls, Montana, as a fundraiser for the C.M. Russell Museum. The 33-by-50-inch painting, which underscores the contrast between the subject's age and her confidence, went for $84,000 — or more than twice its pre-sale high estimate — to take the fourth top slot overall.
A work by the acclaimed C.M. Russell led the sale, with High, Wide and Handsome bringing $468,000, within expectations of $400,000 to $500,000. The watercolor bears Russell's light touch with a rodeo rider and bucking horse in an energetic scene where athleticism wars with recklessness.
Russell's Antelope Hunting took second place among bestsellers, with the watercolor going for $198,000, compared to estimates of $175,000 to $275,000. A third Russell watercolor, I Climbed Fast, and Stuck my Head Out the Top Without Looking — and then Froze Solid Enough, climbed to $111,150, above estimates of $75,000 to $100,000.
Other top sellers included: Jason Rich's Wild Horse Ridge, which went for $84,000 against a high estimate of $32,000; Andy Thomas' Lighting Up Dodge, which realized $64,000 above its high estimate of $50,000; and Joe Kronenberg's Homeward Bound, which brought $42,000 instead of the expected $10,500 to $15,000.
Santa Fe Art Auction
August 13–15, 2022
Total: Nearly $750,000
Santa Fe Art Auction's American Indian + Tribal Arts: Classic to Contemporary saw the strong appeal of Native American jewelry command solid sums at a time of renewed interest and growing appreciation for authenticity in design and materials.
A Navajo squash blossom necklace that pairs silver beading with turquoise to create an undulating effect garnered $23,180 to become the top lot.
The second-highest-selling item was a polychrome vessel fired more than a century ago. The jar features earth tones and repeating patterns as the piece curves. The vessel was created by a Zia artist and sold for $12,200, a near match for the low pre-sale estimate.
A bolo tie ornamented with inlaid turquoise and 22-karat gold realized $10,980. The work by Navajo artists Carl and Irene Clark was expected to bring between $12,000 and $18,000, but its final price secured the third top-selling lot.
The fourth slot was captured by a ketoh, or bow guard for the arm, made by Navajo craftsman Kenneth Begay and from the Georgia and Charles Loloma Collection. The price for the suede, silver, and turquoise piece climbed to $9,150, compared to estimates of $3,000 to $5,000.
A fired clay jar by Hopi artist Fannie Nampeyo, with the vessel inscribed and decorated with pigments in geometric and abstract designs, rounded out the top five lots by bringing $8,750, against expectations ranging from $5,000 to $7,000.
Bonhams' California Art Auction
August 2, 2022
Total: $1.9 million+
Bonhams' sale of California art in early August showed the ever-present appeal of regional artists who explored Impressionism — Golden State-style — in the late 19th and early 20th centuries.
Painters such as Guy Rose sought out the sea, sands, and shores of California's coasts as their subjects. Rose's Off Point Lobos is a portrait of light on the shore and sea. The painting sold for $441,375 to lead an auction that included work by Armin Hansen and Edgar Payne.
Hansen's Spirit of the Rodeo took the second slot, garnering $220,875. The oil by a painter mostly known for his marine scenes is a departure; it's a mix of bold colors and barely delineated figures, the bulk of which are sporting hats, chaps, and scarves. The painting was expected to bring between $175,000 and $225,000.
The happy surprise of the sale was the price achieved by Calm Seas in a Hawaiian Cove by Lloyd Sexton Jr. The horizontal painting, in cool colors with darkening skies, was estimated to go for a maximum of $15,000; instead, it shot to $138,975 to take the third position among bestsellers.
Rider and Pack Horse in the Sierras by Edgar Payne realized $57,075, against expectations that ranged from $25,000 to $35,000, to earn the fourth position. And another painting by Hansen ranked fifth with Hauling in the Net and Boats along a Pier coming in at $53,295, against estimates of $25,000 to $35,000.
Coeur d'Alene Art Auction
July 23, 2022
Total: $16.4 million
A work by Taos Society of Artists painter William Herbert Dunton captured both the imagination of collectors and the best price when Treed sold for $1.4 million during the Coeur d'Alene Art Auction, one of the Western art world's most prestigious annual sales, in Reno, Nevada.
The painting, in which the eyes of hunters and hounds strain upward, set a world auction record for Dunton and achieved more than two times its anticipated price.
It was one of two sporting scenes that topped sales, with the other by illustrator and painter Philip Goodwin. Goodwin worked amid few peers — one of whom was Dunton — as skilled at producing outdoor scenes as he ultimately came to be. His training as an illustrator led to a fine art career that was shaped by his ability to make a fishing or hunting outing seem as real as the sound of waters stirred by a paddle or the scuffle of feet when sportsmen are surprised by a bear.
Between the Devil and the Deep Blue Sea is illustrative of the point. The tableau of two men in a canoe, one hauling in his catch and the other clutching his gun as he spies a bank-side moose, brought $968,000, compared to pre-sale estimates of $150,000 to $250,000, to achieve a world auction high for the artist.
A work by Charles Russell sold for $847,000, with Shooting the Buffalo estimated to go for $400,000 to $600,000. And admiration for Russell didn't stop there. Mexican Vaqueros Roping a Steer realized $544,500, an outsized amount for a Russell watercolor whose scene is far from static.
Canyon de Chelly by Edgar Payne depicts towering rock walls, below which small figures ride on horseback on a sunlit path. The painting, unique for including an Anasazi dwelling in the background under the vermillion cliffs, sold for $484,000, above estimates of $150,000 to $250,000.
Yet another world auction record was set at the Coeur d'Alene sale with The Homesteaders by Harvey Dunn. The painting of an oxen-pulled cart and its occupants traveling through bright prairie grasses brought $393,250.
Paintings by select contemporary Western artists sold briskly, with Logan Maxwell Hagege's spare but powerful picture of two Native Americans against spiraling red rocks and a sky enveloped by a mass of clouds, Where Land Meets Sky, achieving $169,400, above estimates of $80,000 to $120,000.
Also of note, Bob Kuhn's Out on a Ledge was one of nine works by the artist in the sale and soared to $33,275 from an estimate of $5,000 to $7,000.
Cheyenne Frontier Days Western Art Show
July 20–21, 2022
Total: $235,000
Dustin Payne's sculpture Song of September won the Old West Museum's Purchase Award during Cheyenne Frontier Days Western Art Show & Sale, which is the museum's showpiece art sale during Cheyenne, Wyoming's Frontier Days festivities.
The bronze of an elk's head tipped back to bugle was purchased for $2,750 and donated to the museum's permanent collection.
The works of several artists sold out at the event, including Brandon Bailey, whose Cloud Watching brought $6,900. The picture shows antelope below a sky broken by clouds.
Laurie Lee saw all four of her paintings sell, including Grubs Au Gratin, in which a grizzly intently examines a hollow log for the entrée du jour.
On the Big Laramie was among Linda Lillegraven's landscapes that were snapped up by collectors. The oil on linen is a meditation on water, sky, and clouds. It sold for $4,100.
Laura Zuckerman is a senior contributing editor for Western Art & Architecture. Her work has been featured in such outlets as The New York Times Magazine and Cowboys and Indians.