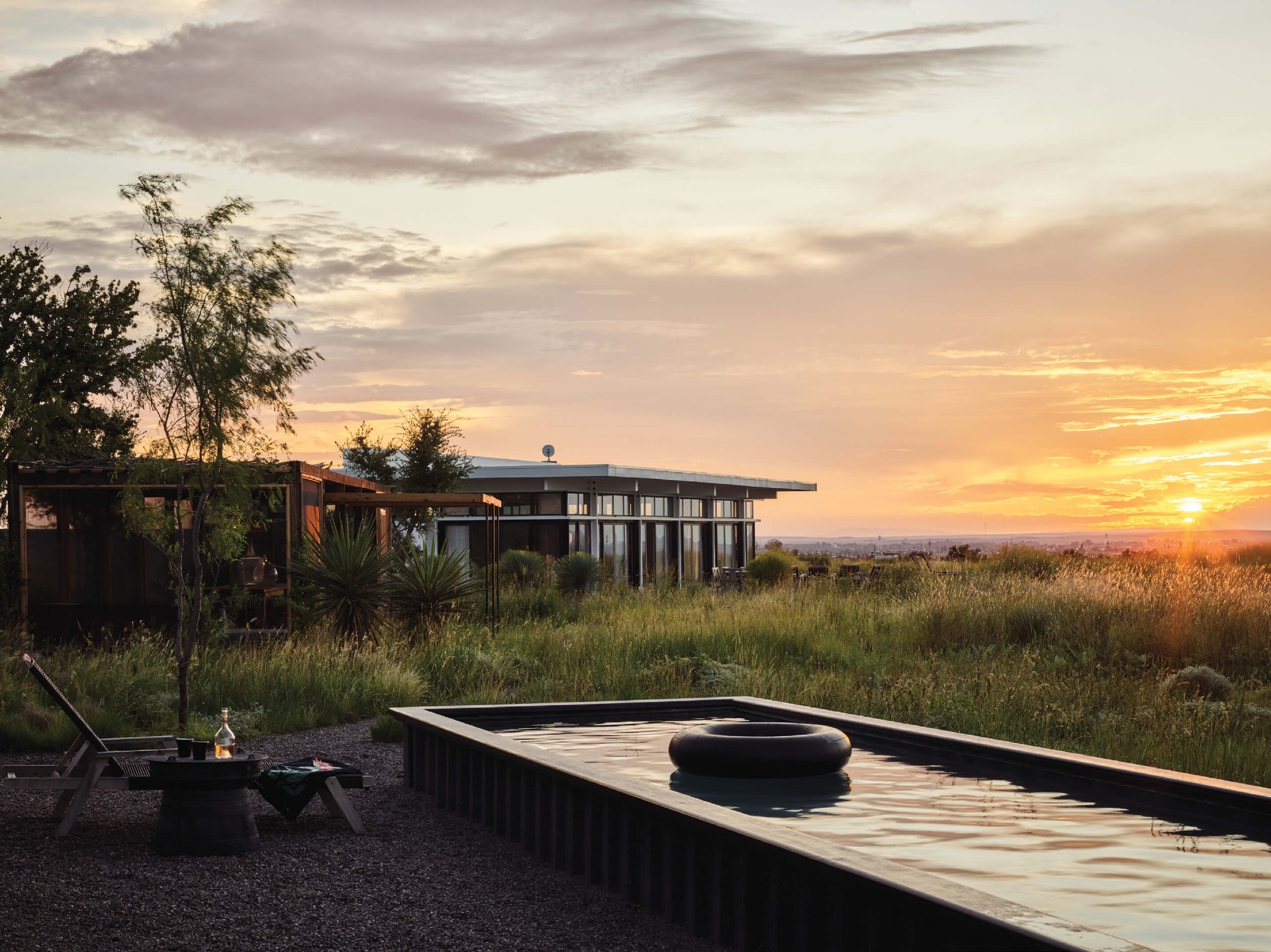 By his second visit to Marfa, Texas, photographer Douglas Friedman had become entranced with the space and light in the austere desert landscape. His home is a minimalist compound, with a pool made from a shipping container.
06 Sep

Desert Romance

Internationally renowned photographer Douglas Friedman is driving through a flat, empty desert in an open black Jeep on a lonely dirt road. Pulling up with a flourish in a cloud of dust next to a flowering white yucca framed against a brilliant blue sky, he walks through a discreet opening in a poured-concrete wall. What lies beyond is his labor of love, his sometimes muse and inspiration, the place he comes to rest: It is his Texas home, a minimalist retreat built for a harsh environment.

Designed and developed over the course of several years (one year spent creating the infrastructure, two years fabricating and erecting the home), the house sits lightly on the land: 10 acres of sparsely vegetated desertscape at the literal end of the road. The design — a sleek box-like volume composed of glulam timbers, steel connectors, glass, and structural insulated panels built to order, shipped and assembled on site — maintains a perfect balance in its dance between detail and simplicity, light and dark, openness and protection. Linear and symmetrical, with a stark black and white palette, it is set in a landscape that's green for only a few months of the year. With clerestory windows banding the house, the structure has a lightness and lyricism that belies its form and setting.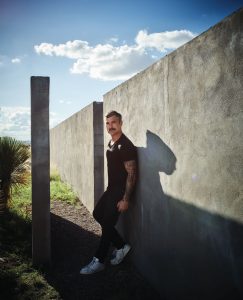 Although he's lived on both coasts and traveled the world, Friedman, who grew up in New York, had only lived in apartments before visiting the otherworldly Marfa, Texas, in 2001. But there was something about the tiny, vibrant arts community in the Chihuahuan Desert that captured his imagination.
"If you grow up on the East Coast, it's your frame of reference for everything," he explains. "But the West Texas desert is so magical and inspiring, so vast and beautiful. It's a mile high, and the thin air makes you heady. Technically it's not the most gorgeous guy in the world. It's a dusty, little water stop with trailer parks and potholed streets and a gas station with a Subway in it. But then there's the art. And giant puffy clouds. And then you experience a sunset and everything is glowing in a way you've never seen it glow before. Then you start to meet the people and you can't believe you're in this weird, magical place it took 12 hours to get to. Then you realize you're a pioneer. I'd say most people are afraid of the journey, but it rewards you on so many levels."
When Friedman returned a few months later, he started looking at properties. "There were two pieces available," he recalls. "One was beautiful, with acres of golden buffalo grass and yucca. Then there was the land I bought, which was overgrazed cattle pasture, sterile dirt, dust, and gravel. It wasn't pretty, but it was the piece at the end of the road, with sweeping views all around and no one else driving past the house. It's insanely romantic to be able to say you're at the end of the road."
He designed the house with economy and practicality, but there's a reason the desert is sparsely populated. "I was under the impression that you could walk away and come back and [it would be as you left it], but people are not meant to live in the desert. It is a non-negotiable, unwelcoming environment. The desert is always trying to kick over your house, destroy it, and get you out. The house is like a living creature; it needs attention. It's just so dry. Water traps and drains need to be filled; toilets need to be flushed. And it's close to a flash-flood zone, so sometimes water just rushes through the house."
Despite this, and the fact he spends most of his time living in hotels on assignment, Friedman has been a Texas resident for five years. Over those years, the house has evolved, the desert has crept back up to its edges, and he's created a way of living in the extreme landscape: sun structures for outdoor entertaining and lounging, a pool and hot tub built from a shipping container, a couple of modernist sculptures for color and interest, and gravel paths that wend past desert grasses and succulents. He even has a chicken coop, a pandemic building project. "I needed to get out of my head," he explains. "My neighbors are the best anyone could ever have; there was this derelict building on their goat farm. I spent three-and-a-half months turning a collapsed building into the Fort Knox of chicken coops." Today he's got 18 hens laying multicolored eggs, apropos for a stylish modernist who loves minimalism but craves color, pattern, and exuberance.
The push-pull between Friedman's desire for simplicity and need for personality is evident in the home's interiors. The foyer is almost monastic. It took a forklift and 12 men to place the raw-edge stone table, and the boxy, black chair was made by the late Donald Judd, Marfa's most famous resident and the artist who put the town on the map. A Noguchi paper lantern illuminates the space.
From the foyer, the house becomes increasingly layered and lived in. The living room has comfortable vintage seating and a multi-hued rug; it's warmed with wood bookcases and accents and enlivened with statement art. The kitchen continues the black and white theme, but Texas character shines through in repurposed rodeo-ground lighting, ceramics, and a taxidermied javelina.
The primary bedroom combines new and vintage pieces with a bold, colorful rug, while the bath has a hand-painted mural. Friedman really let loose in the guest room, where a riot of color in the bedding, rug, and wallpaper creates a Rococo cocoon, a welcome respite from the relentlessness of the desert sun. Throughout the house, which he designed with various architecture and interior-design luminaries, there's a mix of vintage Mid-century, new, handmade, international, local, austere, and colorful. And within that mix, every piece has a story.
"The whole house has been an evolution," says the photographer. "The original coffee table was a door, and I used whatever I could make work from my New York apartment. Over time I was able to swap pieces out. I love that this house is evolving with me as I get older. I personally feel where it is now is where I love it the most. What's there is the best it can be… Though maybe the dining room table," he says. "I might swap that out. But everything else is the best it can be."