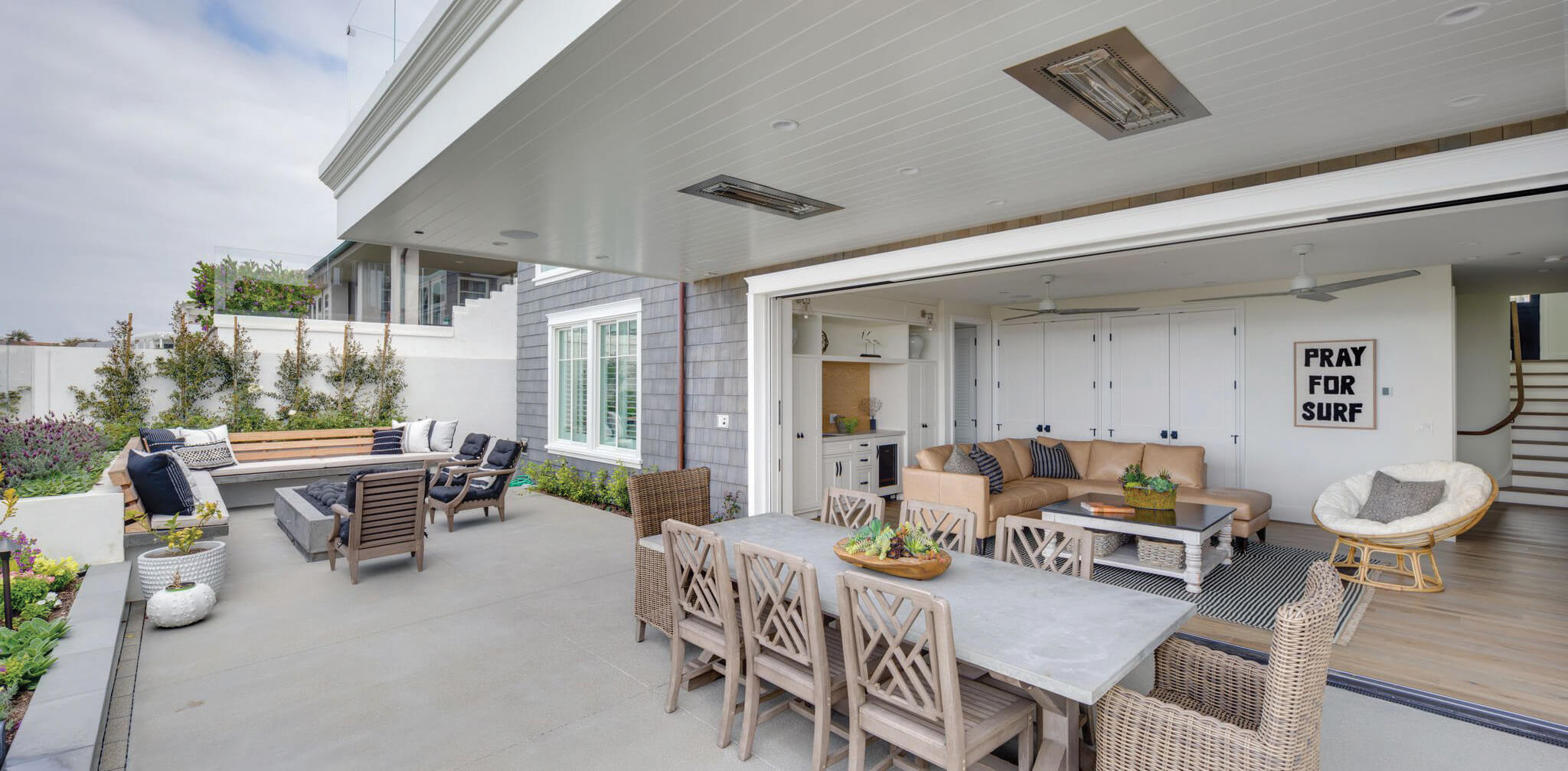 A casual media room extends to the outdoors, epitomizing California-coastal living.
06 Sep

Designing the West: Balancing Act

Nate Fischer can identify two major influences that led him to open his interior design firm: his love for the ocean and art.

Growing up in Monterey, he appreciated the "eclectic mix of coastal California design" found in his hometown, Big Sur, and Carmel-by-the-Sea.

After completing his degree in interior design at Utah State University, Fischer returned to live by the sea for an internship in San Francisco. Ultimately, he traded Northern California for sunny Southern California, where the lure of the ocean still has its hold on him. He established Nate Fischer Interiors, a boutique interior design firm in Laguna Niguel.

Along with his design career, Fischer is an artist. As a child, Fischer's father had a foundry where he cast his own bronze sculptures, along with those by other artists. The exposure to his father's artwork and foundry encouraged Fischer to explore and create unique paintings on thin sheets of bronze and brass, coaxing colors from the metal with different patinas. Today, Fischer's artwork is sold by galleries in California and Arizona.

Still, his interior design business keeps him busy. He's found that in today's world, post-pandemic lockdown, more than ever, families and individuals are looking to upgrade their homes or move somewhere new, and they are seeking Fischer's expertise earned from his 20 years in the design field. Many of Fischer's original clients are coming back, refreshing their homes or adding a second one.

"When a new client asks me what my style is, I answer that I don't have one," he says. "My firm designs for the project and the client. When I'm pushed to define my style, I'm torn between traditional and modern. Most of my clients hire me for a consistent look that is more on the modern side, but I bring in some traditional features that are timeless [to] complement it; traditional millwork, such as baseboards or crown molding, paired with modern works really well."

A Fischer-designed home is a comfortable one, including those that are strictly modern, he says, explaining that "it is never the hard-edged, minimalist design that leaves one feeling cold. In our more modern homes, we make them feel cozy, warm, and inviting. Everything we do is about making the livable spaces welcoming so a family or a couple can feel comfortable being in them."

Fischer's style features a neutral palette instead of loud patterns or vibrant colors. He lets the materials speak: the wood grain, the texture of fabrics, the designs in a quartz countertop. Ultimately, lines blend, showcasing each of the individual materials' best assets. "Early on, I pushed pattern and contrast, but I feel my designer palette has matured. I've scaled back on color. Neutral colors let more of the color and patterning come through the materials and also showcase the artwork better."

When he does use color, Fischer uses it judiciously, lest it take over. "For one client, I used an emerald green on the cabinetry in an office. But it stopped there," he says. "I didn't carry the green into the furnishings nor into the accessories. It was one and done; one stand-alone piece."

One trait he often includes in his designs is the use of built-in cabinets in living spaces. Built-in shelving on either side of a fireplace provides a feeling of continuity versus individual bookshelves set against a wall; it can make the difference in how a room appears, delivering a "finished look," he says. Fischer notes that having a television in a built-in setting also provides a more permanent feeling. "Most people want a television in a family room," he says. "The TV in a family room can become a focal point, cheapening the look of the room. Built-ins are the best way to make the TV feel more permanent; it feels desirable, as if it were in a finished cabinet instead of being the focal point."

If a home already has built-in cabinets in its living space, Fischer takes great delight in revamping them. "We might put doors on existing built-ins or add styling to the old doors by incorporating glass panels. There are many ways to mix things up to gain a remarkable change," he says.

While many in the design field are quick to follow fads, Fischer and his team seek individual and unique materials for their clients. Speaking about the current trend in wood, he says, "Oak is all the rage right now. I use it, but it's overused, so we look to other woods when the situation allows. Walnut has a beautiful wood grain and takes a stain readily. Maple is a common wood, but it is difficult to stain. Walnut with a clear coat becomes a beautiful color; it's perfect for doors, cabinetry, and millwork."

One can see why clients return again and again to Fisher's studio and why contractors enjoy working with him. Client Kathleen McClenahan raved about her experience with Fischer. "Nate and his team did a wonderful job with our new home. My husband and I were looking for a designer that would work with our modern-traditional tastes, and Nate nailed it. We furnished a dining room, living room, family room, breakfast nook, front and lower entryways, and kids' bonus room  […] and we couldn't be happier."

Likewise, general contractor Preston Porter heaps praise on Fischer's work. "Nate was the designer for the commercial project that we were the general contractor on. It has never been so easy and seamless to work with a designer. His vision and ideas culminated in a very impressive and unique finished project. He was responsive and jumped in to provide clarification on any tricky details that came up in the construction process." These and other testimonials showing the quality of work, friendliness, and professionalism of Fischer and his team have resulted in Houzz presenting him with 17 awards, including Orange County Interior Designer Best of Houzz from 2014 to 2021.
Q&A with interior designer Nate Fischer
What do you suggest if one wants to update their living room furniture but they're finding the selection and availability of the retail world challenging?
Today's world presents many challenges with supply chains. Surprisingly, we do a lot of custom furniture, which makes most clients go into defense mode, assuming it's high-end and expensive. But we have a lot of great workrooms creating pieces for us at competitive prices. At least half of our upholstery is done locally. The wood pieces we need, including tables, coffee tables, and other case goods, are custom; we can get them quicker, especially now, and they'll be the exact size and the exact look we want.
If it feels like there's too much wood in a dining room, what do you recommend as a solution?
There is such a thing as too much wood. Say we have a wood floor in a dining room, then the dining table could be another material: a slab of stone, a mirrored top, a glass top, concrete, or plaster.
Which fabrics will stand up to pets and heavy use over time?
More and more, commercial or contract fabrics that are durable are finding their way to custom sofas and other furnishings. It's easy to get a desirable look for a sofa for a family these days. In fact, if a fabric isn't incredibly durable, I won't suggest it, as family and pets are important. Fabrics with a sheen are losing favor, which can be difficult as many of the durable artificial fibers have a sheen to them. But there are classic fabrics that last and last. I love the look and feel of velvet. Cotton velvet is incredibly durable. However, if you see a velvet with a sheen, it's a polyblend, so one has to be careful. Either wool or cotton velvet wears extremely well.
Can you recommend something else besides granite and quartz for a kitchen countertop?
Soapstone is the unsung hero of countertops. Soapstone will never etch and never stain! It's the only one you can say that about, and you can set hot pans on it. One drawback is that it can get micro-scratches, which easily disappear when oiled. Or, if one prefers, the scratches can become a part of the look, just as a patina changes and develops over time.
Is grasscloth making a comeback? How and where could it be used in a home?
Grasscloth was never out. It's a great material for ceilings, especially to soften up a room that might feel cold, such as one that has tile floors or polished concrete floors. It also helps with acoustics. A nice tight weave of grasscloth keeps a modern aesthetic. If it is chunky, it can feel tropical or more casual. It's wonderful not to have every wall in a home just painted sheetrock. Grasscloth can add a lovely accent to a room or as a ceiling inset in an entryway or powder room. There are many ways one can incorporate it. Mixing materials is a great asset to a home, like adding stone, wood, or grasscloth to a wall.