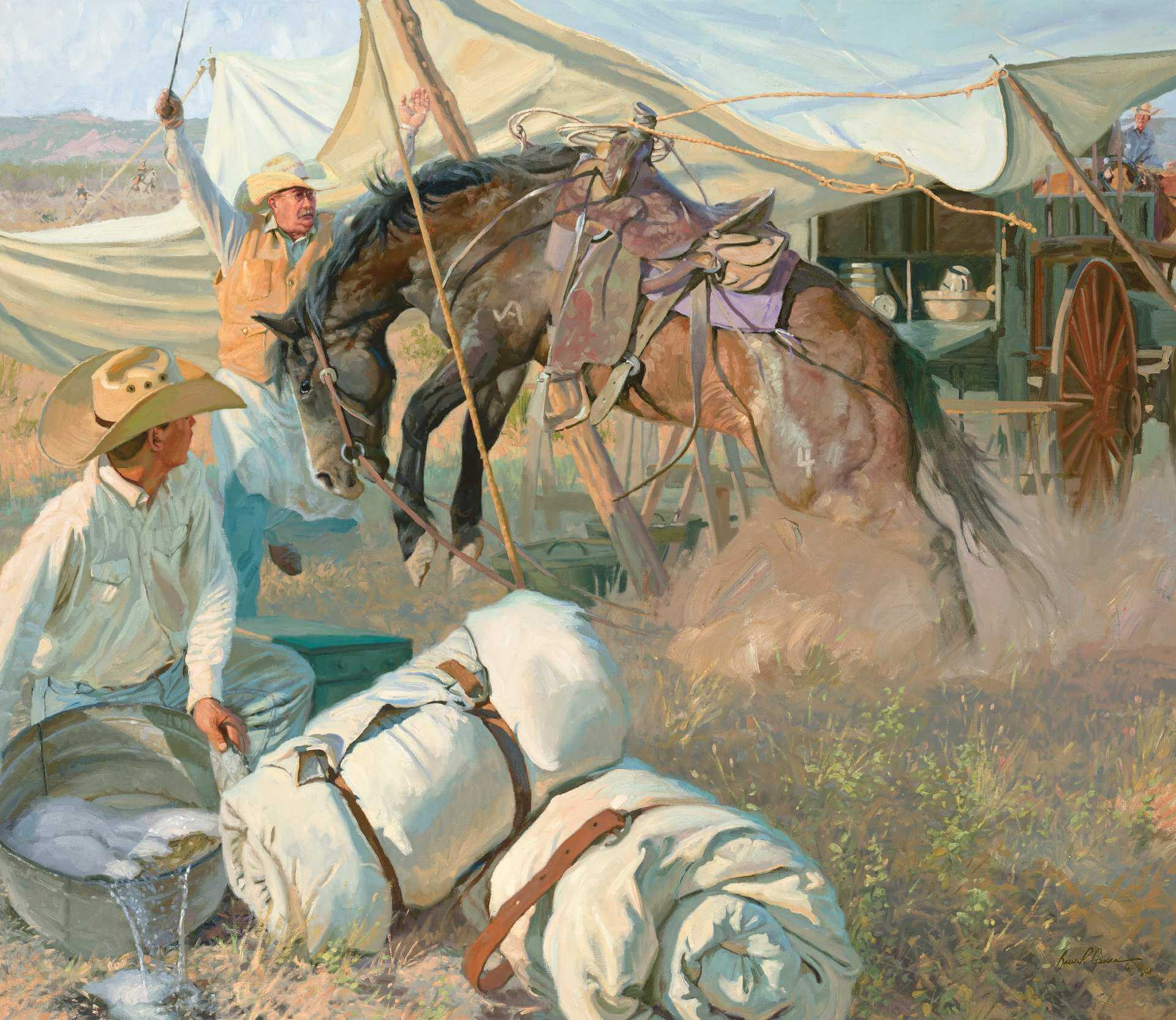 The Wagon Fly Incident of '98 | Oil | 58 x 68 inches
06 Sep

A Moment in Time

Painter and sculptor Bruce Greene has spent periods of his life on a horse. In his time, he has rodeoed, worked cattle, taken miles-long trail rides, and sought out moments in which the astringent aroma of sage mixed with the spicy scent of mesquite spoke of a solitary, but not lonesome, figure whose horse was company enough.

As with Charlie Russell and storied artists of another era, Greene is the real deal. The Cowboy Artists of America (CAA) member, whose works are included in the collections of such institutions as the Museum of Western Art in Kerrville, Texas, abides by the ethos of the American West while bringing it into being for countless collectors and ranks of admirers.

He is a man whose toughness is like leather, pliable but not breakable, and whose interior vision of the American West gleams like the bronze used in his bas-relief and free-standing sculptures. That is what this writer says of the cowboy artist, who, for all of his accomplishments, wears modesty on shoulders that could easily be heaped with weighty laurels and awards.

The husband of Janie, father of six, and a grandfather many times over, Greene could be said to have as many facets as a man is likely to have if, like many of his sculptures, he sees life in the round, fully dimensional, and over the arc of time.

"I've really been blessed," he says simply.

Yes, you divined it: he is a man of many talents but few words. He prefers his art to do the talking.

And that has been speaking volumes since he was a boy, routinely drawing, sometimes painting but ever seeking and sometimes finding that moment of pure bliss when what was in his mind's eye materialized on paper or canvas or in clay. Today, he lives and breathes the Texas Hill Country where the family is free to ride horses or watch wildlife, to appreciate land that ages ago captured the spirit of open country – and set it free.

Greene early on believed that art would be the source of his satisfaction and livelihood and the woman he married felt the same way. He took an art degree in college and then went into the world to perfect his skills.

In the early days, when times were lean and the couple was seeking to provide for one child and others to come, Greene took odd jobs while pursuing his passion for painting. A milestone was the sale of his first picture.

"In college, I had rodeoed. Later, when we were married and broke, I called a guy who was then a world champion bull rider," Greene recalls. "I'd never met him before but I told him I'd like to do his portrait on a bull. He said, 'Yeah, okay.'

"He'd never met me and didn't know what I could do or had done, or anything about me. The painting was 5-feet-by-4-feet and he paid $325. It was good; we could buy groceries."

It was the commercial beginning of a labor that, at its heart, is one of love. Greene took classes from CAA greats and they had a signal impact on him. When that training began to shine in use, Greene was elected to CAA, a group of top-ranked artists that pledges to authentically preserve and perpetuate the culture of Western life in fine art.

"I had aspired to be involved with the group; it is the highest level of achievement and I was blessed to be voted in 30 years ago," Greene says.

The Texan, whose numerous honors over the decades include gold medals in sculpture and drawing tied to CAA shows, is particularly adept at capturing expression in a fashion that signifies both emotion and action.

Take Busted from the Brush, a visceral depiction of the dynamics that ensue when a whitetail buck unexpectedly leaps between a cowboy and the calf he is about to rope. The motion of the painting brings its observer to a standstill and in that convergence arises a genuine sense of the power and athleticism of each figure: rider, horse, buck, and calf.

Greene would know the truth of the people, places and animals he depicts. He has spent time as a hand on legendary working ranches: he has ridden out before morning in biting cold and he's ridden in after nightfall in searing heat.

"It's been of benefit artistically, emotionally and spiritually," says Greene, a devout Christian. "I heard one of my art teachers share with students that the difference between greatness and mediocrity is observation. I've been blessed to be allowed the opportunity to observe the cowboy life up close – and it is personal."

Greene lately has been deeply interested in what might be termed sculpted painting: that is, wall sculpture featuring low- to mid-relief figures. A stunning example is The Bell on Old Blue, which Greene introduced in April to InSight Gallery, the outfit in Fredericksburg, Texas, that represents him. It is a strangely beautiful piece: strange because it is other-worldly, beautiful because it speaks of hard-won bonding between man and beast.

The Fort Worth Stock Show is to produce CAA's annual two-day show beginning November 3. Through a foundation named after CAA co-founder Joe Beeler, CAA members offer a one-day class to teens in painting, sculpture and drawing. The class takes place on the coliseum floor near a round pen where a long-horn steer is the model.

"These kids are from every walk of life and nearly all of them are getting their first exposure to teaching by working artists; it's great for them and it's great for us," Greene says.

Bruce Greene's vision of Western art is keen and it is also long. There is no sunset for paintings and sculptures pressed so ably into the service of moments which last for an eternity.