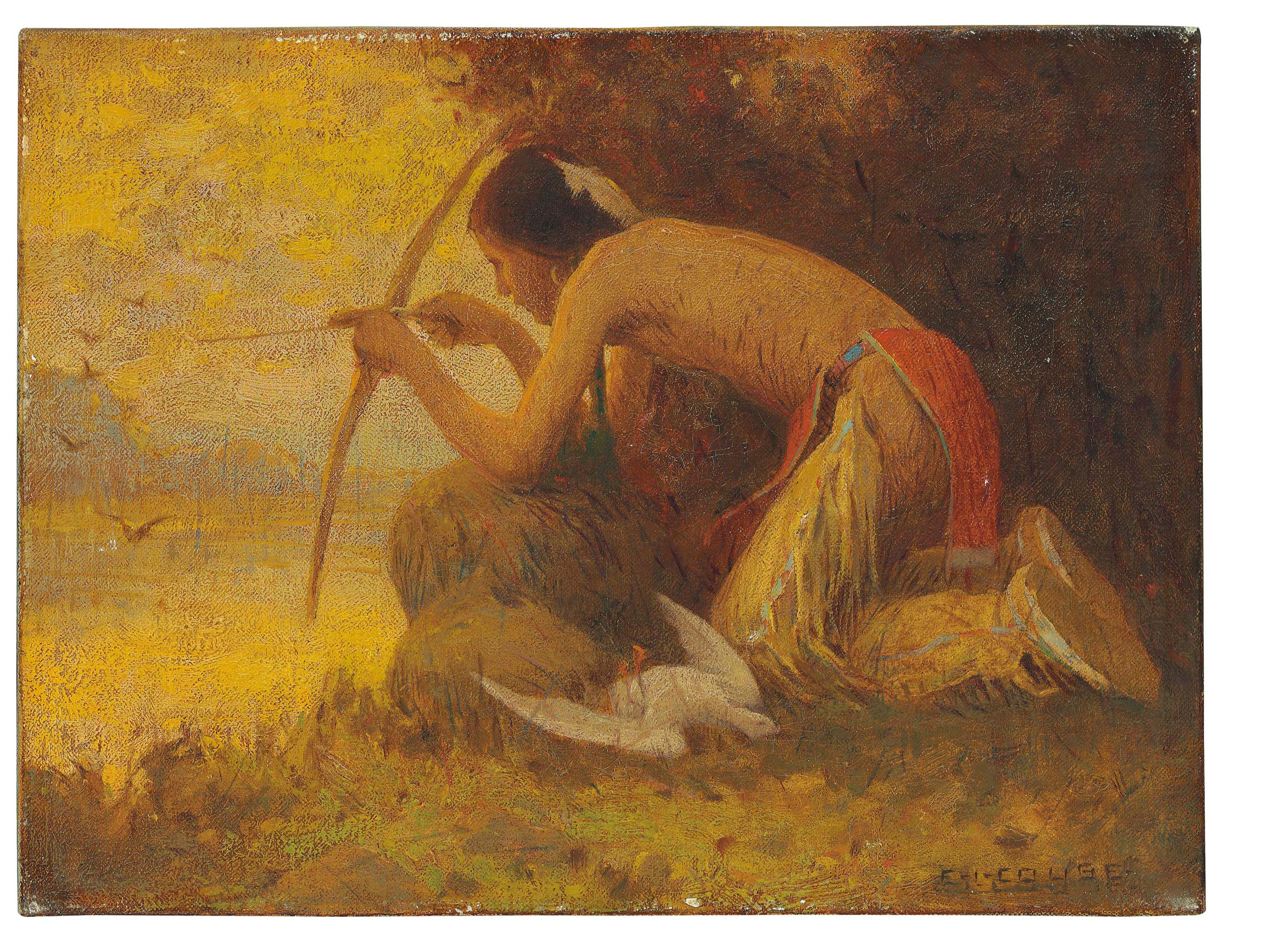 Lot 37 | Eanger Irving Couse [1866-1936] | "Indian, A Taos Hunter" | Oil on Canvas | 12 x 16 inches | Est. $30,000 – $50,000 | Christie's | Sold for $25,000
04 Apr

Auction Block: Quality Market
---
While auction prices soar in the Asian and European markets abroad, Contemporary art sales were highlights of many an auction since the fourth quarter in 2011. Auction house strongholds Christie's and Sotheby's posted fourth-quarter sales results that are promising for the coming year. Christie's noted a total of $4.9 billion in art sales last year, while Sotheby's released a figure of $5.8 billion. (Think of the top seller of 2011 at Christie's sale by Roy Lichtenstein [1923–1997] that realized $43,202,500; or the Andy Warhol Self Portrait 1963-1964 that realized $27.5 million; or Sotheby's record-breaker from Clyfford Still's Abstract, 1949-A-No.1, which yielded a $61.7 million price in November 2011). According to a Washington Post article on the subject, Contemporary works created since 1949 are popular with a newly wealthy set of young collectors whose tastes are broad.
Overall, in the American and Western art genres, quality works can be attributed to continued strong sales and will likely continue in 2012.
---
Christie's Fine American Paintings, Drawings and Sculpture, March 1, 2012
In a private sale, which showcased the extensive Modernist collection of Dr. Mark and Irene Kauffman, the American artists who chose Western subject matter were scantily represented. Yet a significant canvas by N.C. Wyeth [1882–1945], 'It Was Such a Warm Little House, There,' Said She, Huskily, estimated $70,000 to $100,000, and drew substantial attention that resulted in a nice realized price of $152,500. Deceased artist John Clymer's [1866–1936] work continues to highlight his career; The Night Hunter sold for $27,000. A signed study for the notable painting Indian, A Taos Hunter, by E. I. Couse, drew $25,000. Overall, the sale was a success with significant American works totaling $4.2 million for a strong total. A rare painting from artist Jack Levine [1915–2010], entitled On the Block, was estimated at $150,000 to $250,000, and drew $146,500. Another, from Charles Ephraim Burchfield [1893–1967], Cliff Dwellers, estimated between $150,000 and $250,000, was passed, while a Cubist bronze from Max Weber [1881–1961], Figure in Rotation, realized $218,500 — it had been estimated at $200,000 to $300,000; these works were highlights of the sale. Amidst a noteworthy assortment of Modernist painters from the Kauffman collection, a handful of traditional masters of the American West were also showcased, including works by N.C. Wyeth [1882–1945]; Carl Oscar Borg [1879–1947]; Eanger Irving Couse [1866–1936]; Jesse Talbot [1806–1879]; Alexander Harmer [1856–1925] and G. Harvey, among others. With just over 200 lots, the sale at Rockefeller Center proved a success in the American art market.
---
15th Annual Masters of the American West Fine Art Exhibition and Sale, February 4, 2012
Old West and New West mingled comfortably at the Autry National Center in Los Angeles to celebrate the 15th anniversary of this important fine art exhibition and sale. In all, $3.2 million was raised at the prestigious sale that featured 76 nationally acclaimed artists who socialized with 650 patrons on opening night.
"The dedication of the artists and the ever-increasing quality of the works presented at this year's Masters is wonderful to see. Our arts patrons showed their unwavering support and commitment to Western art. We are optimistic that the Masters show will continue to thrive year after year," said John Geraghty, Autry Trustee and Special Advisor to Masters.
While Howard Terpning's piece, Traders Among the Crow, fetched $920,000 in the sealed silent bid sale, Bonnie Marris received the David P. Usher Patron's Choice Award for her painting Social Viewpoints. Sales will continue through March 18, or until all the works in the gallery are sold. Proceeds from the sale benefit the Autry's programs and exhibits.
At the Chuck Wagon Awards Luncheon, Bill Anton received the Masters of the American West Purchase Award, given in recognition of his work, Arizona Awakening, which was acquired by the Autry for its permanent collection. Tammy Garcia's sculpture, Out of Sight, will also join the museum's permanent collection, having received the James R. Parks Trustees' Purchase Award. George Carlson took home the Booth Western Art Museum Artists' Choice Award for his painting Third-Year Hunt, and Autry Trustee Jay H. Grodin received the John J. Geraghty Award for his advancement of Contemporary Western art.
---
Dallas Fine Art Auction, January 28, 2012
Aggressive bidding resulted in excellent prices realized for the second year in a row for Dallas Fine Art Auction (DFAA). With a remarkable sell-through rate of 82 percent and a sales total of $1,833,839.56, DFAA continues to prove itself in the Texas and Western art market. The Dallas Auction Gallery drew a crowd of more than 500 people, with an additional 400 bidders on the telephone and online.
The top lot was, Mount McKinley, painted by Sydney Laurence, selling for more than double the estimated value at $131,450 to a telephone bidder.
"We were pleased to be able to offer such a great painting by Sydney Laurence in our January auction," said Scott Shuford, President of Dallas Auction Gallery. "We are always striving to bring fresh pieces to the marketplace, and we did just that with this painting. The auction price is proof of that. We were pleased to see that the Texas, Western and American art markets are continuing to grow."
Other top lots included Dallas artist Reveau Bassett [1897–1981], whose large oil on canvas, End of Day, Palo Duro Canyon (The Wagon), sold for $71,700. Other notable historic Texas artists drew significant attention, such as Jose Arpa's [1858–1952] River Scene, which sold for $56,762.50, and Bluebonnets, by Porfirio Salinas [1910–1973], went for $41,825.
For the broader Western fine art audience, Eanger Irving Couse's [1866–1936] Study for The Pottery Maker, oil on board, drew $27,485; a work from American sporting artist Philip R. Goodwin [1882–1935], Untitled, oil on canvas, also realized a price of $27,485.
Dallas Fine Art Auction brings together three prominent members of the Texas, Western and American art scene: David Dike Fine Art, Debbie Leeuw Fine Art and Dallas Auction Gallery. The DFAA partnership began in 2010 with a goal to provide collectors and artists excellent service, personal attention and scholarly knowledge about Texas and Western art. Going forward Dallas Fine Art Auction will be conducting its auctions through Dallas Auction Gallery.
---
Coors National Western, January 5, 2012
Continuing a tradition of showcasing contemporary Western artists, the annual fine art auction in Denver raised $809,000, the most successful sale in the event's history. Top-selling artists William Mathews, Michael Lynch, Skip Whitcomb and David Griffin contributed mightily to that total, followed closely by the ladies who brought more than $25,000 each: Karmel Timmons, Jo LeMay Rutledge and Teresa Elliott.
For awards, the 2012 Best of Show was granted to G. Russell Case's Marvel of Ages (selected by Sotheby's VP Hugh Hildesley; $2,500 cash award graciously donated by Kathy and Brad Coors), while the Artist's Choice Award went to Michael Lynch and the People's Choice was Teresa Elliott's Scorpion Dust.