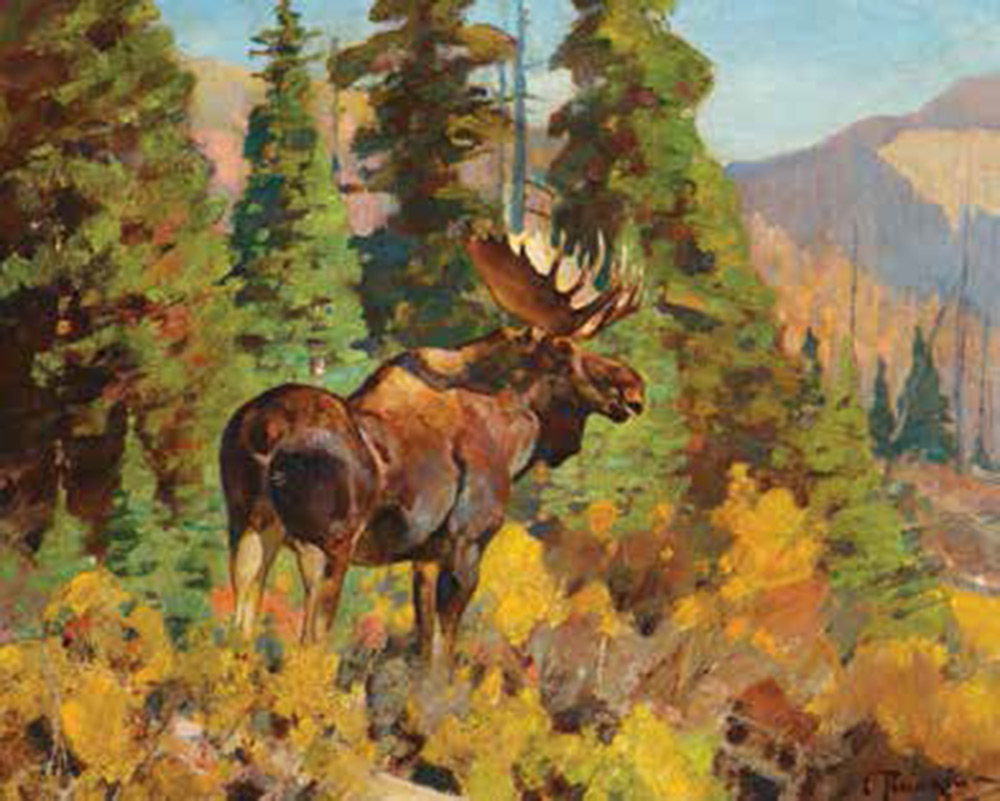 Carl Rungius [1869–1959] "In His Prime" | Oil on Canvas | 16 x 20 inches | Courtesy of Coeur d'Alene Art Auction
16 Sep

Editor's Note: A West in Motion
---
Located on a wildlife preserve in Oklahoma, the Woolaroc Museum is filled with works from Old Masters that exemplify the genre of Western art: Russell's watercolors and Remington's sculptures; paintings by Leigh, the "Sagebrush Rembrandt;" Moran's grand canyons; works that have become reference points when we visualize the region we love.
But despite the museum's roots in tradition and history, its October exhibition focuses, in part, on the ways in which Western art is changing. As the museum's CEO, Robert Fraser, says in "Beyond Cowboys," "We want to foster a broader appreciation of Western art, to show it's more than what it implies. To do that, we are bringing together a truly phenomenal group of acclaimed individuals who have each taken it in their own direction."
As part of this effort, artist George Carlson will give high school and college students a tour of the museum's permanent holdings and the forthcoming exhibition, which features the work of eight outstanding living Western artists, including Carlson. It's a rare opportunity to hear a renowned painter and sculptor explain Western art history, comparing and contrasting the work from 125 years ago to the present day.
Throughout this issue of Western Art & Architecture, we see additional examples of the ways in which artists and architects practice traditions and build upon them.
We see how the buildings of Michael G. Imber, Architects are "romantic interpretations of archetypal styles" ("Rendering"). We see how camaraderie among artists remains intact nearly 100 years after the Santa Fe Art Colony was established ("Wanderings,") and we see the ways in which a prestigious art club has changed and remained the same over 100 years, ("A Centennial in the Hallowed Halls of Salmagundi"). We see the intersection of Modernism and Native American imagery in the work of artist Awa Tsireh [1898–1955] ("Perspective"). And we also learn of the American Women Artists, a nonprofit that seeks to boost female representation in museum collections. In October, the organization begins their effort to bring women's artwork into American institutions by organizing 25 museum shows in 25 years ("Events of Note").
We come to see that many of the artists featured here will become the Old Masters of the future. And from their varied stories of the modern West, we can learn both where we've been and where we're going.
– Christine Rogel, Editor in Chief