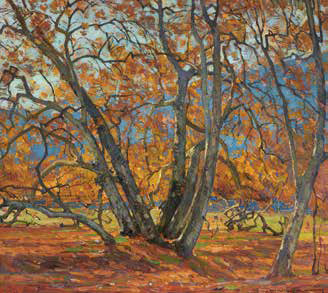 11 Jan

Editor's Note: A Sense of Wonder

The West, with its associated myths, history, geography, and development, is an abundant source of creative inspiration. And the expressions and interpretations that come from this region are interesting and endless.

Take, for example, the "Western Nouveau" style developed by artist Thomas Blackshear II. With a background in illustration, his work features Western subjects presented with an Art Nouveau approach, and some of his paintings even incorporate gold-leaf embellishments ("Finding a Niche"). This eye-catching merger of genre and subject matter creates a distinct artistic vision — one that clearly resonates with collectors.

Paul Pletka, meanwhile, looks to the cultural history of the West to inform his artwork. New Mexico's Pueblo, Hispanic, and Modernist art traditions are a major influence for the artist, as are the customs and religious practices of Northern New Mexico residents ("Imagined Wests").

In this issue, we see how the Western landscape influences architecture. In Los Angeles, architect Dan Brunn designed a home that interacts with the landscape it sits on. The home becomes a bridge across a creek, demonstrating how a building can enhance its surroundings ("The Bridge House" ).

This issue also features a new column by WA&A publisher Tim Newton, who served four terms as the chairman of the board and CEO at New York City's Salmagundi Club and currently serves on the boards of the Stobart Foundation, Clark Hulings Foundation, and the Couse Foundation. As a frequent judge of national and international art shows, he's a sought-after commentator on the subjects of art and collecting. With this extensive experience in evaluating and critiquing art, he will choose an iconic Western work by a deceased artist and explains the appeal and nuances of the piece, while also highlighting some of the work's history, technical aspects, and what he personally enjoys about it.

The West and its imagery are both iconic and ever-changing. The work of artists, architects, and designers who shed light on this region through their own unique perspective gives us the opportunity to experience it in a different way.

I hope this issue sparks some new aspect of your own creativity, opens your mind to viewing the West in its various forms, and leaves you with a sense of wonder at what others dream up.