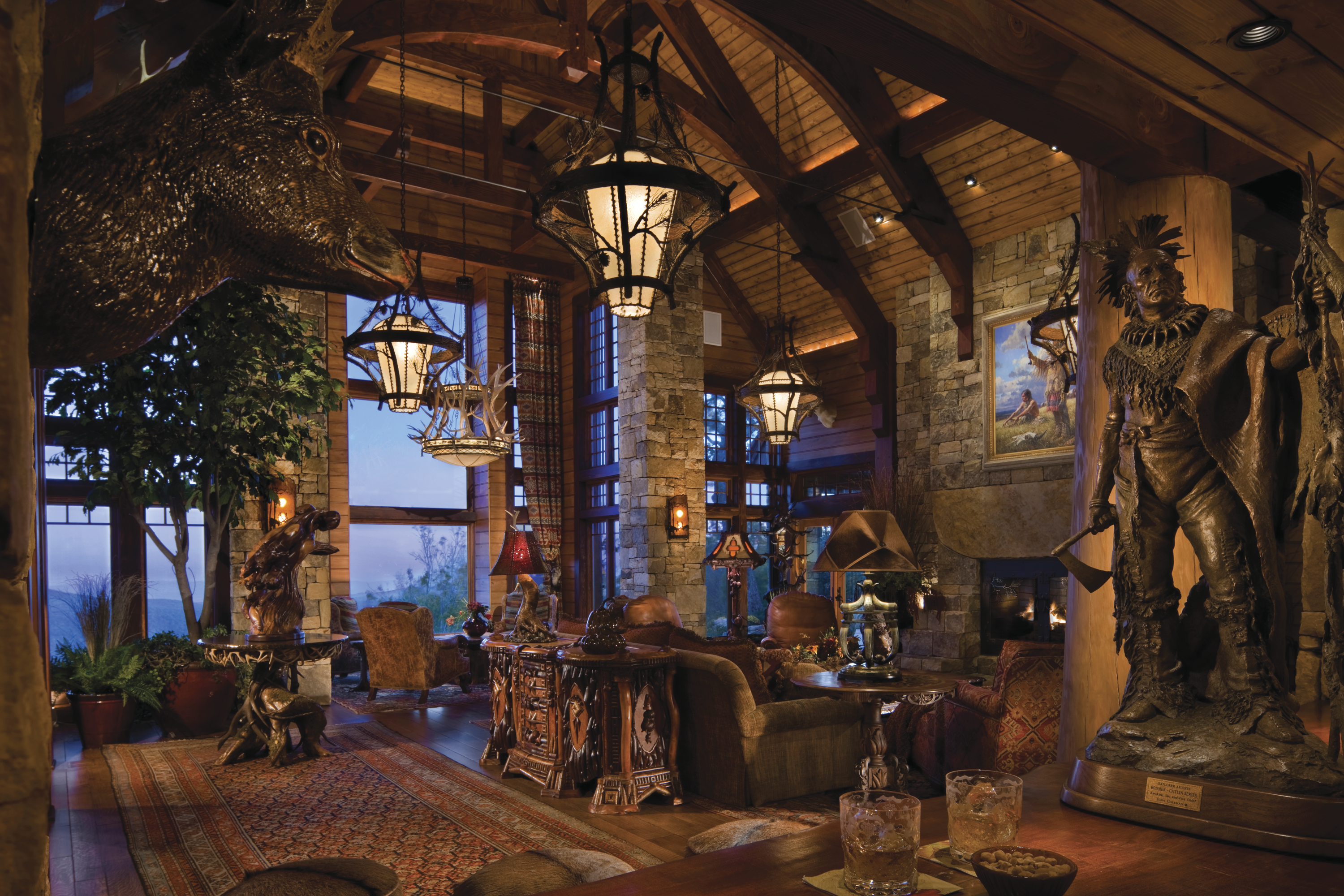 Just like every element in the home, the lighting in the great room is custom made. The four main fixtures hanging from the 25-foot timber-framed structure are by Hammerton Lighting. Naytura sconces and a custom iron, antler and rawhide chandelier by Peter Fillerup complete the look. John Coleman's bronze, "Keokuk, Sac and Fox Chief" in the foreground beautifully complements Martin Grelle's "Buffalo Dreamer" over the fireplace.
01 Sep

Bringing the West Home

BACK IN THE 1970s, Charles Weber made a point of traveling out West each winter in order to ski to his heart's content. Somewhere along the way, he fell in love with more than the alpine geography of the West and gravitated toward the art that helped shape and continues to define the region. Instead of just bouncing from one ski hill to the next, Weber started attending major art auctions, from Coeur d'Alene to Scottsdale. In the process, he amassed a collection that could chronicle the history of the genre in any of the world's best museums. From E.I. Couse, Edgar S. Paxson and Frederic Remington to Howard Terpning and Martin Grelle, Weber's collection has both breadth and depth. More than anything though, for Weber it reflects a lifelong labor of love.

When it came time to build his own mountain home, high atop the Blue Ridge Mountains in North Carolina's Linville Ridge Country Club, Weber's passion drove the three-year project. His art collection, along with his more recent zeal for handcrafted furnishings, and his highly developed architectural preferences gave shape to every room and every corner of the 11,400-square-foot home.

For his inimitable Western lodge, Weber put together a dream team including architect Bob Mann of ATTIC Design and designer Pamela McKay, ASID, of Dianne Davant and Associates, both of nearby Banner Elk, North Carolina. Together, the trio created a timeless masterpiece that is at once functional, comfortable and spectacularly beautiful. Its mélange of influences — Black Forest carvings, European antiques, handcrafted Adirondack furniture, a world-class Western art collection that spans three centuries, and of course the intrinsic mountain vernacular in the architecture — blends so exquisitely, one might think that Weber, Mann and McKay have originated an entirely new school of design. "They took my ideas," offers Weber, "and turned them into more than I could have imagined … and I have a pretty good imagination."

For Mann, the project started with the extraordinary building site — 5,000 feet high on a rocky outcropping with 340-degree views of the surrounding peaks. From there, the architect was guided by views, room associations and his appreciation of Weber's art collection. "That was one of Chuck's big driving forces," offers Mann. "He was hell bent on his collection!" Thoughtful wall space, well-planned niches and gallery corridors provide ideal space for Weber's art throughout the home.

One of Mann's challenges — after dealing with the phenomenal exposure of the site — was to create intimate, cozy spaces in such an expansive lodge. To that end, Mann employed a diversity of textures in order to bring the scale of each room down. He utilized a variety of stone types, many of which were local; cypress posts and paneling; golden birch, poplar and cherry barks. The result is an impeccable articulation of rustic elegance.

Pamela McKay came to the project with a strong art background that appealed to Weber: She had an art degree and had completed a rare internship at the Hubble Trading Post in Ganado, New Mexico, where she learned to weave from Navajo elders. In addition, McKay was mentored by Dianne Davant, whose offices in Banner Elk, North Carolina and Stuart, Florida (and formerly Big Sky, Montana) — and whose clients often have distinctive homes in each place — afforded her endless opportunities to blend styles and blur geographic lines. McKay's understanding of and appreciation for texture complemented Mann's architecture; and her artistic sensibilities melded seamlessly with Weber's own. "Blending the variety of styles and pulling all of the elements together with an incredible attention to detail made for a truly fascinating project," she says.

Indeed McKay speaks as fluently about the architecture and the interiors as she does about the art. For her, creating spaces that could accommodate museum-quality art, priceless antiques and entirely new custom furnishings, side by side, was a thrill beyond compare.

Mann could not agree more. Noting Weber's generosity in remaining ever open to ideas and letting the project unfold organically, he ranks this home among his favorite endeavors. "The whole thing — watching it grow and come to life — was just an amazing process," he says.
---
Carter G. Walker is the managing editor of Western Art & Architecture and the author of Moon Montana & Wyoming, released in May, 2011.