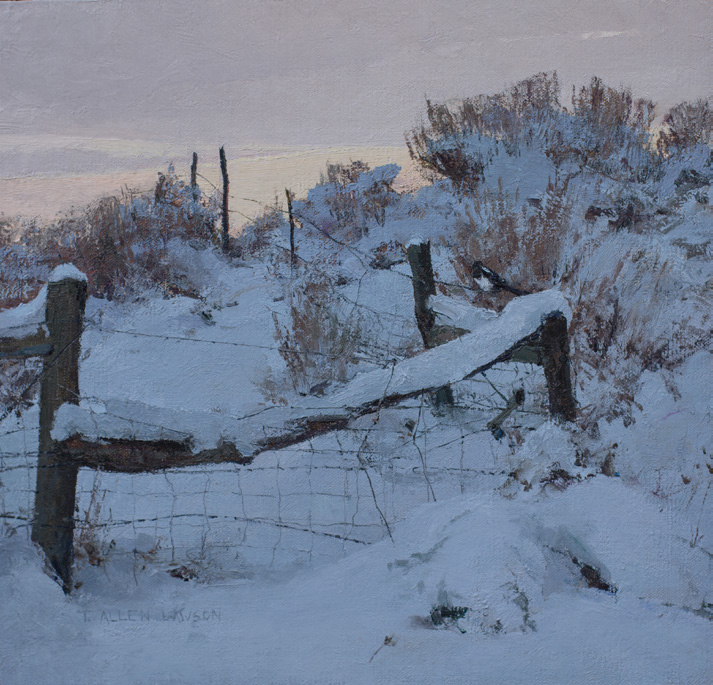 T. Allen Lawson | The Fence Inspector Oil | 14 x 14 inches | Courtesy of the Buffalo Bill Art Show & Sale
08 Nov

Editor's Note: Collecting Stories

A personal art collection is full of stories. I was reminded of this fact recently while unpacking a box of keepsakes from my parents' garage, in which I had squirreled away magazine clippings of artworks I liked when I was in high school: a Richard Avedon portrait of a graceful dancer posed near chained elephants; a photograph of Monet's garden at Giverny; a black-and-white image of Shiprock in northwestern New Mexico. I could recall the exact reasons why I chose each of these images as a teenager. I connected to the freedom and poise that the dancer represented, the romanticism and beauty that Monet elicited from simple flowers, and the affection I have for Shiprock because of its proximity to where my parents met.

Over the years, my art collection has grown to look different from these magazine scraps (though I still cut out favorite paintings from the pages of WA&A and hang them in my office). But the purpose is still the same: Each work tells a story. They recall people, experiences, ideas, and places that are important to my life and enrich my understanding of the world.

Architecture is not much different. It also tells us stories. We can come to learn about the styles that reflect a region, the materials selected for their durability, the inspiration behind an architect's creativity, and the designs that reflect our cultural identity or daily lives. Architect Matt Fajkus sums up this idea perfectly in "Rendering." "Architects are the negotiator and mediator between humans and the environment," he says. "How can architecture be a frame or a lens to understand or connect us to something else?"

The stories inside this issue have the potential to expand our worldview, connect us to another person, or offer a moment of reprieve from the business of daily life. Some of the stories focus on the creative process or artistic techniques. For example, you may be surprised to discover that abstraction plays a significant role in the still life paintings of artist Sherrie McGraw ("Transcending Still Life.") Or you may come to find the friendship between Georgia O'Keeffe and Rebecca Salsbury James interesting in that it influenced the lives and careers of both artists, which impacted art history ("Perspective.") And the moving stories and brilliant images that result from two-week-long residencies on the Umatilla Reservation in Oregon help give voice to a population that was historically marginalized ("Crow's Shadow Institute of the Arts.")

In this issue of WA&A, as in every issue, we share the stories behind the work in hopes that they help you connect more deeply to the creative endeavors profiled inside. Just as I was inspired as a high school student and over the years since by meaningful artworks and the messages behind them, I hope the artists' work in this issue becomes part of the cherished stories on your wall.