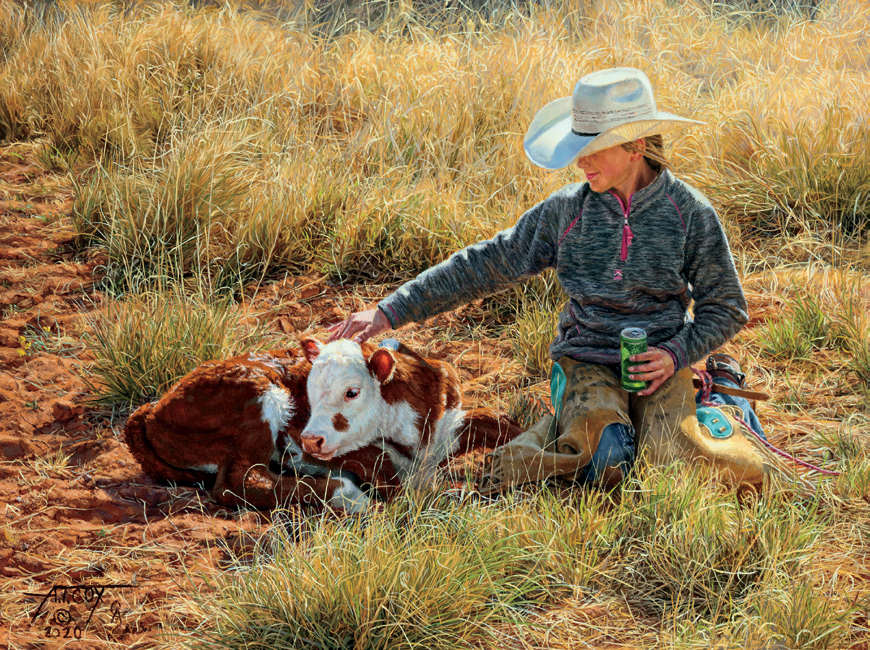 Tim Cox, A Soft Touch | Oil | 9 x 12 inches
11 Mar

Editor's Note: An Unexpected Place

Despite the diverse creative avenues and mediums showcased in each issue of WA&A, this issue, and every issue, is about place. And while it's generally accepted that the territory lying west of the 98th meridian defines "the West" in terms of geography, the identity of the region remains expansive, reflecting a culture that's in a constant state of evolution. For artists and architects working west of the Mississippi River, the region's influence appears in ways both expected and unfamiliar — perhaps a little like the West itself.

Take, for example, the work of artist David Kassan ("Art as Testimony"). Below the surface of his powerful portraits of Holocaust survivors, lies the influence of artist Robert Henri, a leading figure of the Ashcan School and a significant contributor to Santa Fe's art scene. While living in Albuquerque, New Mexico, Kassan connects to this facet of art history. And in addition to creating work that Ashcan artists would undoubtedly celebrate, Kassan also explains that the West has a "kind of an ethical and moral perspective that I respect."

For artist John Alexander, a childhood spent exploring Texas swamplands led to paintings that make political statements ("John Alexander"). His canvases, depicting a subtle discomfort in an animal's expression or a foreboding sensation in a patch of lilies, convey the artist's concern for the natural world. In Alexander's West, one cannot address wildlands and creatures without considering their future.

Contemporary Luminist Joseph McGurl takes a different approach ("Nature's Transcendental Glory"). Drawing on the influences of the Hudson River School and Transcendentalism, he uses his imagination and countless plein air studies to create paintings that exalt the landscape, renewing our interest in the familiar visages of the Colorado Rockies, the desert Southwest, and California's coastline. McGurl believes that art can connect people with a sense of the spiritual. With his paintbrush and palette, he seeks to demonstrate that the Western landscape can reflect a "higher reality that permeates time and space."

In Western design, both conventional and uncommon representations appear: an updated, traditional ranch house in Central Texas uses regional materials and historical Western artworks to adhere to its theme ("At Home on the Range"); the dynamic personalities of a couple — articulated in standing seam metal and the softness of cedar — appear in a Salt Lake City home ("Hako"); and light and atmosphere play a role in designs by Alterstudio ("Rendering"). We see how the West isn't restricted to a singular definition while visiting with collectors Ray and Kay Harvey. Their Arizona home displays artwork by renowned Modernists and historical Western artists side by side for an interesting look at American art history ("West Meets Modern").

Westerners that study and interpret this region today often demonstrate that generalizations barely scratch the surface. We hope you enjoy the ways that individual artists and architects connect to the West, and ultimately bring us back to this place.